It Takes Two To Mango: Don't Miss These Aam-Infused Beers Served By Bengaluru's Microbreweries!
Normally, summers are synonymous with long breaks, trips to the beaches and the most delicious barbecues and cookouts. But probably, one of the simplest, fondest memories almost all of us have in common is fondly sucking on a thick, fleshy, incredibly juicy slice of chilled, ripe mango. 
With social distancing gradually becoming the new normal, many of us, while staying indoors and following COVID-19 safety protocol – have been left reminiscing over those fond summer vacation memories. But luckily for us, while the pandemic may have eaten into our summer plans – mangoes are still very much in season, thanks to none other than Namma Bengaluru's microbreweries!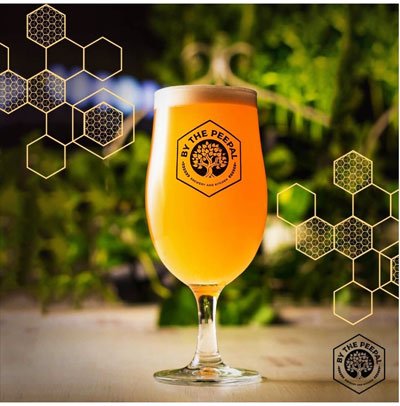 Refreshing, bubbly and delicately flavoured, these brilliantly hued beers promise to quench your thirst and rekindle your romance with the King of Fruits. 
By The Peepal, a JP Nagar-based microbrewery is calling theirs a Mango Wit Ale.  "It is a wonderful drink made from mango wheat fermented with natural fruit juice. This beer has a slightly sweet aroma which lingers on your tongue adding a pleasant feel to it," says Tom, brewer at By The Peepal. "Ours is around 5 percent ABV and is very sessionable and loved by all."
Amit Mishra from The Bier Library and Arena Artisanal Brewkitchen says, " In The Bier Library, we use the base as Saison which is a Belgian style beer. in Arena, on the other hand, we have selected Hefeweizen which is a German Style beer," he explains. "For fermentation, we add mango puree and leave it in contact with the beer for a very long time till all the flavour and sugar is absorbed from the mango. We personally handle the sorting, cleaning and pulping so as to take care of all the hygiene-related factors. The alcohol content of the "Aam Saison" in The Bier Library is 6 percent while the "Mango Weiss" at Arena Artisanal Brewkitchen is 5.5 percent."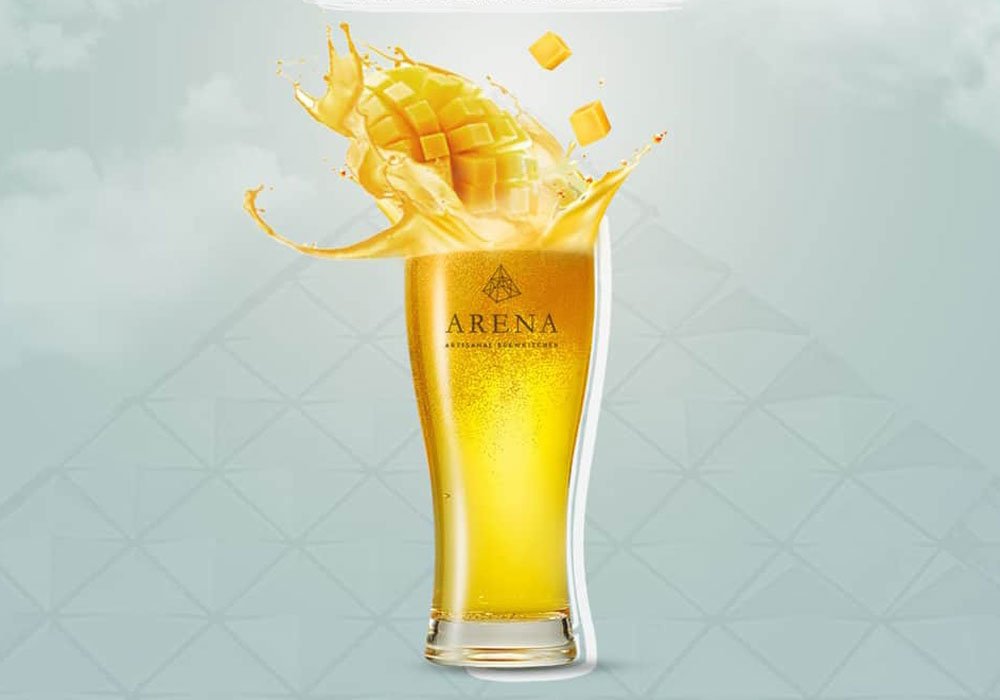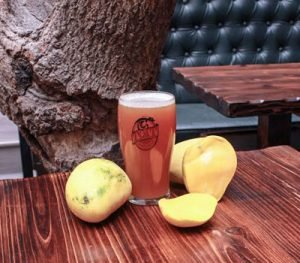 Toit, one of Bengaluru's most famous microbreweries is also serving up a mango-flavoured brew. " The mango beer in our brewery is made from fresh mango pulp; we do not add any artificial ingredients for any flavouring," says Sibi, owner of Toit proudly. "All the mangoes are handpicked and only the natural mango pulp goes into the beer. Our mango beer is at 5 percent ABV, has a well-balanced taste making it neither too sweet, nor too bitter and leaves the mouth-lingering aroma and flavour of mango that we all love so much."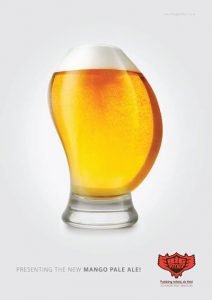 Big Pitcher's brewer, Amol tells us: "The flavour of the beer is added in different stages and it depends upon what aroma and taste will go into the beer and at what stage. The stages start with the brewing, fermentation and maturation. It also depends upon the intensity of the flavour of the fruit. If the flavour is too mild, it can go at the end-stage like maturation and if the flavour is intense, it can go in fermentation. The mangoes used in our brewery is a combination of Alphonso and Neelam – which is a Karnataka local mango breed. We use the fresh mango pulp to make the beer. The taste is moderately on the sweeter side with an ABV of 5-6 percent. I recommend pairing it with something spicy like Tandoori Chicken to set the perfect beer mood."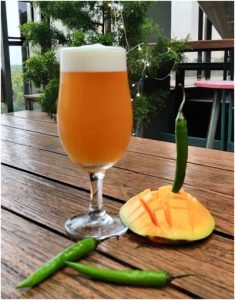 Nikhil from Red Rhino has taken his mango beer one step further. "We added spice to the regular mango beer by adding green chilli in maturation," he explains. "This gives a hot spiciness to the beer as well as a moderate to strong aroma of green chilli. The appearance of the beer is pale golden and white with medium head retention. The direct addition of mango fruit pulp gives this beer a slightly hazy look."
As of now, Bengaluru's microbreweries are fully operational and are selling their beers via growlers. Hurry up and head to your favourite watering hole before this seasonal favourite runs out!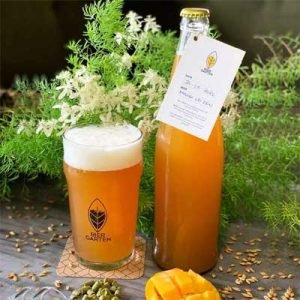 Nikhil from Biergarten explained,"The mango weizen appears to be hazy which lines up a cloudy light gold with a slight pink tint. The flavour induces a big hint of ripe mangoes, it reflects the hefeweizen character more as juicy fruit gum. We have used multiple varieties of mangoes ranging from malika, bagenpalli and alphonso.  We have used the pury of the mangoes and infused the same in bright beer tanks. The aroma of the beer can make you feel nostalgic with big mango nose with ripe peach notes. It is a highly carbonated beer, palate which gives a cleansing off-dry feel. The ABV is 4.5% and IBU is 15. It can be teamed up with honey glazed chicken, grilled pork chops."