Innovative Solutions for Dispensing Equipment
We make a clean sweep!
BeviClean's main focus is on the development of patent solutions against residues left behind in beverage dispensing equipment. Individual solutions ensure cultivated enjoyment especially by the glass.
Enjoyment is created by constant quality.
Satisfaction and confidence in a product must be created and specially strengthened both on the customer's and the industry's side of things. Quality begins with the drink, extends along the beverage line into the glass and culminates at the customer's palate. A long way.
"With our product range BeviClean offers a complete programme based around beverage line maintenance. The assurance of quality, enjoyment and health are challenges, simultaneously it is the inspiration behind our passionate commitment", Dirk Bersch, CEO of BeviClean explains.
Clear expectations, but unfortunately reality is sometimes different. In many catering beverage systems there are lack of proper cleaning techniques and corresponding equipment. This has a negative effect on the atmosphere and on turnover.
"We at BeviClean have faced up to the challenge of these high expectations and have developed innovative solutions for dispensing systems", Dirk Bersch says.
BeviClean has traditionally involved itself with this topic. The owner-family can look back at 100 years of tradition in wholesale beverage distribution and learn all about the problems of hygiene in the catering business. Dirk's grandgrandfather's "Beer-Josef" Josef Bersch and "Beer-Karl" Karl Bersch put a great deal of personal commitment into helping their catering customers in the Hunsrück area. Customer-oriented solutions for cleaning beverage lines emerged from this knowledge. For such solutions, BeviClean received the Federal German State of Rhineland-Palatinate's innovation award in 1998.
Today, BeviClean has an excellent reputation in the industry and is the go-to company for beverage dispensing equipment hygiene and cleaning solutions. Through attending trade fairs in Germany and abroad, Dirk Bersch successfully led the company into the international arena and today supports customers worldwide together with his highly motivated team.
"We make sure everything is clear", is Dirk Bersch's statement. "We at BeviClean develop individual cleaning concepts for our customers and innovative solutions for hygienic dispensing equipment."
BeviClean Products
Lots of arguments for more hygiene
Our product range has the right equipment for every requirement to do with beverage line care:
from self-cleaning equipment to fully automatic equipment
from chemical stand cleaning to chemical-mechanical cleaning
for beer, alcohol-free drinks and drinking water lines
cleaner and disinfectant
from maintenance cleaning to basic cleaning
glass washing equipment and further bar-related products
gas warning devices for fixed installation and mobile deployment
Bevi cleaning equipment is easy to handle and highly effective. As an international company, BeviClean can thus offer its customers an extensive range for cleaning beverage dispensing equipment.
Drawing on around 100 years of experience we have clearly defined our aim – complete clarity around the dispensing equipment. Because the last few metres are decisive!
Good arguments for cultivated enjoyment – is that clear enough?
Bevi Felix Made in Germany
SK 419-001
Clarity in no time
Bevi Felix is a non-electric manual glass washer with a zero energy demand and low water comsumption. It works only with cold water in combination with glass washing tablet Bevi Tab Felix, which ensures the hygienic cleaning. Microbiological analysis confirm a 99,99% reduction of bacterias. Additionally the use of Bevi Felix effects a 70% reduction of water consumption compared to classic washing in sinks, as the clean water rinse is activated only when the glasses are actually being washed. For everyday operation a main benefit is the easy dismantling of Bevi Felix into individual components which can be quickly and efficiently washed and assembled again. This guarantees a hygienic and clean device. The compact size of the glass washer makes it suitable for use in nearly all sizes of sinks.
The use of exclusively high quality materials, which are not harmful to health, manual completion and functionality testing of each device contribute to a long lifespan and an easy use of Bevi Felix.
Bevi Felix exists in two versions: Bevi Felix Standard with 2 closed compartments and Bevi Felix Premium with an open pre-rinse compartment.
Summary:
Resource saving consumption of water (70% less than washing in a sink)
Use of cold water, so glass is ready for use immediately
Requires no electricity, resulting significant saving of energy and water
600 glasses can be washed per hour
Designed for mobile deployment
Chemical cleaning by Bevi Tabs Felix
Microbiological analyses confirm a 99,99% reduction of bacteria
For all varieties of glasses, also for tankards
With separate pre-wash and re-wash compartments
Removable casing bottom
Wide assortment of spare parts
DIN registration RD 035 at DIN CERTCO
Bevi™ Felix NA – NSF certified
Made in Germany; high quality material and production
Easy, fast, safe and hygienic handling
Bevi Tab Felix
Bevi Power Felix
Crystal clear views
Bevi Tab Felix is a tablet for glass cleaning in all kind of flush valve glass washers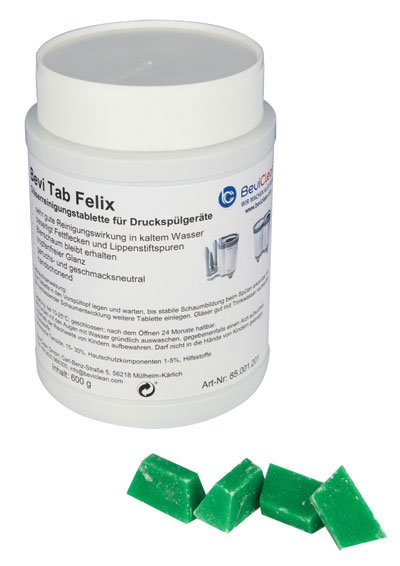 Excellent cleaning effect in cold water
Removes grease spots and marks of lipstick
Preserves beer foam
Radiance free of drops
Odourless and tasteless
Gentle on your hands
100% biodegradable