What is Growler and Crowler?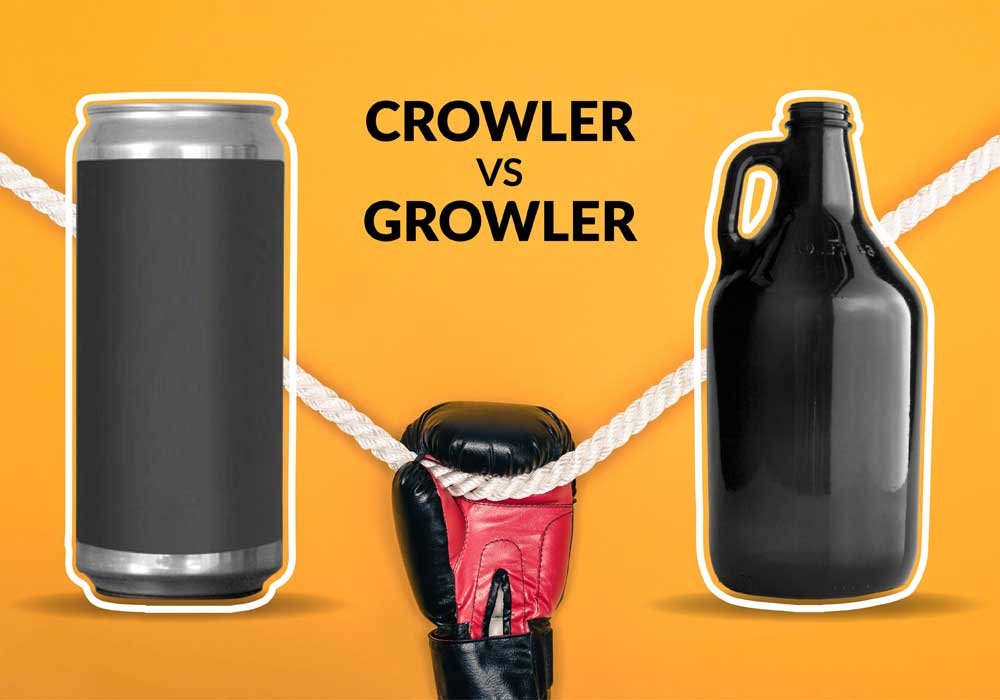 Does the sight of the six large can beer packs excite you? Then you definitely will get excited by looking at the big refillable glass beer container and the big aluminium container, growler and crowler. Which ones do you prefer? Since the popularity of Craft beer exploded for a few years, the breweries came out with substantial refillable glass containers and aluminium containers that serve the devoted customers.
What is a Crowler?
The oversized aluminium containers are called Crowlers. In 2002, Oskar Blues Brewery in Colorado and the Ball Corporation were looking to invent a new way of packaging as customers were not happy with the regular six cans because they were small, and a growler was too big. Hence a 950 ml Crowler was invented.
What is a Growler?
A Growler is an airtight glass or ceramic jugs that are refillable. It gives space to close to 2 litres of beer. Beer is filled and sealed with a counter-filled pressure to stop the beer from fizzing out.

Growlers vs Crowlers
There is a difference of close to one litre in between a growler and a crowler. Growler is a bit flexible if you are looking for more beer because it can give you twice the quantity of a crowler.
Crowlers are usually less expensive because of the low packaging material cost. Growlers are a tad expensive but are a one-time investment.
Crowlers are convenient as they can be just picked up from the breweries. Growlers are not very convenient as the customer needs to remember carrying it with them to the brewery or buying a new one.
Crowlers maintain the quality of the beer as it sits in the fridge unopened. Growlers are opened, often allowing the beer to oxidize.
Crowlers are lightweight, but growlers hold in a lot of beer.
Growlers are difficult to ship as they are made of glass and might break. It is also heavy, and you might have to pay a little extra to the delivery company. Crowlers are super opposite. They are small and light, hence easy to transport.
Crowlers are recyclable, and growlers are not.
Crowlers are not always available in breweries, but growlers are unless the brewery runs out of packages because of the demand.
Well, Crowlers and Growlers are both different kinds of packing used in the craft beer industry. Bengaluru has recently seen the addition of Growlers, the reason being the horrific pandemic. It has been a dramatic change in Bengaluru's beer scene. In 2019, the Karnataka state government amended the Excise Act Karnataka Excise (Brewery) Rules, 1967, to introduce growlers and allow customers to carry craft beer home in growlers of 1.5-2 litres capacity. And the act continues.
Have you read our story about Geist Growlers yet?