Fox In The Field Re-launches In Whitefield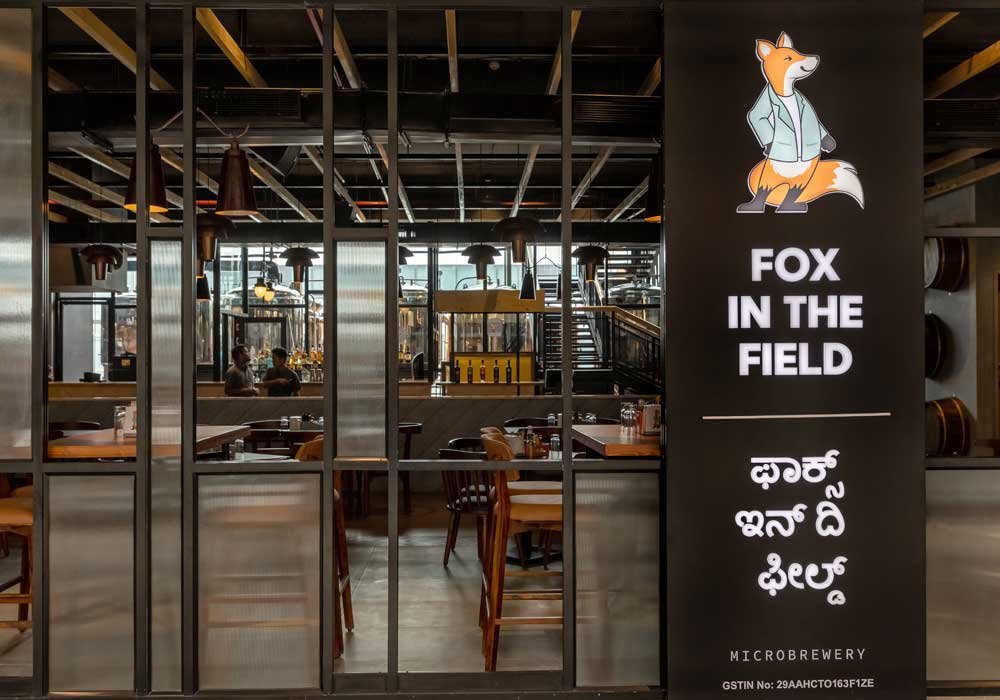 Whitefield is an island where there's a good balance of business travellers, expats and tech professionals who are constantly on the lookout for a place to unwind. Bangalore's infamous traffic has fuelled the rise of neighbourhood hangouts matching the abundance of craft breweries. With the pandemic in mind, people have shifted their focus onto the open and gigantic places which have an abundance of space. Fox in the Field is a microbrewery in Whitefield, Bangalore which cleverly addresses one of these concerns by designing a four-storeyed outlet. With the restrictions at ease, The Fox has opened the doors to his Den with clever food and crafty brews.
With unique signature flavours of craft beers and an element of their surprise on every floor, the entire brewery architecture is like a place no other. First floor is coined as 'Enter the fox' which is a replica of the British brewpub. Second level, called 'Fox in his den', is perfectly suitable for a fine dining experience with a live kitchen in sight.
'Fox on stage' is a third level with a stage set for arts and performance. A theatre unfolds here on a day-to-day basis to keep the folks entertained. Finally, there's a terrace with an open space.
Dining at Fox
The current line-up of beers at Fox in the Field are Triple IPA, Belgian Witbier, Hefeweizen and an English Lager. "As the time goes by, we plan on adding more beer styles to expand our horizon", says Abhay Kewadkar, Managing Director of Fox in the Field.
From their existing range of beers, Triple IPA is one of their recommended styles which is a fusion of Belgian Witbier and American IPA. It has a good malt backbone to support the vibrant American hops. Saison and Imperial Stout are two beers which will eventually make their way to the taps.
Besides the Foxy beers, the microbrewery has curated an interesting menu which has innovative dishes such as Naan pops and Idli toast. In addition to this, the Fox has also collaborated with Ponnusamy cuisine from Chennai and Ciros wood fired pizzas to add to their existing food line-up.
Named after the famous watering holes across Britain and Europe, the microbrewery is designed to enthral and bring in fresh crafted experiences to the beer community in Bangalore. They are expected to see more footfalls in the coming months as the pandemic across the city eases a little more.