Embracing Minimalism And The Art Of 'Less Is More' With Stangen
With so many brands donning whimsical illustrations, tribal art and creative concepts that extend beyond bottle or can to catch your attention, there's a certain sense of relief to be found in minimalism.
Simply put, minimalism seeks to express only the absolute bare essentials and necessary elements of the subject. And that is why Stangen – a German-born beer brand, holds such a unique presence in today's noisy, kitschy design space.

A look that's as clean and crisp as the beer you're about to drink – one that makes a statement without having to say too much – Stangen never fails to make heads turn. The "no frills and fancies" approach seems apt for the brand that prides itself on adhering to the oldest German Purity Law, and is, therefore, devoid of any stabilisers and artificial ingredients. Only Germany's best beers – the crème de la crème of brews, can make this claim – and this is Stangen's main USP.
"Sometime around the year of 2014, there was a drastic shift in the kind of beers the young drinking population were looking to buy. Be it in India or in the rest of the world, the youth kind of started dissociating themselves with mainstream beers," says Adarsh Sharath, Managing Partner of Hops and Barrels Pvt. Ltd., a company that aims to shake-up the existing market by teasing the Indian palate with their range of imported beers (like Stangen). "Today they're more interested in the heritage of the beers – where they originate from, the brewing traditions they are born out of, who the original brewers were and of course, the quality and authenticity of ingredients and flavours. With the onset of the craft beer revolution, everyone you see now either wants to be seen with a craft beer in their hand at their favourite watering hole and if they go for a bottled packaged format, they want to be seen with something that's 'not mainstream'".
Indeed, Stangen is anything but that.
Fronted by a solid black motif of a stag's head as the brand's mascot – set against a starkly clean, contrasting white backdrop – Stangen's purist and simple design comes as a much-needed visual break in this over-cluttered world of colour and chaos. The sans serif connotations of modernity and innovation on the packaging further depict this brand as stylish, edgy and forward-thinking, encouraging drinkers to "take a walk on the wild side."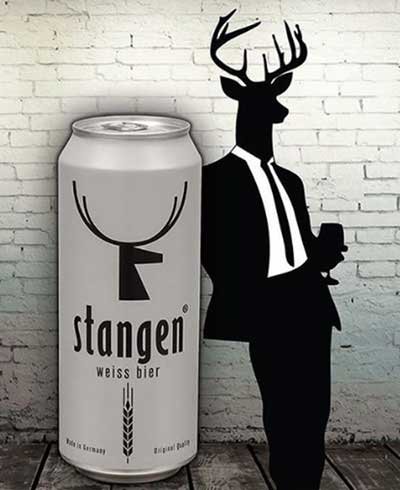 One would think the symbolic use of stags and deer is in danger of becoming a cliché. Yet, Stangen has successfully proved that in the right hands, the metaphor goes much deeper than a surface-level representation.
"In European folklore – particularly that of the Bavarian Forest Ranges, the most beautiful sight is thought to be that of the royal stag, streaking through the snow-clad trees," says Adarsh, elaborating on the choice of mascot. "With its giant antlers, the stag is believed to be powerful and strong and is hence, often described as the protector of the mystical woods and the many deep secrets they bear."
But that's not all.
The same antlers that this creature wears as a mark of its power, are shed every year. Each year, the stag is left vulnerable as it awaits their regrowth – a natural cycle driven by testosterone that sees these antlers return stronger than before. The brand is inspired by these very antlers, also known as "Stangen" in the German hunter's dictionary.
"The idea was to create something that appeals to the younger generation roughly between the age of 30 and 45. Like the stag, the modern-day beer drinkers are not afraid to embrace risks and recognise it as a trait that makes you stronger, and they like life simple and clutter-free," emphasises Adarsh. "So we went for a branding design without any colours and created a look that would dominate the Indian beer market space with its sophistication and class. That's why we chose to stick to white and black," says the man behind the brand, Mr. Jan Peter Stolken.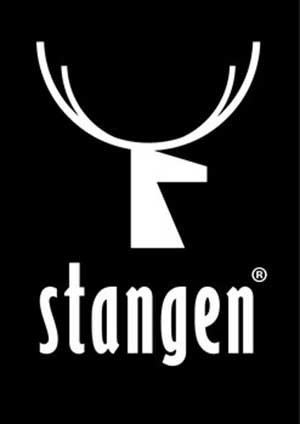 Proud and masterful, yet grounded by reality, the next generation dislikes screaming for attention – rather, they prefer to let their work do all the talking. They are well-travelled and well-read and cannot be wooed by bling and picture-perfect visuals. Instead, these natural high-flyers gravitate towards the finer things inspired by life such as seeking to be one with Nature. And while luxury isn't what they go chasing after, it is invariably a fruit of their dedicated, disciplined labour.
Minimalism isn't just about looking slick. It's also about living simply, wasting less and striving to live more purposefully through experiences rather than focusing on guilty, materialistic pleasures.
Stangen is a reflection of this irrepressible spirit that is ingrained in the regal history and provenance of German beer culture and traditions – and that's what makes the Stangeneration stand apart from the rest.
Stangen is currently available in cans at Rs. 290 for 500 ml and is also available in bottle format at Rs. 270. Follow Stangen on @stangenbeer_india for more updates.