Brewing With Ellerslie Hops From Down Under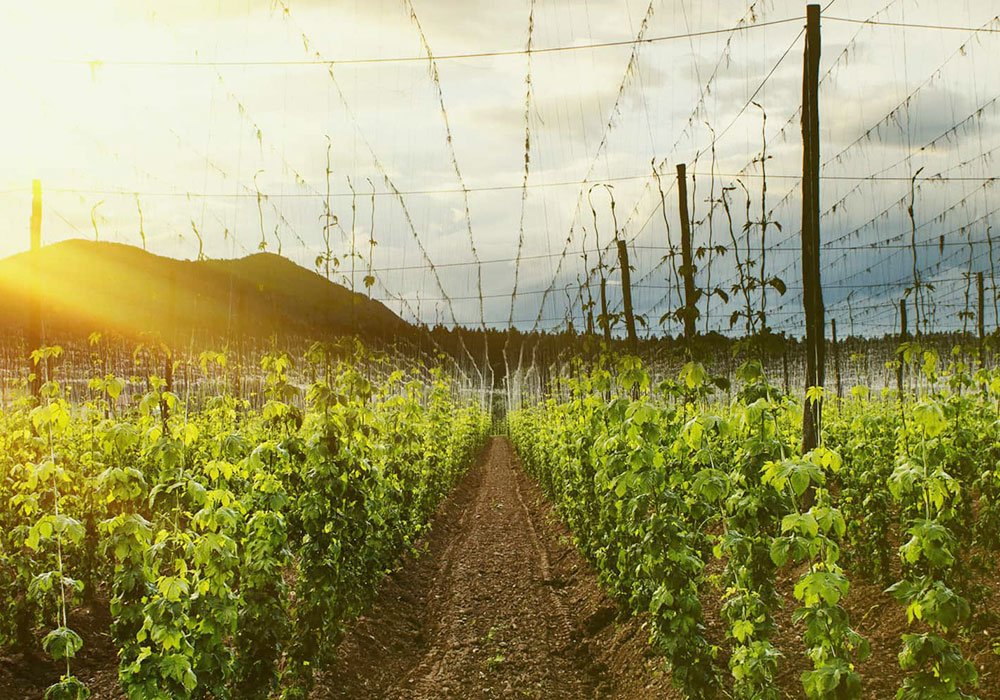 It is well known all over the world that Aussies love beer, beaches and barbecues. Among them, beer, or rather craft beer in Australia is putting the country's biggest hop growers in high demand. With over 400 craft breweries, hop usage has significantly increased and the majority of the hop farms which lie in Victoria and Tasmania are expanding to keep up with the demand. One of the largest hop producers in Australia, Ellerslie hops, is a 4th generation owned grower and importer of hops that has been offering some of the exquisite hops to the industry for a very long time.
The flavor spectrum of hops can be classified as fruity, floral, spicy or woody. Those grown in Australia tend to be much fruitier than other hops produced elsewhere, making them well-loved in the United States. The citrus aromatics that they can impart to IPAs, pale ales and other hoppy beers made in Australia, distinguish them from what is already offered in the United States. With hops such as Super Pride, derived from Pride of Ringwood, that imparts a combination of resin and fruity aromas, Ellerslie hops has got them all.
Ellerslie also offers a selection of hops such as Astra™ & Melba™ which are their trademarked variants that have resulted from Ellerslie Breeding Program. Both of these hops are unique and clearly stand apart from the American hops. At Ellerslie, large portions of the property are dedicated to hop varieties like Pride of Ringwood, Super Pride and Australian Cluster, which make up for the majority of the local demand. Adhering to the craft beer market, Ellerslie has seen the demand for new experimental hops which are suitable for hoppy ales such as Juicy IPAs, Pale Ales, XPAs etc. This resulted in creation of their own breeding program which gave rise to Melba™ and Astra™, that have caught the attention of craft brewers.
More recently, Ellerslie have expanded their market reach to India due to the demand for Australian grown hops. Alchemy Brewpub in Bangalore was the first microbrewery to brew with these Aussie hops in India and we interviewed Nate Ross, who is the Head Brewer at Alchemy, to understand his perspective on brewing with new hops. "Have you brewed with Ellerslie hops before? If yes, how has your experience been so far?", we asked Nate. "I was very fortunate to have the Ellerslie team in Melbourne airfreight four different varietals over to India for us to brew with and showcase these hops in Bangalore for the first time. The three beers brewed included a Pilsner with Aus. Cluster, an Aussie Pale Ale with Super Pride and Aus. Cluster, and a Hazy IPA with Astra & Melba. I was very happy with the results and had great feedback from brewers and beer lovers." explains Nate while sipping an Aussie Pale Ale on a cracking hot afternoon. In all honesty, one beer that clearly stood out among the others brewed with Ellerslie hops was the Aussie Pale Ale. It's a hoppy pale ale showcasing Ellerslie Hop Estate grown Super Pride and Cluster harvested from their own farm in Victoria, Australia. It has pithy grapefruit, pine and resinous hop character balance with a clean and smooth malt profile and gentle lingering bitterness. "Alchemy is excited to be the first brewpub to brew with these new hops in India!" says Nate.
Evaluating A New Hop
There are numerous ways to evaluate a new hop. Many brewers often have their own ways to unearth the sensory profile by either sniffing it, brewing a hop tea or they just get on with it and brew a SMaSH (Single Malt and Single Hop) recipe. "My favorite way to evaluate new hops is just to go for it and brew a batch of beer with them! My approach is to choose a style that I think will be suitable after doing an initial sensory of the hops and formulate a recipe accordingly", says Nate. He goes on to add that SMaSH beer is a great way to allow the hop to shine through without anything else getting in the way. It's also a brilliant educational tool for brewers and beer drinkers to try something new and get a better understanding of the hop.
"I've been really impressed with the freshness of the hops as these are sourced directly from the Ellerslie farm and not through any other channels and it really shows as soon as the bag is ripped open." – Nate Ross, Head Brewer, Alchemy Bangalore
As mentioned before, Australian hops pack a lot of punchy aromas that outshine the other regional hops. We asked Nate to tell us how distinctive were the hops from Ellerslie when compared to other leading distributors across the world? "I've been really impressed with the freshness of the hops as these are sourced directly from the Ellerslie farm and not through any other channels and it really shows as soon as the bag is ripped open. Super Pride is such a clean bittering hop but also shows great dual-purpose potential. Aus. Cluster has a profile that absolutely sings in modern lager styles. Astra and Melba are proprietary hops from Ellerslie's breeding program that deliver new world tropical fruit notes, and I'm particularly enjoying the white wine fruity profile from Astra. I have a number of recipe ideas already for that hop!"
Thanks to the folks at Alchemy, craft beer enthusiasts of Bangalore can now relish Australian hopped beers as they plan to airfreight Ellersie hops straight from the 2022 harvest. Speaking of Hop Harvest, there's one beer that has never been brewed in India before, which is an Harvest IPA. This is something that's quite common in North America where fresh hops or wet hops are tossed into the beer sourced straight from the farm after the harvest. "Do you plan on brewing a Harvest IPA with fresh hops anytime soon in India?" We asked Nate to see if there's a possibility. "Unfortunately, we are not allowed to import whole hop flowers into India, but how cool would that be to brew with them! Perhaps when I next return home to Australia I can plan a visit around the annual hop harvest and have an opportunity to brew a fresh hop beer with a local brewery. Fingers crossed!" signs off the Aussie brewer.
Ellerslie hops are exclusively available in India through Brew Essentials. To know more about Ellerslie hop varieties, head over to their website www.ehe.com.au/hop-varieties