What Is It Like To Work In/With The Indian Beer Industry? 10 Women Share Their Thoughts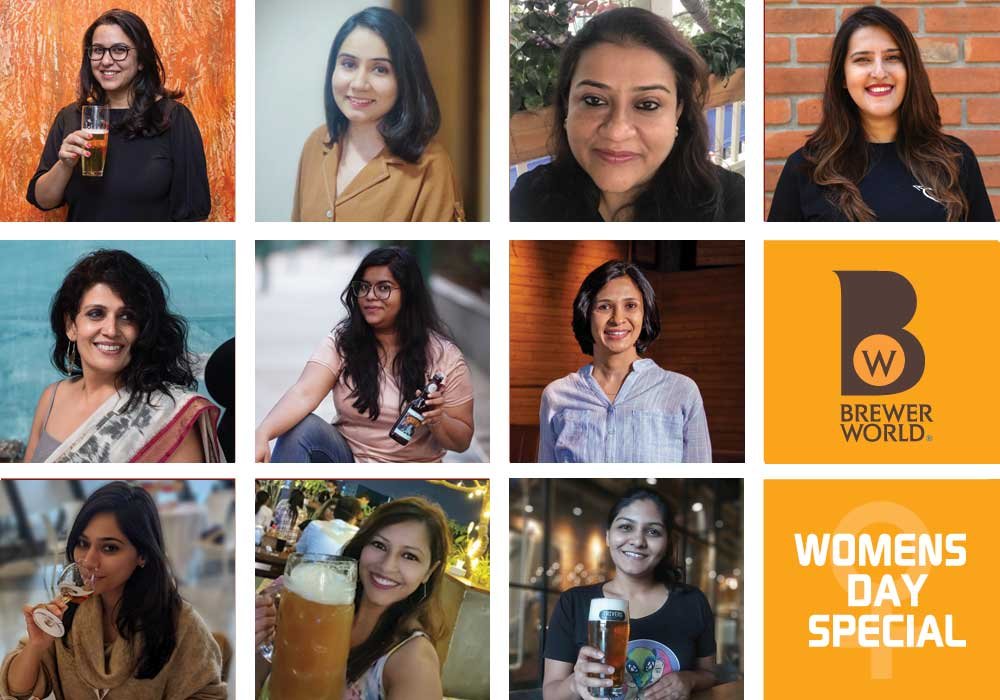 It's no surprise that the world of beer and brewing is primarily dominated by males. Despite this, there are several women working either directly in or closely in association with the Indian beer industry, filling in some seriously influential roles – and many more who aspire to follow a similar career path.
This International Women's Day, Brewer World called up a selection of ten such inspiring women to tell us about their work experience and to shed light upon the scope of career opportunities for women in this field. Here's what they had to say.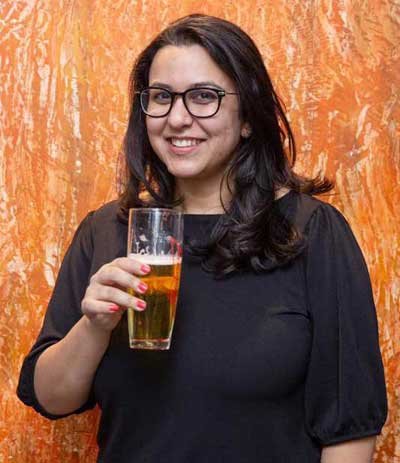 "My 5-year journey with AB-InBev has been nothing short of a dream run. I have got the opportunity to work with amazing colleagues, conquer big challenges and really enjoy every single day.
The beer industry in India is evolving each day by virtue of rapidly changing consumer preferences, a growing middle class and the young demographic of our country. There are exciting consumer challenges to be solved, products to be developed and communities to thrive with. I think that anyone looking to challenge the status-quo, chart an-uncharted world, it's the place to be! We at AB-InBev are taking big strides through industry-first policies and an array of initiatives to be truly inclusive and increase women representation in every area of our value chain." – Tanushree Mishra, People Director – India & South East Asia, AB InBev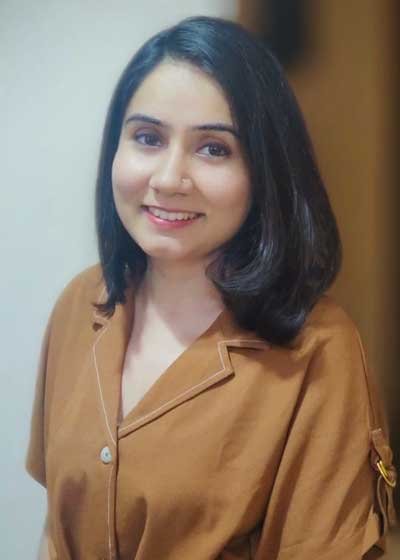 "The beer sector in India has numerous dualities that make it complicated yet interesting from a communications standpoint. To be able to drive innovation along with figuring creative and content solutions in a highly regulated industry like ours, has personally been a very exciting experience for me.
Gender ratios in the beer industry may still be a bit skewed but eventually, women belong in any industry that they wish to be in, it's up to them. Just like any other sector, it too has tremendous scope for women and presents enough and more growth avenues. In fact, we can see the shift now, women are taking on bigger, much diverse roles in the business, and at the same time they are also becoming bigger consumers of beer." – Ridhima Mehra, Corporate Affairs & Communication, Carlsberg India Pvt Ltd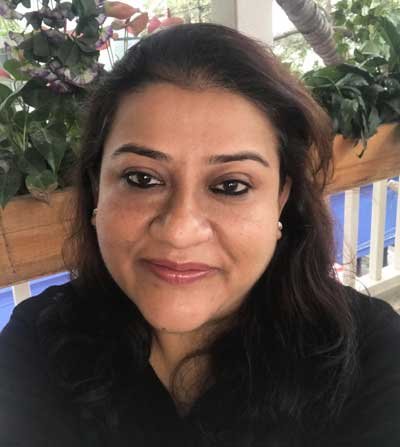 "Having spent over a decade in the alcobev industry, and a good 5 years at Bira 91 – the journey has been very enriching and exciting. The complexity of the industry pushes one to really stretch themselves and think out of the box. There is a lot of cross-functional learning that happens.
It is heartening to see more women becoming a part of the alcobev space and many leadership roles being held by them in recent years. I personally don't see any difference between the scope that an FMCG company has to offer versus a beer company. With the advent of Modern Trade Outlets and increasing focus on On-Premise outlets, there are interesting options for women to choose from even in traditional sales roles in our industry." – Swayampriya Shah – VP, HR & Admin, Bira 91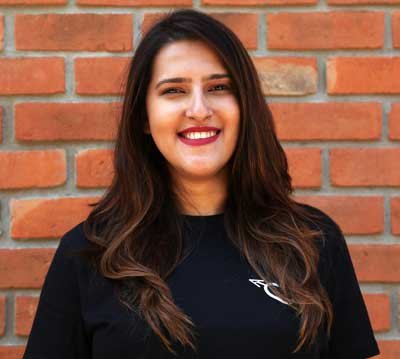 "I've worked in the craft beer industry on the brand-building side for almost 4 years now, and I've had the opportunity to work on several exciting projects at Geist thanks to a very encouraging & supportive team. We've all seen a rise in the number of breweries being set up – especially in Bangalore – and that itself organically creates more roles for deserving candidates to fill. While brewing capability is of course a major focus, there are a number of other roles related to brand building, sales, marketing, community-building and more that are essential to the growth of the industry. Focusing on customer education, creating brand & category awareness and identifying brand loyalists are critical components of leading a craft beer brand to success, and more women should be empowered & encouraged to take on these roles. It is always beneficial for organisations to have individuals representing a wide variety of perspectives & experiences to be present at the decision-makers' table, and craft beer brands in India should be no different." – Geetanjali Chitnis, Head of Brand & Communications, Geist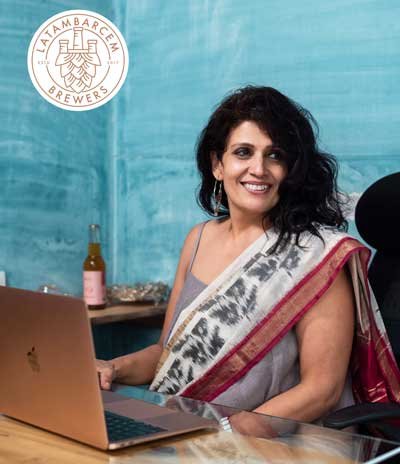 My journey didn't quite commence in the beer or beverage industry, rather it is a part of my overall journey in the world of hospitality, food and beverages with one objective- creating experiences and memories for those who use our products and services. When our family decided to enter the universe of craft beer, my involvement was almost seamless because if we wanted to map our journey and in the process create Brand Maka and its twin Brand Borecha, making a comprehensive beverage company, we had to have consumer satisfaction and involvement as its credo. My core competencies are therefore well utilised.
I am aware there are gender-stereotypes about certain industries but it is up to us to do away with tags of certain professions being suitable for women and others not. And people like me, blessed to be in leadership positions, need to lead by example and create workspaces where the intent is paramount and people who can best work towards fulfilling that intent, irrespective of gender, come on board.
There have certainly been challenges because irrespective of how hard you try, certain mind-sets in a patriarchal and misogynist world remain in all workspaces. But I would look at overcoming challenges rather than talking about them. We have women involved in almost all processes and functions on our brewery floor (production) and in our corporate structure in departments like accounts, logistics, sales and marketing including those in important decision making positions. At Latambarcem Brewers, Goa, no area is out of bounds for any gender; everyone enjoys a safe, comfortable working environment. This has happened because we pick people on potential merit and not on gender. The alco-beverage industry works in the same corporate/business ecosystem. Regardless of gender, the industry needs professionals to fulfil cross-functioning roles. – Sarika Varshnei, Chief Growth Officer, Latambarcem Brewers, Goa.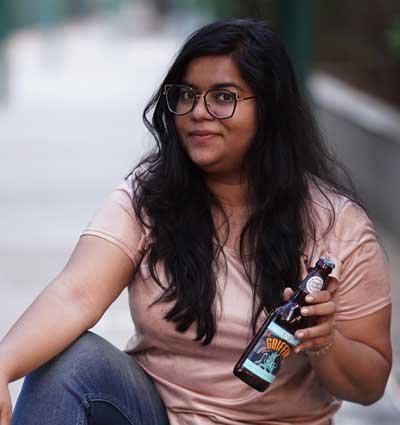 "My beer journey started in a microbrewery because I was keen on seeing how the food and beverage industry works and I haven't looked back since. I get to learn the science behind the brews and enjoy the glitz and glamour of the industry. Although the industry is an exciting one to be in, the typical societal pressure of being a woman in the industry is a constant. It's time people realise the beer industry is gender-neutral. As a marketer, with multiple competitors in the industry, one has to come up with innovative ways to make their brand stand out from the rest and the research work that goes into it is nothing short of fun. The joy of doing something unique and eye-catching is what keeps me hooked onto this industry.
The beer industry offers opportunities to work around people from all walks of life, it also caters to different areas of interest. I've got the opportunity to meet women brewers who didn't shy away from carrying large bags of grains to get the work done. It's inspiring within the industry, how no one cares about what gender you are but only cares about how you can do justice to each individual beer. With more and more women entering the beer universe we can see a large number of women talking about beers in their blogs and mixologists who are leaning towards beer-tending to show the different ways one can try new beers. To any woman who aspires to be in the industry, I would definitely say go for it! There are so many areas of work to choose from that one can never run short of opportunities, and hopefully, soon enough, I will get to work with a team that is predominantly women." – Debarati Guha, Marketing Manager, Briggs Brewery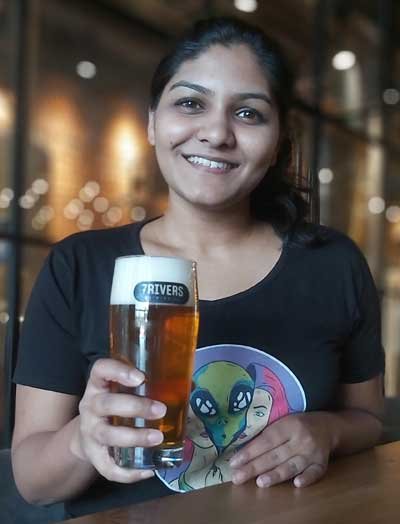 "Well, it has definitely been quite adventurous and full of intriguing challenges. When I ventured on this path about seven years ago, I was among the country's first few female brewers. As an ambitious person, I always viewed any challenge I faced as an opportunity, and as I developed in skill, I embraced the journey ahead.
Today, I am quite pleased to see how the outlook towards female professionals in the beer industry has evolved. The barriers associated with gender bias are gradually giving way to aspiring and well-deserved talent.  In the coming years, I hope to break more stereotypes, positively impact the brewing community to become more gender agnostic and inspire more women to pursue a career in brewing." – Lynette Pires, Lead Brewer, 7 Rivers Brewing Community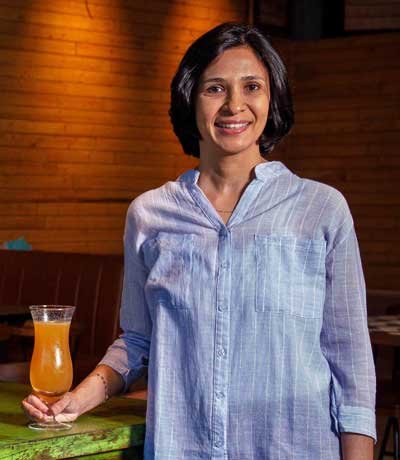 "My Journey in the beer industry started back in 2009, when I tasted a craft beer for the first time on a trip to Europe. After which Nayan and I decided to open Drifters Breweries, so we can actually introduce people of Mumbai to the unique beer culture that we witnessed across the world. I had an active role from the selection of our Brewmaster to the selection of types of beers we are serving today. I keep myself continuously involved in understanding the palate of consumers and accordingly, we design all our new beers. I also have an active role in food-beer pairing at Drifters Tap Station.
According to me, the scope for women in the beer industry is very vast. You can't research beer's history without stumbling across female brewers. Currently, at Drifters, we have a woman as a Junior Brewer at our production brewery. Many other breweries across the world also have women at one or other positions. From brewer to helper to testers there are so many opportunities a woman can go for in the craft beer industry and in fact they have started grabbing it already." – Sheetal Shah, Co-founder, Drifters Breweries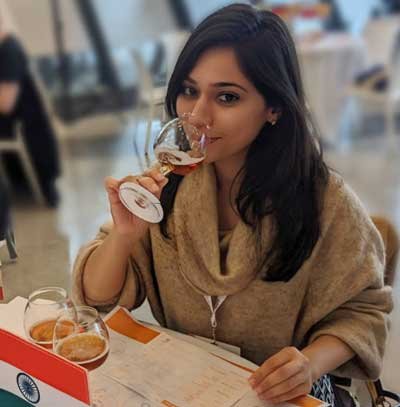 "I think the beer industry in India today has become quite accepting and quite supportive of women in the space. Of course, there is a huge gender imbalance because the amount of women that are studying it or working/ considering working in this space have been quite limited but more and more we see women that are studying brewing, have jobs and have been hired as brewers and eventually work their way up to Head Brewer. So it's definitely something that is seeing more of an acceptance than ever before.
I was lucky enough when I was starting out with Gigglewater as a blog and when I was writing for a beverage State magazine to meet some really incredible brewers who were very supportive of my interest who took the time to explain things to me who invited me to homebrew with them and really sort of deep dive into it. But there is still a major stigma when it comes to women drinking beer. I get this very often: "you don't look like a girl who drinks beer" – and I really don't know what it means! But the stereotyping of the biases that society at large holds, is something that I think we have to sooner rather than later eradicate. I also hope the accessibility to education in this space opens up. We don't actually have too many valid beer courses that can be done in India right now that are not prohibitively expensive but slowly I hope that we will be able to put those patterns in. But I believe that as soon as there's more interest, we'll have more of these courses coming in, which in turn, will have more women passing through them and actually gaining opportunities and making their presence felt in the beer world." – Karina Aggarwal, Director, Gigglewater Beverage Concepts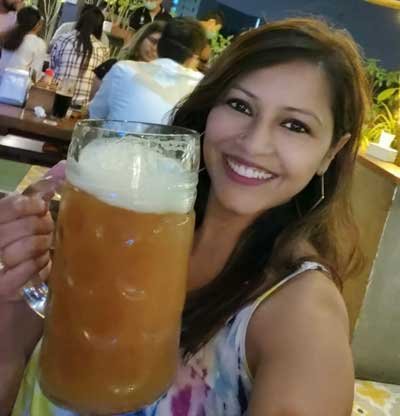 "Beer, for me, is happiness in a glass. And what makes me happier is seeing more women turning to beer. No longer a man's drink! Rather, is being increasingly accepted as a social drink, all thanks to the accelerating number of craft breweries and online alcohol delivery portals. Although, we have a lot more work to do towards creating awareness about craft beers because it's still looked upon as 'alcohol' and 'harmful' being compared to hard liquor like whiskey. To some extent, this shift in belief has come in with more and more women joining on the other side of the bar/tap.
The past few years have seen a rapid change in the number of women joining the beer industry as brewers, brewery owners, beertenders and beer writers. The scope of women who want to join the beer industry is ever-expanding, giving an equal opportunity to women to grow and succeed without being shunned upon. Once the barriers of untimely work hours and heavy lifting of equipment are crossed, I feel women are better suited for the brewing industry as they have a better sense of aroma & taste which is critical to successful beer making.
As history is a witness, beer making/ brewing was basically a women's task because they were so good at it. We can definitely see it going back to the same in the coming years." – Alicia Coutinho, Beer Enthusiast
Brewer World Exclusive