Brewer Talks: Brewer Who Doesn't Drink Beer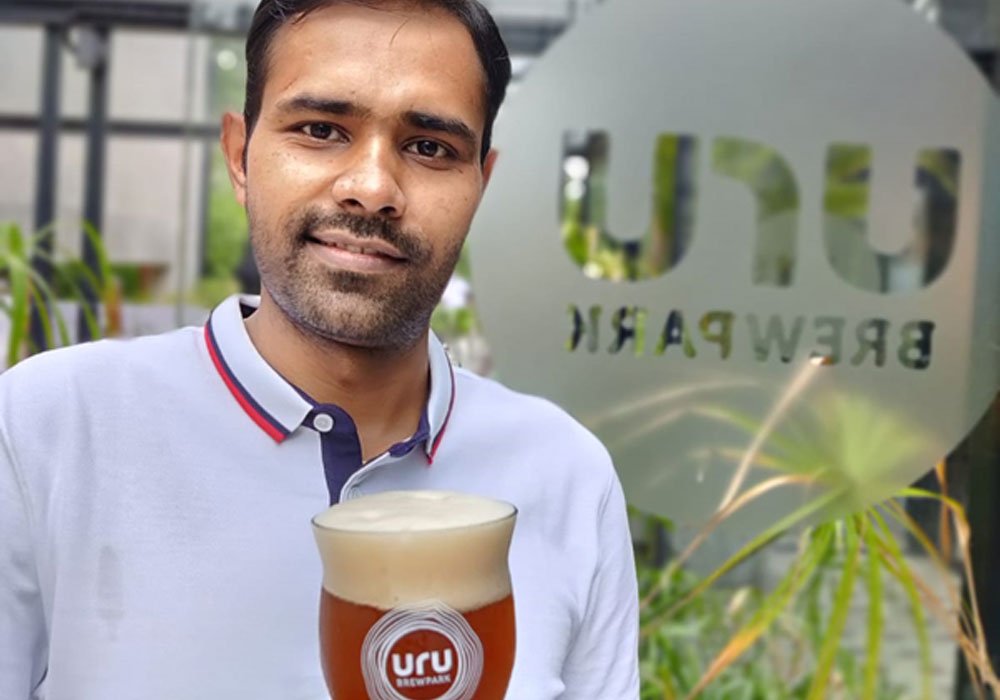 The beautiful doors of URU Brewepark are in constant movement. Rumour has it that their beers are super cool even though the brewer is not a drinker. The reason behind the rumour is Suraj Kumar, Master Brewer. Yes, Suraj Kumar does not drink but still brews the best beers in South Bangalore. "Drinking Beer is a hobby and for me it is a profession. I'd rather not mix up profession and hobby. The sensory analysis skill of the brewer helps in determining quality of the product. But If I drink a lot, my sensory analysis will weaken with time and any new beer won't be a fresh sample anymore as I will be quite used to it," he says.
"But I do a structured tasting' whenever a new beer is coming on tap," he adds.
Suraj, a reserved Maharashtrian who started as an Assistant Brewer is now a Master Brewer at URU, Bangalore and is winning hearts with his brews. Brewer World got to speak to Suraj about his journey as a brewer. Excerpts below……
For how long have you been brewing?
I have been brewing for the last eight years.
Have you had formal training?
Yes, I have an MSc in Brewing Technology from VSI (Vasantdada Sugar Institute) affiliated with University of Pune.

Could you give me a brief history of your brewing journey?
After getting a brewing degree in 2013 I worked in different microbreweries in India as an Assistant Brewer to a Brazilian brewer Luiz Pizzani and a German Brewer Oliver Schauf in the early days of my career in cities like Pune, Bangalore and Gurgaon.
Does the fact that more and more breweries are popping up in South Bengaluru, worry you or makes it more difficult?
Not really. For me, it is going to be more breweries, more friends in the industry.
Looking at the brewery launches in Bangalore, when you hear a new launch, do you say "Oh here's another one"?
As there is huge demand for craft beer in Bangalore, the city has over 60 microbreweries but if we take an example of California state in the US, there are over 900 craft breweries in a single state. We have a long way to go, don't we?
How do you work on the flavours at URU?
At URU we stress on seasonal flavours. New season, new fruits are a celebration for us. So we juggle the fruits into our beers until we find the best flavour. We do have some fantastic home brew recipes for the upcoming new beers on tap.
Which beer at URU BrewPark will you ask a stranger to drink?
I will suggest any of our seasonal brews. Our seasonal beers have variations like sour, sweet ,smoke and more.
What is your favourite beer and food pairing?
A sour beer with any good pizza is definitely the best pairing.
Who do you look up to in the brewing industry?
I look up to the brewers in one of the craft breweries in Pune named "Doolally Brewcrafts" who are pioneers in India for craft beer because they never go wrong with product quality.
Which do you think is the best brewery in the world?
The Scottish brewery "BrewDog" is purely the best brewery in the world. They have been revolutionising craft beers for years and they truly care about their beers.
If there was just one beer you could drink, one last time, which would it be?
Apple cider, because I don't drink.