9 Best Places In Bengaluru For Beer Lovers To Dine Al-fresco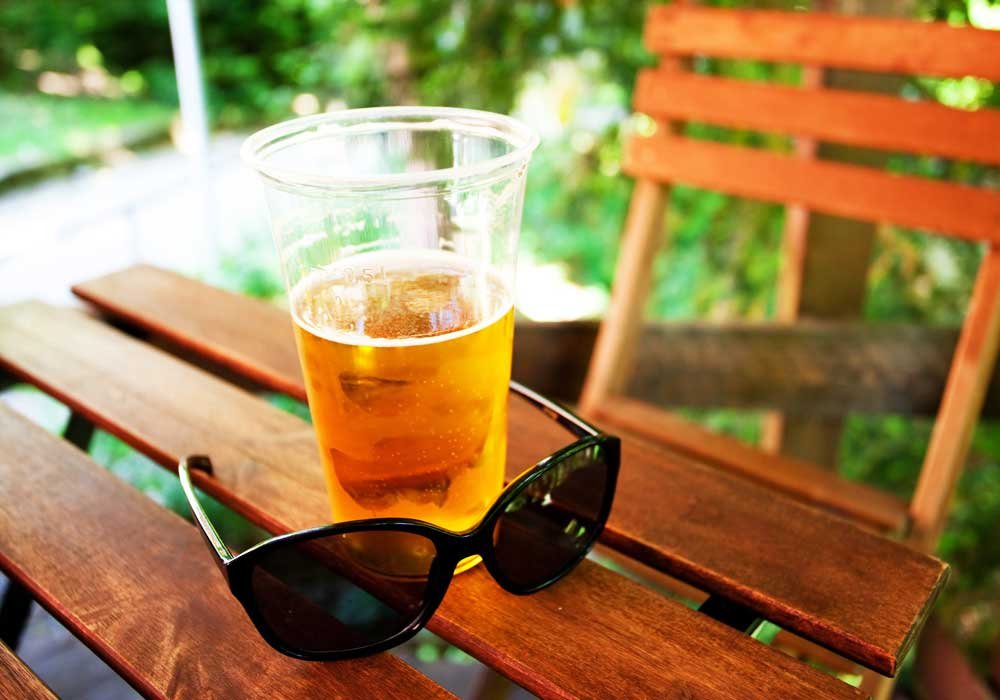 It's that time of the year again when we're ready to welcome a new year. But even as we close the books on this current year of the pandemic, there's no sign that it will end anytime soon. With the lockdown lifting in September after months of complete halt in operations and as beer lovers are finally ditching their couch space for grabbing a drink at their favourite watering holes, the case for outdoor seating has never been stronger.
While dining al-fresco isn't a new trend, it's evident that open-air terraces, roof tops and beer gardens are one of our best bets when it comes to flattening the curve if you're looking to go out for a beer. Indoor spaces already come with their own set of limitations and placing tables and chairs apart from one other to abide by social distancing guidelines can be very challenging. Additionally, with most restaurants, bars and microbreweries being forced to cut down their seating capacity by 50 percent, achieving footfall has become an even bigger concern. Open-air spaces naturally give microbreweries and pubs the option to add more seating space to revive their business while respecting physical distancing guidelines.
But the idea behind pandemic-era outdoor seating is not just to reduce the capacity inside. The goal is to increase natural ventilation or airflow between guests so as to quell the transmission of a deadly respiratory disease.
Luckily here in the Beer Capital, there are plenty of microbreweries to choose from when it comes to al-fresco dining and drinking. Here's a look at some of our top picks!
1. Geist Brewing Factory – Restaurant & Beer Garden, Old Madras Road
Located in the heart of Old Madras Road, one of Bangalore's most picturesque locations, the Geist Brewing Factory is one of the city's hottest new spots for al-fresco dining. Described as a "garden within a brewery", the entire space is open-air and sprawls over an area of roughly 7,500 sq.ft, easily seating about 220 people. The "garden" has been cleverly designed in such a way so as not to upset the natural surroundings of the brewing factory so expect to be seated at tables running around majestic trees and shrubbery.
All of Geist's signature beers will be served fresh on tap here, so whether you're an IPA lover looking for some Geist Kamacitra or whether you're simply craving a Geist Weiss Guy to quench your afternoon thirst – make a stopover here to get the true Geist experience. Of course, the menu also includes but is not limited to the Uncle Dunkel, the Witty Wit and a German Lager!
2. Byg Brewski, Hennur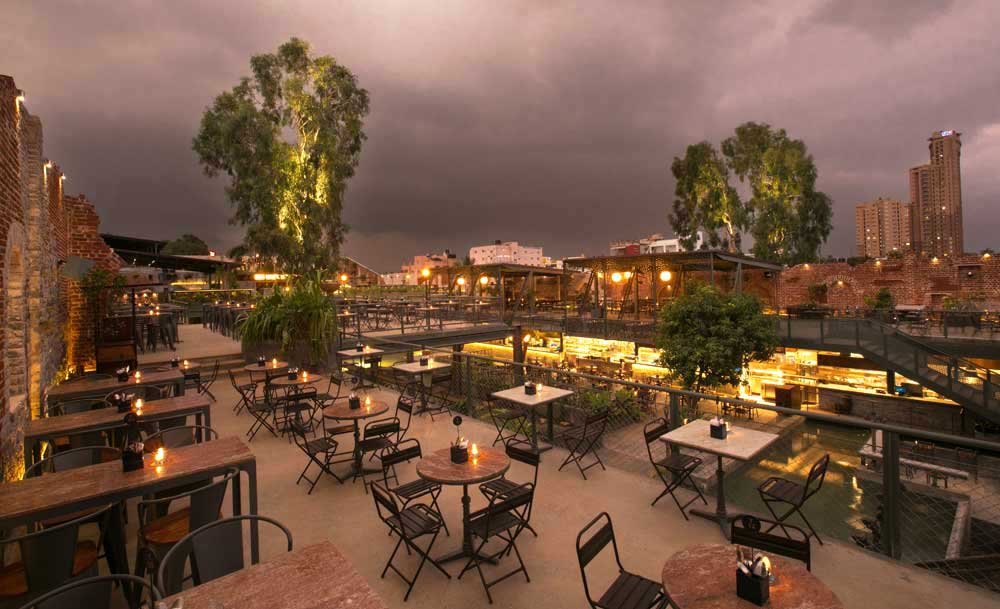 A single level venue spread across 65,000 square feet, Byg Brewski is officially not only Bengaluru's but also Asia's largest microbrewery. Whether you choose to enjoy your drink by the sparkling fish pond or pick a spot on the elevated amphitheatre step-dining area to catch a view of the sunset – the vintage European-themed layout includes five experiential zones and other facilities like a live kitchen and a sheltered space for private brewing where a customer can create their own beer. A jaw-dropping number of 16 beers on tap, complete with a specially curated menu that goes perfectly with their beers, makes Byg Brewski one of the city's dreamiest beer-drinking destinations!
3. HopsHaus Brewery and Kitchen, Whitefield
Described as a 'botanical beer garden' – HopsHaus is something of an inebriant oasis for beer lovers thirsting for an authentic 'beer garden' experience. Expect to be greeted by an expansive seating space sprawled across two floors, offering panoramic views of glorious frondescence under the breath-taking city skies. Be it the summery charm of al-fresco brunching, reminiscent of communal beer gatherings – or cosy corners nestled amidst the rustic interiors that set the mood for more intimate conversations – the astoundingly exquisite ambiance of this microbrewery offers visitors the best of both worlds. Complemented by their impressive line-up of artisanal brews, courtesy of their newly-launched brewery, HopsHaus Brewery and Kitchen, is officially Bengaluru's newest addition to its portfolio of microbreweries.
4. Red Rhino Craft Brewery and Inspired Kitchen, Whitefield
One of Bengaluru's most popular drinking spots, Whitefield-based Red Rhino is not just another ordinary watering hole. A visit to the microbrewery's massive al-fresco terrace bar decorated with vibrant neon lighting and whimsical string lights will instantly make you feel alive as you take a seat to enjoy your drink under Bengaluru's pleasant skies. Complete with a brewery capacity of 5HL, a swanky main bar, a semi-open kitchen area as well as some unique indoor seating options, Red Rhino is hailed for its special focus on beer (four regulars and one seasonal special on tap), food and ambiance that offers thirsty beer drinkers a wholesome dining experience!
5. The Bier Library, Koramangala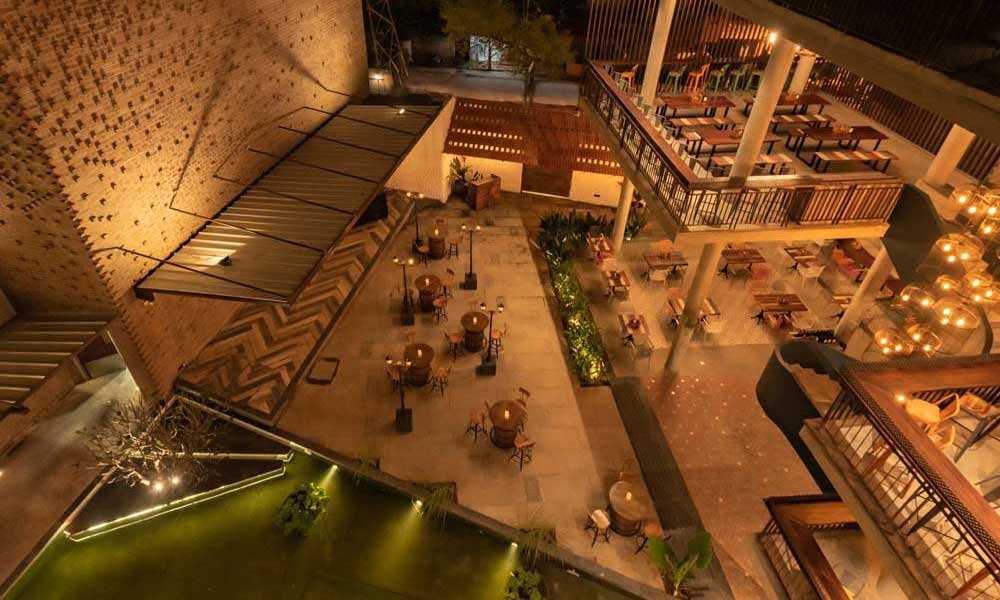 Located off Sony Signal, one of the busiest junctions of Koramangala 80 feet road, it's hard to believe that you'd find such a peaceful beer haven close by. Walk through the large wooden doorway and be greeted by an expansive, central courtyard with a beautiful koi pond running through its centre. Monolithic-style design elements and a stage for live band performances further elevate the charm of this 20,000 square-feet, pet-friendly microbrewery that offers a wide range of seating options for both communal gatherings as well as cosy one-on-one interactions.
The microbrewery serves six beers on tap with their German-style wheat beer 'Very Weiss' and the  Ale-o-Drama, a double IPA being some longstanding crowd-pleasers. Choose from a range of mouthwatering regional food offerings such as pickle platters, gluten-free pizzas and artisanal paneer tikkas to make the most of your visit to this 'bier library'!
6. Biergarten, Koramangala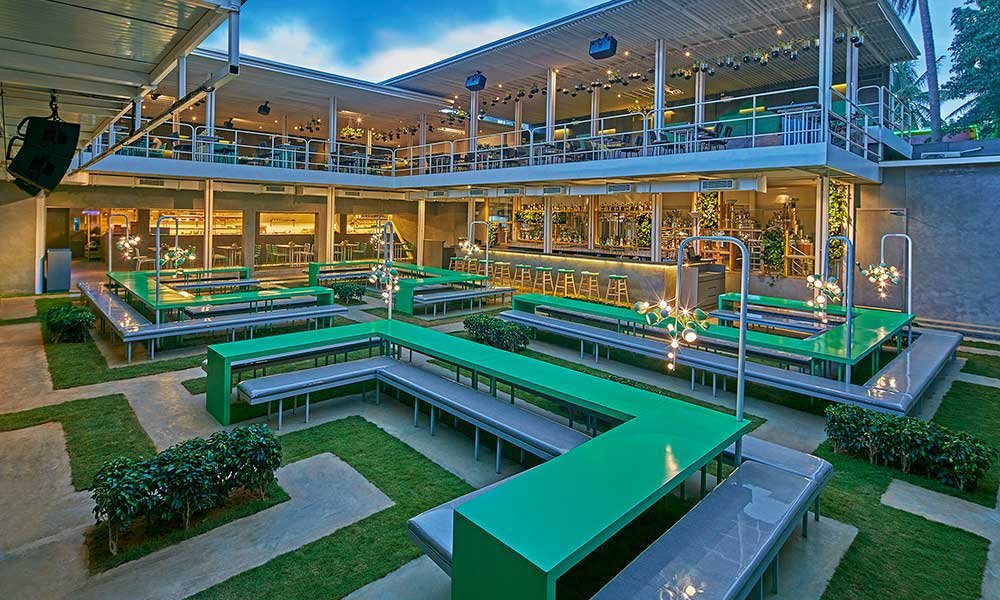 Famously known for its airy, al-fresco section that offers the perfect view to match with Bangalore's welcoming weather, Biergarten has had a significant role to play in upping Bangalore's status as the Craft Beer Capital of India. Spread across two floors, the microbrewery is roughly 14,000 sq. ft. in size and gets flooded with plenty of sunlight and fresh air. With 7-8 beers on tap at their Koramangala outlet and 5-6 beers at Whitefield – this microbrewery has been serving Bangaloreans some of the best craft beers with a side of delightful European-style cuisine, bringing a modern, 'biergarten' experience to the city!
7. Stories, JP Nagar
Fondly touted as Bengaluru's 'greenest microbrewery', Stories – The Brew Chapter offers a delightfully soothing ambiance that's reminiscent of a tropical paradise. Divided into four unique zones, the microbrewery's metal façade is beautifully interspersed with fresh green foliage, and instantly draws the attention of passers-by. More than 40,000 potted plants along with vertical gardens, ficus trees and glass roofs covered in vibrant creepers contribute to the making of this 'urban forest' while the brewery rooftop offers the perfect spot to enjoy freshly brewed beers like the New Zealand Pilsner or the Jamun Witbier alongside a spectacular view of the city's skyline!
8. URU Brewpark, JP Nagar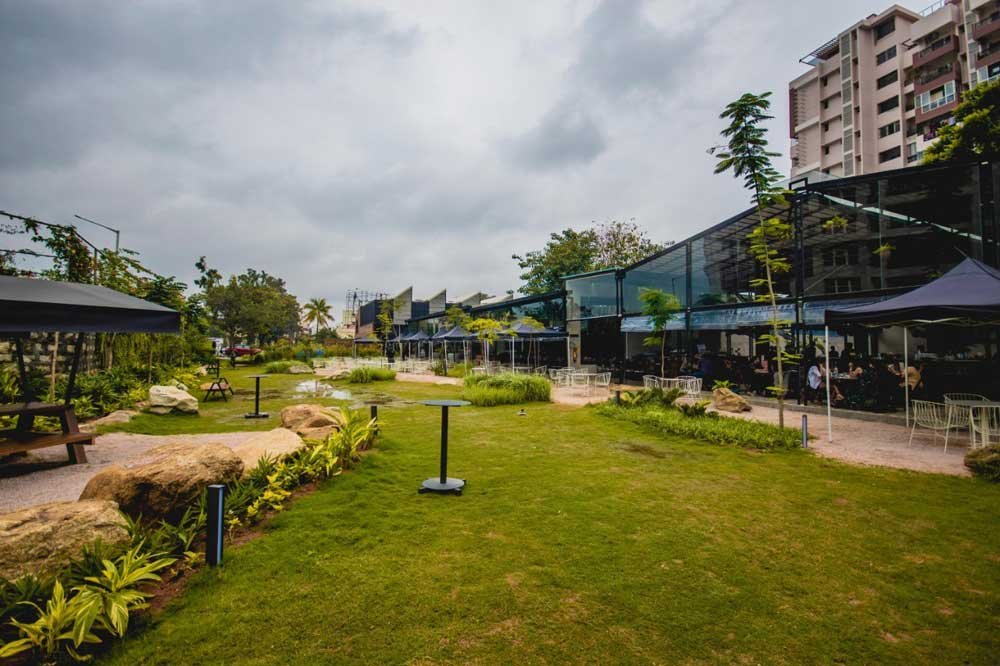 Unless you've been living under a rock, it's unlikely that you haven't heard of URU, the city's first 'Brewpark' nestled in the heart of JP Nagar, one of the Beer Capital's premiere locations for pubs and microbreweries. The expansive open-to-sky brewpub shows off a brewery, a cafe, a bistro and the city's first gin garden, each with a unique charm of its own. Designed as an ode to the 'garden city', one of Bengaluru's more popular nicknames, the microbrewery offers roughly 40,000 square feet of greenery, featuring a combination of almond, peepal and fig trees. Whether you're looking to stretch your legs and read a book or even prepare for barbecue sessions – at URU, you can do both with complete ease!
9.  Alchemy, Residency Road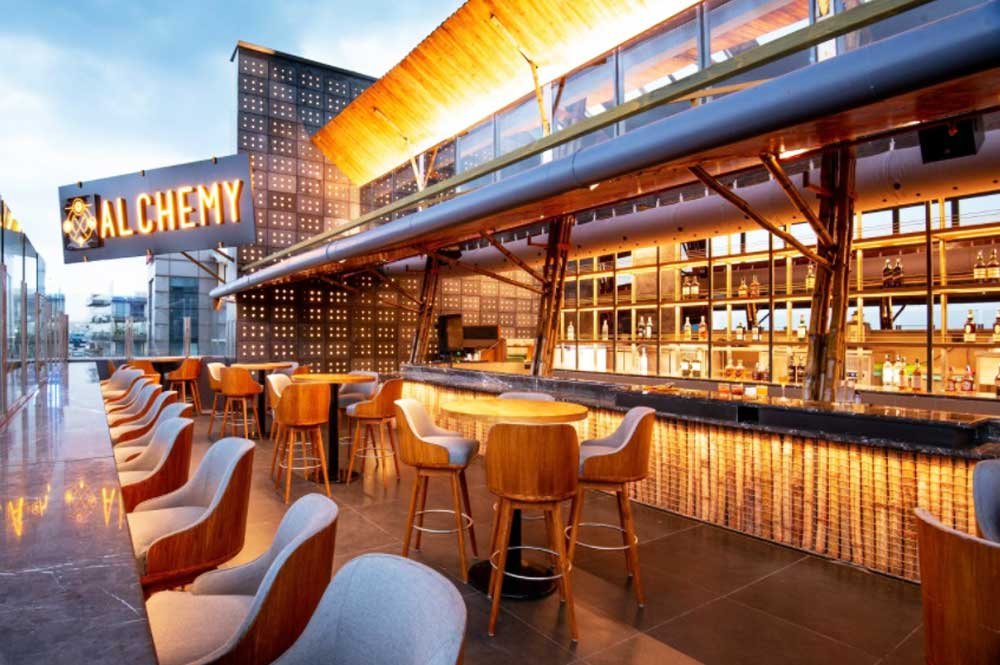 Inspired by the word 'Alchemy', which denotes a magical process of transformation, Alchemy offers a mindboggling confluence of unique beers and global cuisine with a touch of 'local'. Seat yourself under the striking bamboo-wooden roof in colours of black, orange and gold that merges the earthy charm of rustic elements with the quiet elegance of contemporary décor. Enjoy a stately view of the Beer Capital's horizons with some of the freshest beers the city has seen. From super crisp Pilsners to hop-forward pale ales to rich stouts – Alchemy's beer menu offers some timeless classics as well as several sensational specialties brewed with locally sourced ingredients such as fruits and spices. Located in The Chancery Pavilion, one of the oldest hospitality brands in Bengaluru, this microbrewery is a hotspot for hundreds of thirsty locals and expats in search of good beer!