BLR Brewing Co. Collaborates With Breweries From Across The World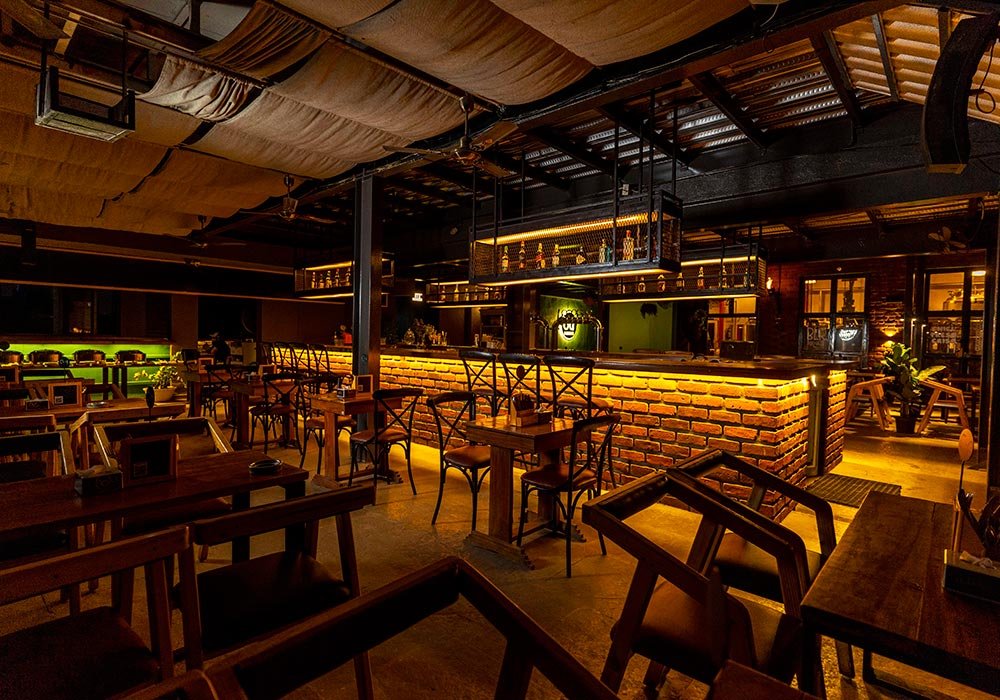 BLR Brewing Co. is a brewpub spread across three locations in the Garden city – Bengaluru. Recently it launched the third outlet in JP Nagar. The theme of the place talks about 5 elements: Earth, Water, Air, Fire & Space all together in one place. Touch of red-bricked walls, Mashaal lighted during the night and live music in the evenings. The space is spread across two floors, indoors and an imposing rooftop to enjoy the breezy weather of Bangalore. A rooftop brewery with fresh seasonal brews by different brewers and breweries across India is what this place has to offer.
The brewery caters to different tastes and flavour preferences of beer lovers and is experimenting with local ingredients for crafting the perfect recipes so that one can taste what those ingredients are all about.
"Demand for craft beer is rapidly emerging and Beer is becoming more of a lifestyle beverage so we thought why don't we do a series of collaborations this year as part of our launch of the new property. Our newest location in JP Nagar is a brewers hub wherein brands from all over the world will be brewing craft brews here. We have collaborated with several breweries from Maharashtra and we look forward to having more such collaborations across the globe" – Prasanna Kumar, Co-Founder, BLR Brewing Co.
The Collaborations at BLR Brewing
Blr Brewing Co. has an array of options to choose from the fresh brews, starting with twelve different styles of house-brewed beers amongst which six will be crafted by the breweries and brewers across India. Blr Brewing Co. has already kickstarted their collaborations with 2 Down Beer Co. by brewing a Best Bitter (more on that later) and it will then be followed by Kimaya Brewing Co., Bombay Duck Brewing, Igloo Craft Beers and many more brands across the globe.
"What made you collaborate with breweries across India? And how essential are collaborations in the brewing industry?" we asked Prasanna Kumar to understand his perspective. "We all know Bangalore is already considered the Beer Capital of India. Looking at this, my idea was why don't we call our friends and breweries across the globe to come over and do a collaboration with us, where we primarily focus on brewing a beer from our locally grown ingredients. In one of the recent collaborations we have used 'Heralikayi' which is called 'Citron Lime' and we will be also curating the food menu which can be native food of the collaborator!" explains Prasanna. "I would like to call this particular outlet of BLR Brewing Co. – JP Nagar as Brewers Hub which will have 12 Beers of which 6 will be from my House Brewer – Umang Nair and 6 more beers will be a collaboration with our Migrant Brewers/ Brands across the globe!"
Apart from their collaborations menu, the brewery also offers 6 in-house variants – Belgian Witbier, Farmhouse Ale, Hefeweizen, Alphonso Ale, Nitro Stout and Nelson IPA brewed by Head Brewer Umang Nair, expertise in hand-crafted beers. Experimenting a fusion of caffeine and beer with South Bangalore based coffee brand Benki is something that makes it one of a kind experience. All of which will be available at all the outlets of BLR Brewing Co. across Bangalore.
Savour the Bengaluru bites menu limited edition which will present you with the flavours of VV Puram vegetable cutlet, Cubbon park salad, Mosque road mutton cutlet and more to satisfy your taste buds from every part of Bangalore. Bringing regional flavours from different parts of the country, the menu showcases the diversity and rich culture of India along with classic favourites from the global cuisine.
Some of their special cocktails are Rose Gimlet, Forbidden BLR and Soho beach bum are not to be missed. The chef's special here is Golconda chicken, Nalli ka Salan, Mojito chicken and Malai Broccoli.
BLR Brewing attracts crowds from all walks of life including your four legged friend as they host Old school nights, live gigs, DJ nights, Sunday brunch, sports screenings, Sunday Sundowners and more.