Crystal Maize: A Historical & Indigenous Kentucky Common By 2 Down Beer Co.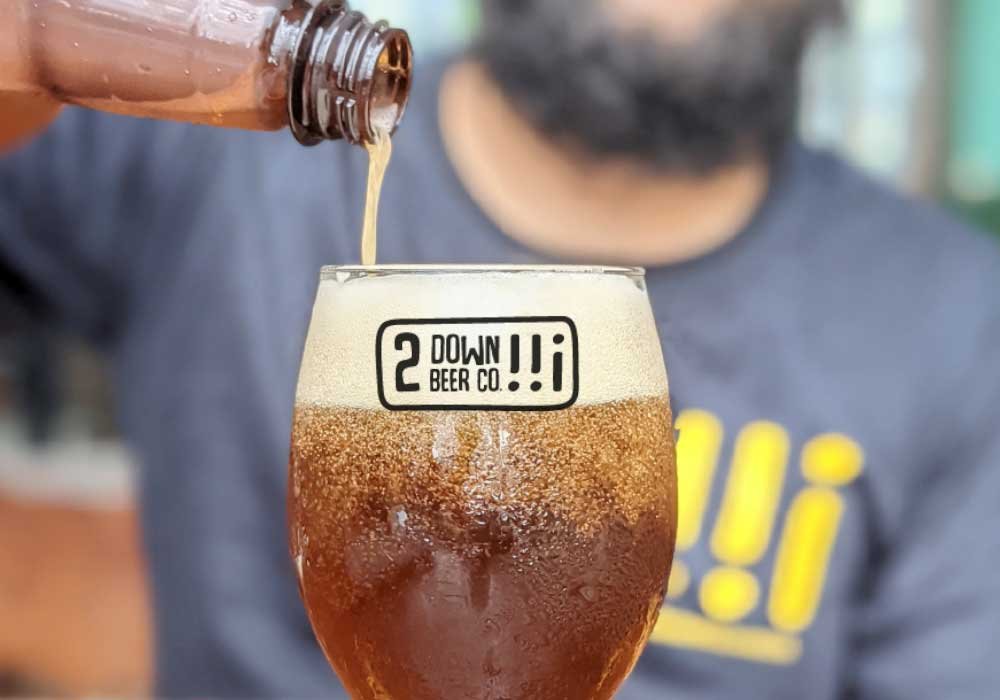 Kentucky Common is a rare historical beer style which was exclusively brewed and sold around the Louisville, Kentucky area. It is one of the beers that Americans can call native. Before prohibition, this American style was fairly popular in the Bourbon territory as it was inexpensive and easy to brew. Typically, Kentucky Common is a dark version of American Cream Ale and traditionally uses a protein loaded 6-row malt along with 30-35% of maize and a touch of crystal/dark malts for colour and complexity. Sadly, with prohibition, this style has died entirely.
2 Down Beer Co. a craft beer company which is based out of Mumbai, Maharashtra, is always known to brew distinctive beer styles under their 'ExperimentALE' series. Founded by two engineers, Gaurav and Salil Palkar, 2 Down features some of the finest beers like Pineapple "Milkshake IPA", Hot Saison, Crystal Maize, Double Chocolate Pastry Stout and a lot more under their belt. Among their spectacular line-up, one of the recent beers that caught our attention was 'Crystal Maize' – A Kentucky Common.
Now, to break this style down further, we interviewed Gaurav & Salil Palkar to find out the story behind Crystal Maize and challenges they had faced in brewing this. Here's what they had to say..
Before we could hop onto the Crystal Maize story, could you briefly tell us a bit about the name 2 Down Beer Co. and what does it imply?
Salil: When we were brainstorming to come up with a brand name, we were trying to figure out our common interests and sort of narrowed down on cricket. As we are huge admirers of Sachin Tendulkar, we used his test cricket batting order to come up with the name "2 Down".

Can you give us more details about the founders background and what they bring to the table at 2 Down?
Gaurav: I've studied mechanical engineering. Since I always wanted to work in the F&B industry, I quit the job to work for a startup. That's where I got introduced to the folks from the craft beer industry and then started homebrewing. Later my hobby turned into a passion and that's how I co-founded 2 Down with Salil. I did my Diploma in British Brewing Technology from Brewlab, UK back in 2018. Right after coming back from the UK, Salil and I decided to start our own craft beer company.
Salil: Before starting 2 Down Beer Co., I was a software engineer and I also did my MBA in marketing. I have always been a beer enthusiast and as I already had marketing and sales experience, I thought I would take up this role. It all happened very quickly and when the Tapped fest got announced, we decided to launch our brand and beers at the event. We entered the fest with 3 beers, Basil Blonde (Jury award winner- Golden Ales), Double IPA, and an Experimental Saison (top Jury award- Belgian Ales).
2 Down Beer Co. is known to have an experimental beer on tap from time to time. Gaurav, as a brewer, what's the inspiration behind your experimental brewing style and what sparked your interest to brew a Kentucky Common, which is a rare historical beer?
The biggest kick that we get out of running a craft beer company is to try and experiment with different beer styles. Through these styles, we put ourselves and also our consumers out of the comfort zone. These experiments teach us a lot about consumer preferences, how to position the beers, how to set the context, etc. It also helps in discovery and evolution of preferences for the customer. We don't experiment just for the sake of experimenting. 
Kentucky Common or Crystal Maize was brewed especially for the Tapped house party festival. We see Tapped as a great opportunity to brew experimental or rare beers. Double Chocolate Pastry Stout was one such beer we brewed for Tapped earlier this year. This time we just wanted to keep it simple and come up with a style which no one would have heard about. Something which is malt forward and sessionable. Since we hadn't brewed using corn earlier, we thought why not?
Crystal Maize name is a reference to the famous game show and also focuses on two main ingredients that it was brewed with, Crystal malt & flaked Maize!
Break down the tasting notes of this beer in terms of aroma, appearance, flavour and mouthfeel.
Gaurav: Crystal Maize was brewed with Pale Ale malt as the base malt, flaked maize and a tiny amount of crystal, chocolate malts for darker colour and complexity. It is a high sessionable Kentucky Common with a brilliant amber colour and a lovely caramel-like malt sweetness. Clocks in at about 4.9% ABV.
Did you have any challenges while brewing a Kentucky Common? Traditionally, this beer style uses about 30-35% of maize. What percentage of maize have you used in this? Did you do a cereal mash or have you mashed it all together?
Gaurav: For Crystal Maize, we used about 30% flaked corn in the grist. First a cereal mash, that was then added to the rest of the malt for a single infusion mash. Lautering was the only challenge we faced while brewing this. We almost had a stuck mash but managed to get through it at the end.
Any other interesting beer styles in the pipeline from your 'Experimentale' series?
Gaurav: There are plenty in the pipeline. For growlers we mostly brew sessionable beers as you can't package less than 1-litre in Maharashtra. At festivals when one can buy by the glass it's a different ball-game altogether.
Currently, 2 Down Beer Co. sells their beer via restaurant partners, growler stations and craft beer festivals. They serve Mumbai & Thane, but were actively pouring in Pune & Nagpur in addition to the current cities pre-lockdown.
Basil Blonde, NICALE – A table Saison, Dark Matter – Irish Stout, Pretty Please – Cream Ale. A-Game (APA), Crystal Maize – Kentucky Common and OneMo – English IPA are currently pouring out of their taps.
Be sure to check them out on Instagram @2downbeerco for more information.