BW Beerpreneur: "BeeYoung Gearing Up For Its New Brewery In Uttarakhand"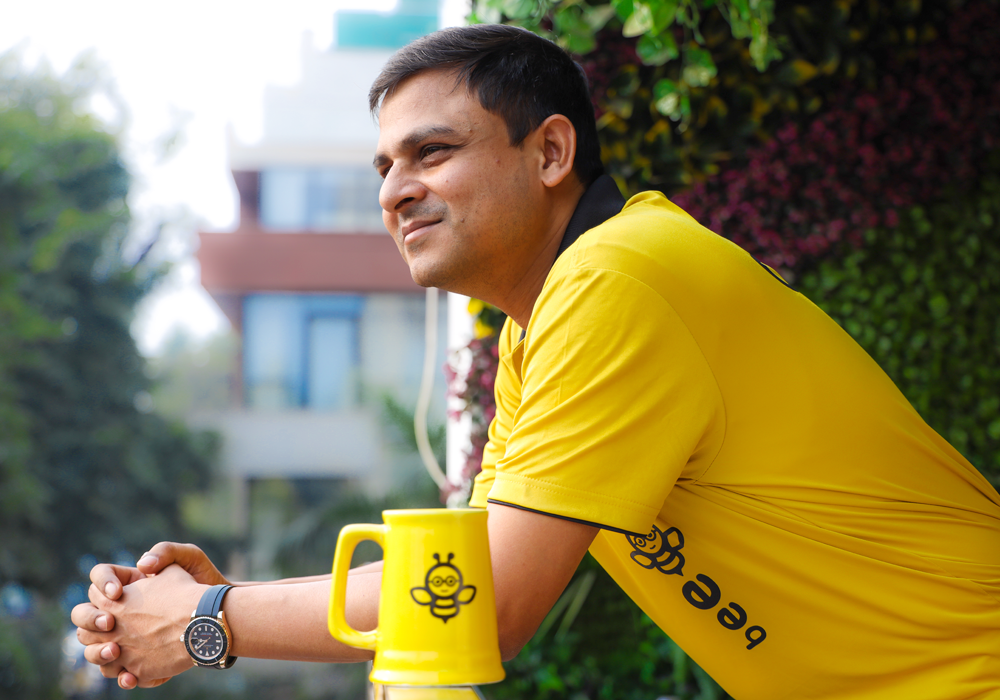 This interview is a part of BW Beerpreneur, a continuing series of interviews with the Beer Entrepreneurs, owners of the beer brands from across the world. Brewer World will share business and personal insights to help build the industry network and consumers to understand their beer well.
The beer market seems to be on a high, and it doesn't seem to be dissipating. We have more than 350 breweries in India today, a decade after the first few microbreweries opened in India. Despite the pandemic and the subsequent lockdowns, craft breweries found innovative ways to serve the home consumer market by offering deliveries, offering growlers to take home, and opening beer filling stations, among other things.
With all the brands around there is one BeeYoung, India's first strongest craft beer that was launched in September 2019. Kimaya Himalayan Beverages owned by Abhinav Jindal. The MBA graduate, aimed at providing a premium product at an affordable price point for consumption in India. Little did he know that the global pandemic will slow down the production and sales. The brand now is back to its maximum productivity and is the talk of the town.
 
25 crores in six months!
The company was launched with a capital of 15 crores and now BeeYoung is known to have made a profit of 25 crores in just six months.
BeeYoung takes pride in being the pioneer in making the audience aware of the right packaging that enables them to consume beer and is perfect for sharing.
Meghana Harikumar from Brewer World spoke to Abhinav Jindal, Founder and CEO, Kimaya Himalayan Beverages about his journey, the brand and his future plans for BeeYoung. Below are the excerpts…
Tell us about BeeYoung. How is it different from others in the market?
BeeYoung is India's first strong craft beer. A brew that delivers a crisp, clean yet punchy sip, every time, in all social settings. The choices of ingredients are brought together to create BeeYoung, to find instant appeal with the drinker, be it a seasoned imbiber or a first-timer. The product evokes a sense of adventure and curiosity in the drinker, promoting the idea of trying something new, something that is different and yet remains familiar. BeeYoung narrates the story of youth and adventure.
BeeYoung starts with a sharpness, delivering a perfect malty taste. Then it translates to ripe fruity on the midpalate, with the invigorating flavours and taste make each sip eventful. BeeYoung is our star product and a bestseller across markets.
Two factors that make BeeYoung different from any other brew in the market are its packaging and provenance. The 500ml bottle packaging was introduced in India for the first time with the inception of BeeYoung, to be shared adequately and consumed at the right temperature. The ingredients used in the making of BeeYoung are sourced from their provenance to provide it with a perfect ever-refreshing taste that is smooth on the palate.
Moreover, BeeYoung, being a craft brew, is available at a very competitive price which sets the benchmark for quality at honest prices in the Indian market.

When did the light bulb moment come?
Being a beer enthusiast, I love to try new variants and styles of beer from across the globe. Being a part of this industry for over a decade now, we analysed the gap in the beer industry. I have deeply observed the beer landscape and consumption pattern in India. There weren't many players manufacturing quality products especially in the strong beer segment, that would appeal to customers cutting across preferences. The strong beer segment makes up for the largest percentage of the market share yet underserved in terms of quality products, hence, we decided to create a product that is crafted and artisanal.
Having travelled to quite a few parts of the world, I also witnessed that beer is not just alcohol but a culture, a kick-starter for celebrations, adventure, and leisure, and that is how I feel. The beer consumption was perceived wrong, and we wanted to change it by educating people about the right pack size and temperature. We are a team of passionate individuals trying to provide international standard brews at the right price, that can be served and consumed in any social setting.
How did you begin creating the brand?
As aforementioned, having closely observed the beer industry in the country, I was able to identify gaps pertaining to the packaging and unexplored strong craft category. The packaging standards i.e., 650 ml and 330ml, are either too big and lose temperature halfway through, or too small to share with others. We came up with unique 500ml sized cans and bottles, as this is just the quantity to ensure proper delight of every sip.
The pattern of beer consumption needed to change, especially in strong categories. I met various brewers in the north and south to create a brew that is extremely gentle in profile and has been made to find an appeal with all sorts of beer lovers. We finally tasted a brew that was vibrant, buzzy, spirited, adventurous as a 'bee' that transcends you to the young days, hence named it 'BeeYoung'. After determining the viability of the product through extensive market research we launched the product in the north market in September 2019.
The product's favourability is backed by various marketing collaborations, campaigns, gifting, reviews and brand-consumer loyalty. We have witnessed an upsurge in demand in the existing and other markets. We have also been receiving queries from various distribution networks in the west and south for which we are fabricating plans to foray into those markets by the end of this year.
How have you priced your beer and what is the idea behind the pricing?
Delhi – INR 110 for 500ml; INR 140 for 650ml
Uttarakhand – INR 115 for 500ml; INR 150 for 650ml
Punjab –INR 135 for 500ml; INR 162 for 650ml
The idea behind selling the product in the INR 100- INR150 range is to set benchmarks with a quality product at honest prices. We are determined to provide the consumers with a premium product in terms of taste notes and quality while being affable at the same time.

Who do you target as your audience?
All sorts of beer drinkers want to enjoy every sip of the beer, from enthusiasts, younger audiences (21+ years of age of course), and even the older audience who appreciate beer and like to drink a premium quality brew. This brew is made to find appeal across age groups.
What is the quantity of beer brewed per month at your brewery?
We have leased a brewery, where we produce close to 80,000 cases in a month.
What were the challenges faced while setting up the brewery?
Currently we are managing our entire production from a leased brewery in Patiala.
To find the right brewer was a challenge at first. It took us a while before we did our research and finalised the brewery. With the increasing demand, expansion plans in terms of availability and product portfolio, we will be facing difficulties to carry out production in a leased facility, But, we are ensuring that the product quality is not compromised at any cost.
We are soon coming up with our own brewery in Uttarakhand to boost the production to strengthen the availability in existing markets and new ones. It will enable us to experiment with different styles and to come up with innovative variants.
Tell us about the varieties of beer you brew. Where do you get the raw materials?
We have BeeYoung, a lager that is India's first strong craft brew and Yavira, a premium Basmati Pilsner in our product portfolio. We are experimenting with different flavours to create new styles to be launched this year.
For the production, premium two-row barley malt is sourced from Argentina to get the perfect maltiness to the brew. 100% Sortex White Rice lends clean flavours and makes brew free from impurities. It follows a finish that is accentuated by Columbus and Styrian Golding hops, is lasting, gently bitter and with a citrusy twist making it an ideal sip for a sultry day.
Pure spring water sourced from the Bhakra Dam forms the character and profile of the beer. Yavira's smooth texture and crispness is achieved by the inclusion of premium Basmati rice in the process.

Tell us about the expansion plan both in India and global markets?
We plan to expand business in newer territories to strengthen availability in all the key states across the north in the first half of this year, 2022. Once we have firmly wired our foothold in these territories, the second half of the year will set in motion launch plans for key markets in the west and south. States such as Mumbai, Goa, Karnataka, etc. to further expand the business and devise nationwide growth for Kimaya.
Moreover, we will also be amplifying the width of distribution to make the product more accessible in existing markets.
What trend do you see happening in 2022 when it comes to changing drinking culture?
Despite the halt and difficulties faced by the beer industry, we tend to create innovative beverages that will engage consumers. Enlisting some of the trends that will fuel the imagination and resilience of the craft brewing industry in 2022.
Evolution in brew styles and flavours: Increasing demand for low alcoholic beverages and craft beer has led to high demand for exotic fruity flavours in brews.
Storytelling through packaging: In 2022, storytelling is essential to communicate what the brand stands for. It helps address the brands' ideal customers. For example, the use of AI has brought in a new dimension in the craft beer industry. Unique and catchy packaging ideas like adding QR codes to enable the consumer to read about the brand DNA by leading them to their website/social/menu. It makes the customers feel inclusive and connected.
India Pale Ales (IPAs) remains the king of the craft, and brewers continue to add innovative offerings to the hop filler category. 2021 has also witnessed a growing appetite for softer, less bitter, and juicy IPAs.
Also, people have reduced consumption of alcohol for health and other reasons, and therefore, the market is responding with a wide range of offerings with little or no alcohol. Brewers also market non-alcoholic, hoppy, and non-beer beverages.
These trends have also led to the premiumization of the craft beer industry and growing business opportunities for the brewers.
In terms of marketing: what's worked and what hasn't?
Initially, we started the retail business with minimal and controlled sampling to gain feedback. With planned marketing outreach, we got the opportunity to participate in events such as Food for Thought, Horn OK Please, Eat Love Party, and Toast -Wine and Beer Festival, enabling us to sample the product to a wider audience. More and more sampling to the target audience was the initial focus before we gained momentum on the sales in cities where we have our distribution. The perfect taste and buzz of the product kept the audience hooked.
Moreover, various high voltage campaigns are consistently running on our social media platforms, helping us promote the brand narrative, populate collaborations with industry faces/influencers. These collaborations (engaging reels/ fun videos with product integration) have helped garner traction, build brand identity and consumer loyalty. The cocktail mixing by experts, comics, dancers, and festive reels have performed considerably well and have been well accepted by the audiences.
Tell us about your family.
I have two amazing daughters who are my best friends. Spending time with them works as an absolute stress buster for me when I go back home. We love cooking, hiking and travelling together. My wife and parents complete the close knit family that we are. My parents are religious devotees and we are blessed to have them guide us and the kids with values and virtues.

How do you spend your free time, if you got some?
I am an avid traveller and a beer enthusiast. I like travelling to the Southern part of India and different countries for their beer and beer culture. Also, I cook and try new cuisines whenever the time permits.
Any other business plans you are working on?
We have a lot that we are working on. Moving forward we will be looking at introducing a new age brewing style which should be possible with our new state of the art brewery coming up that will take shape in 2022.
Due to the pandemic and uncertain lockdown situation in various states, we had put a halt to our plans for expanding the business. Even now we will take gradual steps and move forward with our existing plans.
Also, we are researching and working on some exciting new beverage categories, which we intend to introduce in this year itself.