Beer Industry cracks the glass ceiling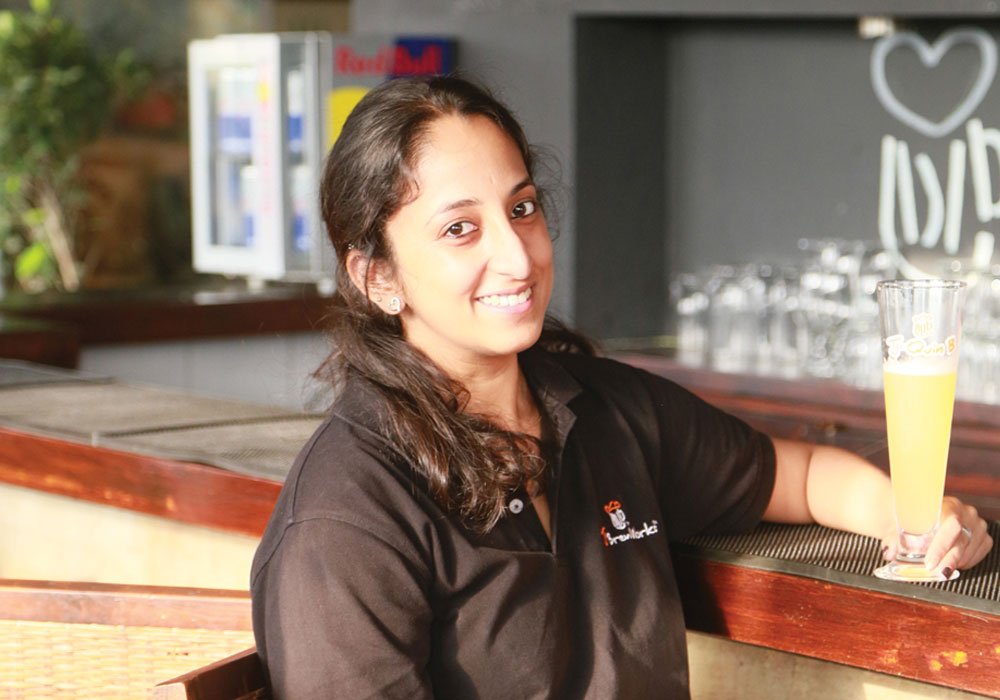 Ashwini Rajagopal
Head Brewster, TJ's Brew Works
As all great callings go, Ashwini Rajagopal's began when she was in the womb. Her mother, worked with a brand called the Golden Eagle. Her childhood was spent playing in commercial breweries converted into makeshift playgrounds, with clouds of hop residue. Here, Ashwini Rajagopal, India's first 'Brewster' talks about her pursuits to Brewer World.
How did your interest in brewing begin?
Hailing from Chennai, I completed Engineering in Thanjavur, Tamil Nadu and moved on to do a Master's in Brewing and Distilling at Heriot Watt University, Scotland. While pursuing my Engineering course, I was introduced to the world of brewing. My first experience was with Mohan Meakins in the year 2008. Incidentally, my mother worked for about 30 years in the company. Ever since, I have been learning and contributing to the industry – United Breweries and SAB Miller India exposed me to end to end brewing process, laboratory techniques, new product development and documentation. In Scotland, I headed a startup – Hawkhill Brewery – where I was involved with recipe creation, material and machines procurement, up-scaling the plant, installation and business management. All these skills helped me get a job in Pune at TJ's Brew Works where I started as an intern and graduated to head the brewery.
What are your thoughts of your customers tastes in beer?
In the two and half years that I have spent at TJ's Brew Works, I have seen a gradual change in the trend of beer drinkers and their preferences. Undoubtedly, we can see a great shift in choice from commercial bottled beers to hand-crafted beers. Women who are usually sceptical about beers constitutes about 35% of our consumer mix.
With a variety of craft beers ranging from ultra-mild beers to strong beers that not only are distinct in their alcohol content, but also visually, by taste and by aroma, consumers get to relish international styled beers in their own town. Expats who come into the country are delighted to find locally crafted beers that they are familiar with. Also with many communities popping up to promote and create awareness of craft beers, people are enjoying the knowledge and beers they are getting!
What would you rate as challenges that affect the production of good beers in India? How do plants, machinery and ingredients play a role into producing good beers?
The biggest challenge is availability of quality raw material at a reasonable cost.
Basic hygiene quality assured in plant and machinery, origin of manufacture does not matter as long as the process diligence is adhered to.
What do you think of the future of the craft beer markets in India?
Indians want to be in vogue with Europeans and Americans in terms of clothing, accessories and drinking habits too. The trend of seeking out craft breweries seems to be evident with consumers and the big players as well. Craft beer is likely to grab at least 25% of the market share.
Today, craft beer is growing at about 13% in the US. If the trend continues here as well, the same growth rate is expected. As young legal drinking age consumers graduate to alcoholic beverages, they will have to pass through the threshold which is the beer category. India is going to be the youngest population and beer being the threshold of recruitment category for alcoholic beverage industry. Our average age by 2025 is predicted to be 29.
What is your brew motto? Could you tell us about a few of your favourite brews?
Brew Motto: Differentiated range by appearance, taste and style. I draw inspiration from international styles like IPA, German Bock, and Blonde; we innovate and customise to deliver differentiated special beers to create our unique taste appeal.
With a variety of craft beers ranging from ultra-mild beers to strong beers that not only are distinct in their alcohol content, but also visually, by taste and by aroma, consumers get to relish internationally styled beers in their own town.
What is the biggest difference between beers brewed by you and your competition?
We brew international styled beers that are fine tuned to the local population's liking. In addition, all our beers are unfiltered. We also innovate with non-standard raw materials – such as using super foods like quinoa and buckwheat in brewing, which gives us a leg up in a world filled with health and lifestyle worries about beers! Beers brewed with super-foods and pseudo-cereals are totally in coherence with traditionally brewed beers in terms of keeping visual and flavour profile qualities intact.
Consistency in quality is achieved across the repertoire of our standard house brews, which is why there is constant patronage.