Top Beer Cicerones In India
Wine tasting is most commonly a very exciting career. Did you know that beer tasting also exists? Did you know what they are called? So wine tasters are called Sommeliers, and beer tasters or judges are called Beer Cicerones. And, that credibility one gets post cracking the Cicerone Certification Programme founded by Ray Daniels.
The name "Cicerone" may sound intimidating in the pantheon of beer professionals (as opposed to being called "brewer" or a "suds expert" or many other titles). The Cicerone role is essentially the same as a sommelier in the world of wine, since it's as simple as just thinking Cicerone=crazy smart beer lover.
Unlike sommelier certifications, Cicerone certification is new. A growing selection of good, complex beers meant (and continues to mean) the need for dedicated, knowledgeable professionals to help a maybe uninitiated public discover them.
There are many Cicerones in the other countries, mainly the USA when compared to India. With the growing market for beer in India, Cicerones are also surfacing. Here is a list of top Indian Beer Cicerones you can follow and get your share of beer education.
Anudeep Reddy (L2 Cicerone, BJCP)
Anudeep is a mechanical engineer turned educational consultant working with breweries under the name A Bier Guy. He was working for corporate companies until he realised that it drained every ounce of his energy. Anudeep slowly started learning about craft beer during his stint in the US and started this platform in India to improve the staff and customer relations around beer. He now hosts beer sensory panels, beer certification courses, tasting sessions, builds a niche around beer brands to develop a long term customer retention.
He calls it "Beer Revolution!"
"I help people understand beers better so that they don't have to settle for anything less than what they deserve. I host beer events and train staff at breweries to help them build a solid relationship with their customer. I have an obsession with the beer, not just with drinking but to also learn more so that I can help people take better decisions in choosing the beer. For the price they pay, I want people to have the most out of a beer, which is beyond just the taste and the buzz.
Follow him on https://www.instagram.com/abierguy/
Arne Jach (L2 Cicerone)
Based out of Scotland, born and raised in Germany, Arne now is the Head Brewer at Mannheim Brews, Bengaluru. His interest in trying new beers led him to take up home brewing as a hobby and got invested in it. After finishing his masters in environmental science and working a couple of years as an eco-toxicologist, he decided that his real passion was brewing. He has gained hands-on experience as a commercial brewer since early 2016.
To bring his brewing to the next level he decided to attend the renowned Certified Brewmaster Course at the VLB (Versuchs- und Lehranstalt fur Brauereiwesen) in Berlin in 2017.
Shortly after this, he moved to Aberdeen, Scotland to work for the famous Brewdog Brewery and now his passion has landed him at the Mannheim Brews to make some great beers!
He cracked the certified beer server exam after he started working with Brewdog, and went on to get his cicerone certification after that!
Connect with him at arne@mannheim.in
Late. John Eapen (L1 Cicerone)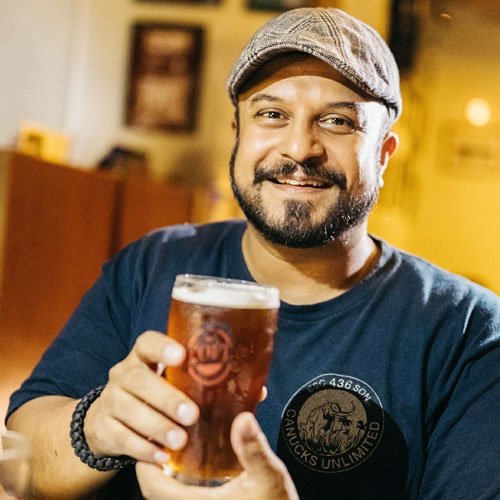 John Eapen was one of the most favourite beer cicerones in India. He was working as an independent brewery consultant and was a freelance alco-bev writer/editor. John started 'Tales Of Froth', which covered Beer and Craft Beer in India.
His short term goals were to connect with those in the Beer/Microbrewery/Brewpub industry as well as F&B consultants and those who deal with leasing for F&B properties.
John was a Beer connoisseur who would host workshops and events to evangelize India about Beer and Craft Beer and also was a Cicerone Certified Beer Server.
He did hold a private pilot's license and 175 hours TT on a Cessna 172 Skyhawk. Though he was no longer pursuing a career in aviation and had instead an interest in general aviation, as a hobby, when he left us.
Follow him on https://www.instagram.com/talesoffroth/
Ashish Ranjan (L1 Cicerone)
Growing up in a Whiskey drinking nation, he had a natural affinity towards distilled beverages. But, as they say, 'A great beer can change your life', he had his first beer encounter in 2015 when he had the first pint of Lagunitas IPA and with that 312oz of liquid poetry. The unflinching commitment to quality and creativity that the community embodies attracted him to craft beer. During his days as a management consultant at Deloitte, he was blessed with multiple opportunities to travel and explore a variety of craft beers from their source countries. When he came back to India, he felt the craft beer movement stood at a significant crossroad. While the community was growing at a substantial pace, there was a fear of miscommunication and exploitation happening in the name of craft.
He felt that in order to make sure the craft beer phenomenon evolves into a pure culture in India, it was paramount that an average Indian beer drinker had a basic understanding of what craft beer should be. In order to bridge the gap, he started discussing with different craft brand owners and eventually started his Instagram account – lazybeertaster. The idea behind it was to demystify different aspects of brewing, and spread the beauty of this art form to as many people as possible. Another purpose was to encourage people to develop educated critical palates to winnow real gems from the ordinary. He did some serious reading along with a part-time stint at a US based brewery, cleared the Cicerone Beer Server exam and became a beer educator.
Ashish has now started working on his passion project, a microbrewery in the capital (Fort City).
Follow him on https://www.instagram.com/lazybeertaster/
Gautham Gandhi (L1 Cicerone)
Gautham, previously a criminal lawyer who started brewing due to the lack of good beers in Delhi, started innovating extensively with different styles and ingredients. He went on to work with brewers, beer companies, raw material and equipment brands from India and other countries. After his life changing gig at Pasteur Street Brewing Company, Vietnam, he decided to dedicate himself to making beer better in India and co-founded the upcoming Delhi based 'Fort City Brewing' along with Ashish Ranjan.
His approach to brewing is very non-traditional and new world and somewhat leftist. He feels India should find their own style of beers and hopes to make India a Beer Superpower. He is also a Co-admin of India's largest Facebook Craft Beer community called "Friends of Froth" founded by the Late John Eapen, India's first and only beer evangelist.
Follow him on https://www.instagram.com/hoppygandhi/
Abhinav Reddy (L1 Cicerone)
Having toured many craft breweries in the US, Abhinav was able to embrace the world of craft beer. The interest towards craft beer spiked when he started home brewing in 2017. Ever since, he has been brewing different styles of beer very month to master the skill. He has also taken part in various craft beer festivals across the world.
To gain extensive beer knowledge, he became a part of many home-brew clubs. Extensive elevation of his sensory skills and more knowledge about beer and its history is what he is proud of. He holds a Level 1 Cicerone certification which is termed as Certified Beer Server and plans to study the next levels in the future.
Follow him on https://www.instagram.com/thebeersnifter/