To Mythical & Magical Beginings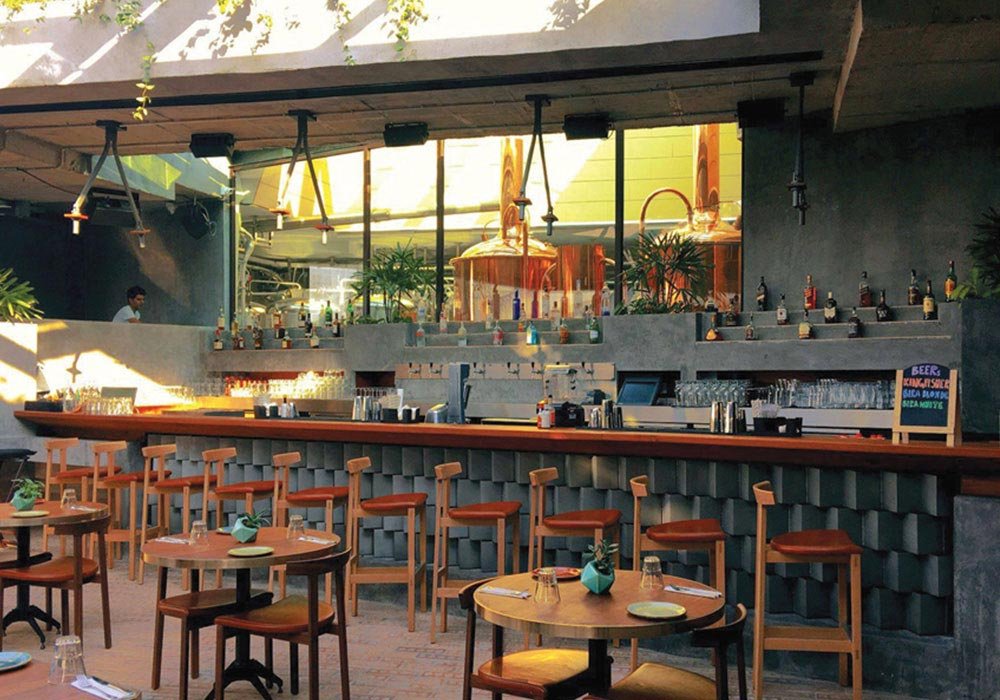 Niharika Raval
GM
AMIT GOWDA
Owner
WHAT IS THE CONCEPT BEHIND THE DRUID GARDEN?
Concept of The Druid Garden was based on two ideas, that could connect one with the old charm of Bangalore – open spaces and gardens. When we sat down to ideating, we created a mood board for ourselves so that we could visualize the space better. We were sure that the look and feel had to be of old Bangalore (with its large open spaces and green cover). The idea was to open a restaurant with a built in Microbrewery. Added to this was the inclusion of a retractable roof; which opened up to natural plants completed the imagery of the Garden city. Since Bangalore was the original "pub city" we decided to have a microbrewery within the restaurant.
WHAT DOES THE DRUID GARDEN OFFER THAT OTHERS DO NOT?
Our USP is that we serve the best brewed craft beers with authentic flavours and recipes, brewed with the best possible ingredients by a Czech Brew master. We also have a world of cuisines on our menu with some great tasting and well-presented cocktails, all this in a setting that can be compared with any international restaurant.
COULD YOU TELL US SOMETHING ABOUT THE OWNERS? WHERE THEY GREW UP AND WHY THEY WERE INTERESTED IN BEER?
Owners of The Druid Garden are a father-son duo, both born and brought up in Bangalore. Mr Ravishankar has been one of the principal founders, his experience goes back 30 years, the same amount of time that he has been managing the iconic Urvashi theatre. He likes to keep up with the times and has been instrumental in setting up The Druid Garden. Mr Amit Gowda grew up in Bangalore and received his formal education here, after which he went on to pursue his MBA from the London School of Economics. He started working with Marks & Spencer in London as an Assistant Sales Manager and soon within a year rose to the rank of Store Manager; he continued working there for 4 years before returning to India to start something on his own. He owns and manages "Haute Fitness" – one of the largest fitness facilities in India. His passion for good food led him to opening a restaurant.
While Ravishankar loves beer, Amit ironically isn't too fond of brews. Having grown up in Bangalore and seeing the old-time places closing down, hence, causing a void. They wanted to create a space where one would be able to enjoy a variety of freshly brewed beers.
HOW DID YOU SETTLE ON THE NAME? IS THERE A STORY BEHIND IT?
While we were brain storming to decide on a name for the restaurant, we were very clear that the name should be intriguing and should reflect our vision. Druids are mythical little creatures that create magical potions; our chefs, our mixologists, our service team and all other teams create magic for our guests in their own special way and the "garden" is a reference to the city of Bangalore, hence the name "The Druid Garden".
HOW ARE YOUR BEERS DIFFERENT FROM THE OTHERS OFFERED? WHICH IS THE FASTEST SELLING BEER?
We use the best quality German and Czech ingredients for brewing and follow traditional recipes. We ferment each beer fully and only then move it to our duo tanks to be tapped and sold. There are no shortcuts. The recipes that we use have been tried and tested for years, so there is no question of experimentation at all. All our ingredients like malts, hops and yeast are imported for Germany and Czech Republic. Since we opened we've introduced 6 beers; Czech Pilsner, Bohemian Dunkel, Hefeweizen, Indian Pale Ale, Belgian Witbier and Basmati Lager. The top two favourites so far have been Bohemian Dunkel & Hefeweizen.
WHO CREATES MAGIC AT THE DRUID GARDEN?
Our Brewmaster, Ladislav Klazar is from Czech Republic. We have tied up exclusively with Czech Brew masters who have guided us immensely right from advising us on choosing the right kind of brewing equipment based on our requirements to setting up the entire unit for us and also sharing age old traditional brew recipes with us. The rest of our team including the chefs, service associates, housekeeping team members are all from diverse backgrounds and experiences who share the same vision as ours. Of course, not to forget the very talented backbone of our organization which is the HR, Purchase and Finance teams who focus on the backend to leave us focusing on new ideas.
CHALLENGES WHILE SETTING UP THE DRUID GARDEN?
Our restaurant and microbrewery are built on a 50,000 sqft area building and setting up such a large space has its share of challenges, but nothing that can't be overcome. The legal process for setting up a microbrewery is long and tedious, with a lot of compliances, patience is the key!
INDIA IS CURRENTLY WITNESSING EXPANSION OF BEER MARKETS, YOUR THOUGHTS ON THE SAME?
10 years ago, there were only 1-2 micro-breweries as compared to 75+ now. That statistic is enough evidence to show that the market is ever growing. There are a lot of young people with more disposable income, who love to go out and drinking is no longer a taboo. We also have young professionals who travel a lot and are becoming more aware and educated on the assorted products out there and they are not afraid to experiment. These are signs of the good times that are ahead.
WHAT'S THE ONE THING YOU WOULD TELL PEOPLE TO EXPECT WHEN THEY VISIT YOUR BREWERY?
Keep an open mind and don't be afraid to try new flavours!!
There's a new brew in town and it's creating quite the buzz. The Druid Garden is an amalgamation of elegance, authenticity, and ingenious creativity. With a menu that touches over 15 of the world's most acclaimed cuisines, their culinary artists have maintained a fine balance between modernity and classicism.
Equipped with a degree in International Hospitality management, and over 10years of experience, working along-side renowned properties like The Oberoi, Westin & Michelin starred brands like Hakkasan & Yauatcha, Niharika Raval, General Manager talks with Sneha Nair, Brewer World about the setting up of the Druid Garden.