This Summer, Beat The Heat With World's Oldest Alcoholic Drink
Have you guessed it yet? No, we are talking about MEAD.
Mead, also known as "nectar of the gods" by the ancient Greeks, was thought to be dew sent from the heavens and collected by bees. Many European cultures regarded bees as messengers of the gods, and mead was thus associated with immortality and other magical powers such as divine strength and wit. As a result, even after its decline in drinking popularity, mead continued to play an important role in Greek ceremonies.
From its ancient origins to its current popularity, mead isn't just a drink for seafaring Vikings and mummified royalty; it's also a popular drink of choice today. Mead, possibly the ancestor of all alcoholic beverages, has delighted audiences from working folks to soldiers, pirates, and even royalty throughout history. While its popularity has waned in recent centuries, this ancient, golden-hued drink has seen a resurgence in the modern era.
Listed below are some of the popular mead brands in India to add to your home bar today.
Moonshine Meadery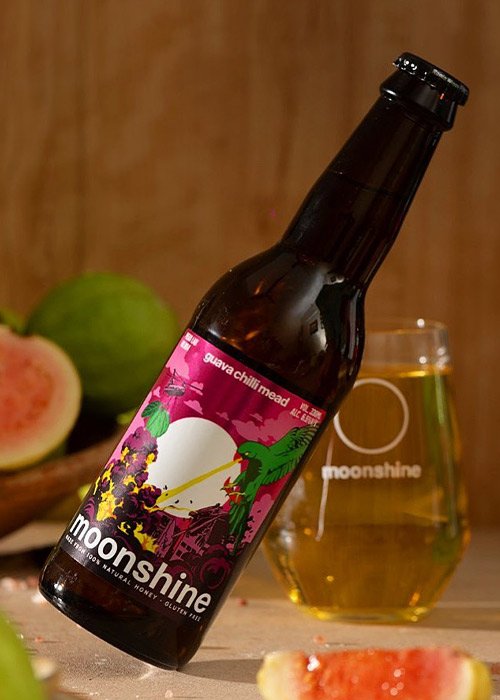 Started as a garage project in 2014, moonshine meadery is now known as Asia's first Meadery, producing meads by fermenting ethically-sourced, pure honey with various fruits and spices, resulting in a 100% natural, flavorful beverage. Moonshine's meads are tailored to the palate of the subcontinent and is currently available in Pune, Mumbai, Karnataka, Assam, Silvasa, Uttarakhand, and Goa and will soon be available in Gurgaon, Haryana.
Arka Mead by Hill Zill Wines
Arkä, which means "extract" in Sanskrit, offers you with dessert meads flavoured with wildflower honey, rose, and jamun berries. The Sahyadri Mountains' honey is used to make this beverage with the highest regard for its natural components. They intend to give the most flavour while still retaining their purity.
No Label Mead
No Label, India's first Homegrown Mead, offers a unique experience among the market's abundance of options. No Label provides a distinct and flavorful drinking experience for the Indian consumer at an affordable price. Bored Beverages Private Ltd., is a Delhi-based cross-category multi-portfolio Alco-Bev startup with a manufacturing unit in Manesar, Haryana. It is the first brand introduced to the market by Bored Bev.
Stump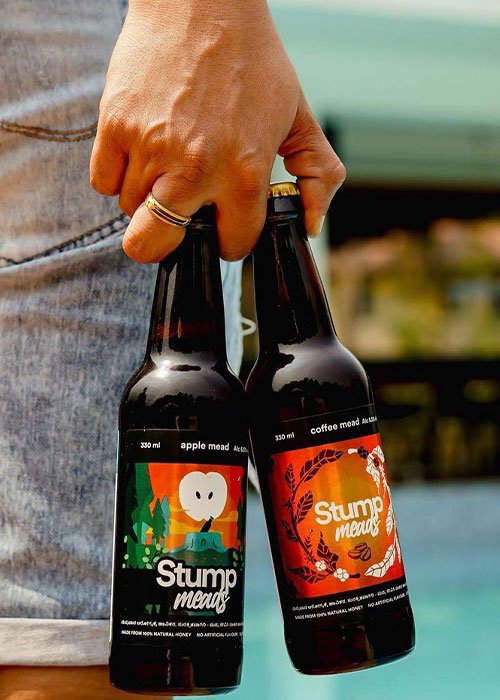 Himavanth Hasaganur Jayanth, the founder of Karnataka's first mead, Stump, is a sixth-generation coffee grower, making coffee one of the two mead variants at Stump, while apple the other. The meads contain no artificial ingredients and are currently only available in Karnataka.
Origin Meadery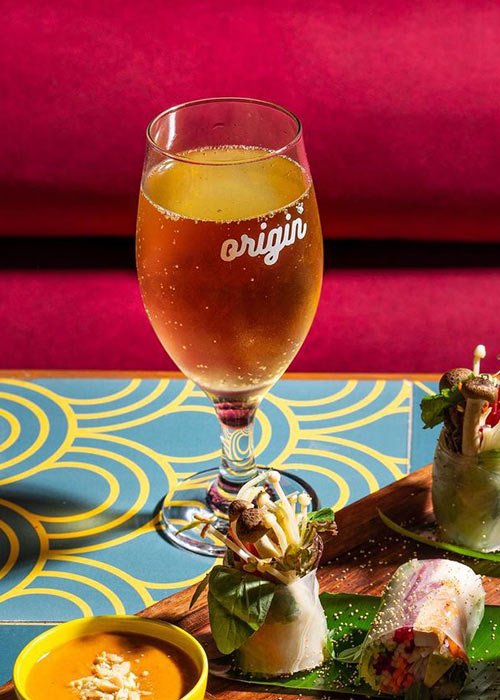 Origin Meadery was founded with an aim of launching an experimental mead brand. The meads are sweet, and flavorful, and contain just the right amount of alcohol for the perfect hit at the London-inspired mead taproom, The Canary.
Cerena Meads
Cerana hails from Nashik's Sinnar region, with an emphasis on Indian flavours. Dr Yoginee Budhkar and Ashwini Deore, co-founders, source jamuns, pomegranates, and grapes locally for their flagship meads, which include the Pomegranate Melomel, Jamun Melomel, and Chenin Blanc Pyment. Their limited-edition seasonal meads have a higher ABV and include flavours like Yule Spice and Pinot Noir Pyment. Ceranameads are avaialble in Mumbai, Nashik, and Pune.
Portside Mead
Portside, marked as India's first handcrafted strong mead, was conceived amid the pandemic in March 2020. Their two releases, Straight Up has a caramel flavour and a rich, velvety feel, while Something Berry has juniper berries with fruity and floral aromas. Both the variants have a 10% ABV and are gluten-free. Currently, the meads are available in Mumbai, Pune, Aurangabad, and Assam.