The Maestro behind Mahou Beer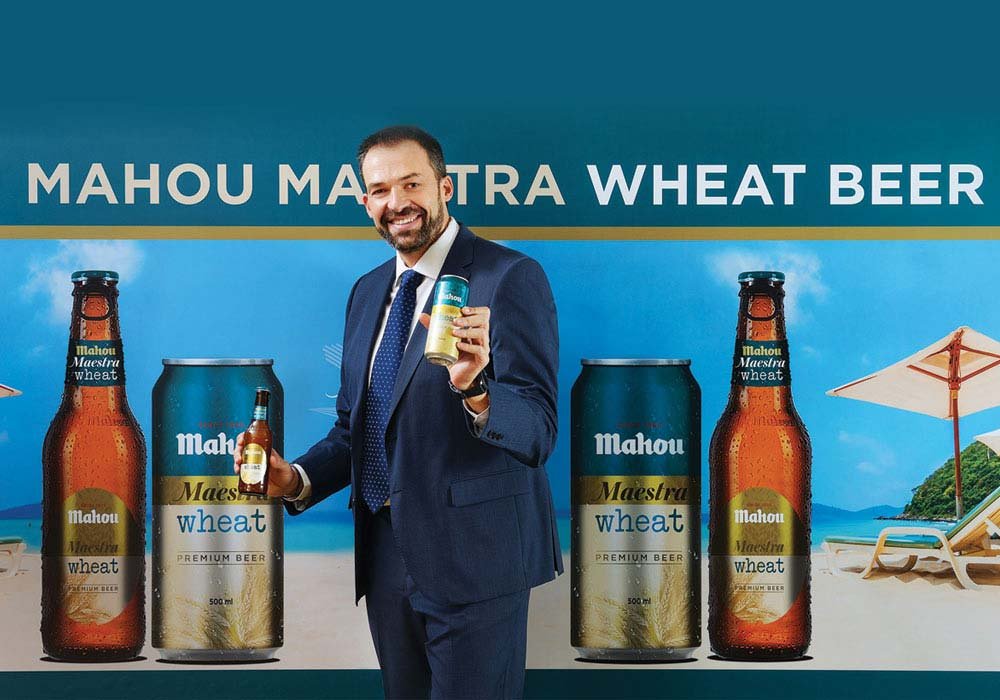 Angel Chicharro Sevilla has been working with Mahou Group for over 15 years in several positions in Spain and as the Technical Manager in India for over a year now.
Angel Chicharro
Master Brewer – Mahou
Angel Chicharro Sevilla has been working with the Mahou Group for over 15 years in several positions in Spain and the Technical Manager in India for over a Angel Chicharro Sevilla has been working with the Mahou Group for over 15 years in several positions in Spain and the Technical Manager in India for over a year now.
A graduate in Chemistry from Alcala de Henares University (UAH), Madrid, Spain, Angel is a Certified Brew master with a certification from International Brewing Service, Training & Research Center, Berlin, Germany (VLB Berlin).
He is the Master Brewer at Mahou India and his charismatic personality reflects his love and passion for beer that he is working on to spread in India.
A dog lover, an avid traveller and reader, Angel is also a big fan of gastronomy, enjoying new dishes across different countries, but one of the things he loves the most is the pairing of tapas and a well-poured draft Mahou beer.
Sneha Nair, Brewer World correspondent in conversation with Angel Chicharro.
Why did you decide to become a brewer? How did you go about achieving the same?
It was my passion for brewing and for beer in general that inspired me towards becoming a brewer. I graduated with a Degree in Chemistry and thereafter completed my Masters in Brewing from the prestigious VLB (International Brewing Service, Training & Research Center) of Berlin (Germany).
I have been associated with Mahou Group for over 14 years and my work has been focused in the beer sector. I have worked across different functions as Brewing Supervisor, Environmental Manager and was also Brewery Head for a while before I shifted to the first 100% subsidiary of Mahou Group outside India i.e. Mahou India.
Your career has allowed you to brew in different regions of the country. what are your thoughts on customers taste preferences?
People who come from different walks of life and cultures, have a different preferences of taste. However, unarguably you will agree with me that there's nothing better than enjoying chilled beer with your near and dear ones at the end of a long day.
Customer preferences happen to be different in different parts of the world but there are a few trends where India mirrors its western counterparts. Working in India for almost two years now, I would say that consumers here have evolved. They are well-travelled and well researched; and we are seeing a more mature consumer who appreciates taste, experience and premium quality products. They are open to experiment with new flavours and brands which is good news for brands like us.
Our latest product, Mahou Maestra Wheat is for these evolved consumers of today who are a master (maestra) in their lifestyle choices and are willing to embrace high-quality experiences.
What are your thoughts on the rising beer markets in India? How do you perceive Mahou to do in the Indian Market?
Over the past few years, beer consumption patterns in India have changed as have consumers' tastes and preferences. Beer is slowly becoming the default social drink, is gender neutral and is consumed on occasions where people want to spend quality time together. This is therefore a great opportunity for Mahou India specifically and for all international players in general. Also, this is a good news for consumers since they are going to be spoilt with choices.
What is your brew motto?
Brewing beer is as much a science as it is an art; art because it is the passion for brewing and making an awesome beer to drink and science because there is an entire set of process to be followed in a lab.
As a brewer I have always believed that if you make a good beer, consumers will love it. That has always been a no-brainer for me.
How do you attempt to ameliorate the problem of increasing production while maintaining a real flavourful, individualistic beer?
To set a context, Mahou Group is 128-year-old brand operating in Spain and the USP of our products is the yeast we use. It is the secret ingredient that makes our products unique from the rest. We stress upon innovation to produce quality products and therefore we use state-of-the-art machinery and quality raw materials to ensure that we produce constant and good quality products. Therefore even beer we produce in our brewery in India is made with the same yeast which makes flavourful and unique in taste with some adaptations to suit the local palate.
Tell us about Mahou India's product portfolio.
Currently, we, at Mahou India, offer the following products, where each has been created with techniques to delight the Indian palate.
Mahou 5 Star – With a bright golden yellow appearance, Mahou 5 Star is marked by notes of toasted barley
Mahou Clásica – A premium lager that comes with a tinge of fruity flavours and bright golden colour that has a crystalline aspect and a faint, elegant malt aroma
Dare Devil – The Indian brand brewed with "Dare to Win" attitude, is a superior fresh tasting strong beer, specially crafted for the Indian palate
Dare Devil Royal Export – The premium pilsner beer is a golden, full-bodied crystalline liquid with a distinct flavour, produced with the finest varieties of hops and yeast
Mahou Maestra Wheat – this is our latest product in the wheat beer category which we launched in the last summer. It is available in Rajasthan, Haryana, West Bengal, Delhi, Goa and Bangalore, and the brand is being introduced also in Assam, Meghalaya and Uttar Pradesh
Share details of Mahou Maestra Wheat, its tasting notes Mahou Maestra
Wheat holds the distinction of being the first 'Made-in-India' Spanish wheat beer as well as being the first wheat beer in India to come with a pull-off cap on the bottle, as part of its premium packaging. It is a Belgian style (Witbier) beer that has been brewed under the highest standards of the European brewing process that Mahou follows in all its breweries since 1890.
Mahou Maestra Wheat comes with a golden color and thick and creamy foam. Its principal character is a fruity aroma and a slight hint of hops along with a refreshing feeling and a touch of sweetness that creates a well-balanced sensation in the palate.
It´s is the perfect fusion of Spain and India Ethos because of the mixture of its tangy hints and fruity feeling of Sevillian (Spanish) orange peel and the herbal spicy notes nutty and citrus flavor with lemony notes of Himalayan organic coriander makes it refreshing, delectable and easy to drink. It is a drink for those who appreciate great taste and want to enjoy a drink with his/her friends in different social occasions – the Mahou Maestra Moments way!
Talk about the brewing process that Mahou follows
The basic process and ingredients in the brewing process is same. The key ingredients we use at Mahou to produce a beer are water, malted barley, wheat (in case of wheat beer) and hops. Our USP is the yeast that we use and it is a formula that we have maintained since long in our brewery in Spain. We use the same yeast to manufacture our beer here in India as well, that makes our products unique. Additionally, we produce our products under the highest standards of the European brewing process that Mahou Group follows in all its breweries since 1890.
Tell us about the art of pairing with different beer variants
We want to create a beer-loving culture where people enjoy beer responsibly. We want consumers to enjoy Mahou Cervezas (beers) the Spanish way. In Spain, beer is enjoyed in small glasses called "cañas" always accompanied by small bites of food called "tapas". We want to create the same culture here in India as well.
Our newest edition, Mahou Maestra Wheat goes well with a variety of authentic tapas of Spain like patatas bravas, olives, and croquettes or with Indian tapas such as paneer tikka, sea food and pakoras. Both Spanish and Indian tapas are an awesome combination with the orange aroma and the spicy hints of coriander of Mahou Maestra Wheat.
Share details on the right way to pour, store and enjoy beer
Beer is a drink with a rich tradition and an interesting history. Did you know that it is the third-most popular drink overall, after water and tea? However, not everyone know how to pour and enjoy it the way it should be.
Not many people know that it is the foam (cream) on the top of the glass protects the beer from oxidation and maintains its carbonation and taste. The way you pour a beer has a drastic effect on the thickness of that foam, i.e. the head. So, to have the right taste of our beer, we have to make sure to get the exact level of foam (which we call cream) into the product.
Here are some steps for pouring to perfection in a glass.
Step 1: After rinsing a clean glass with cold water, pour by titling the glass near the bottle on the rim so that it runs down the side.
Step 2: Hold the beer bottle or can almost horizontally and tilt the glass to nearly meet the container's lips.
Step 3: When the container is half poured, straighten the glass upright.
Step 4: Leave just enough space for the foam to rise to the lip of the glass.
Step 5: Sip away and enjoy!
Tip to pour a wheat beer: Leave a little bit of beer in the bottle to avoid drinking the yeast sediments!
Any Advice you'd like to share to upcoming brewers in the industry?
This profession is at a very nascent stage here in India. To budding brewers, I would say that never lose that passion. It is your passion that will take you places and make you brew beer that are unique. Making beer is fun and satisfying although you need to understand the system and the process which requires hard work and perseverance but once you are on track, you will become successful.