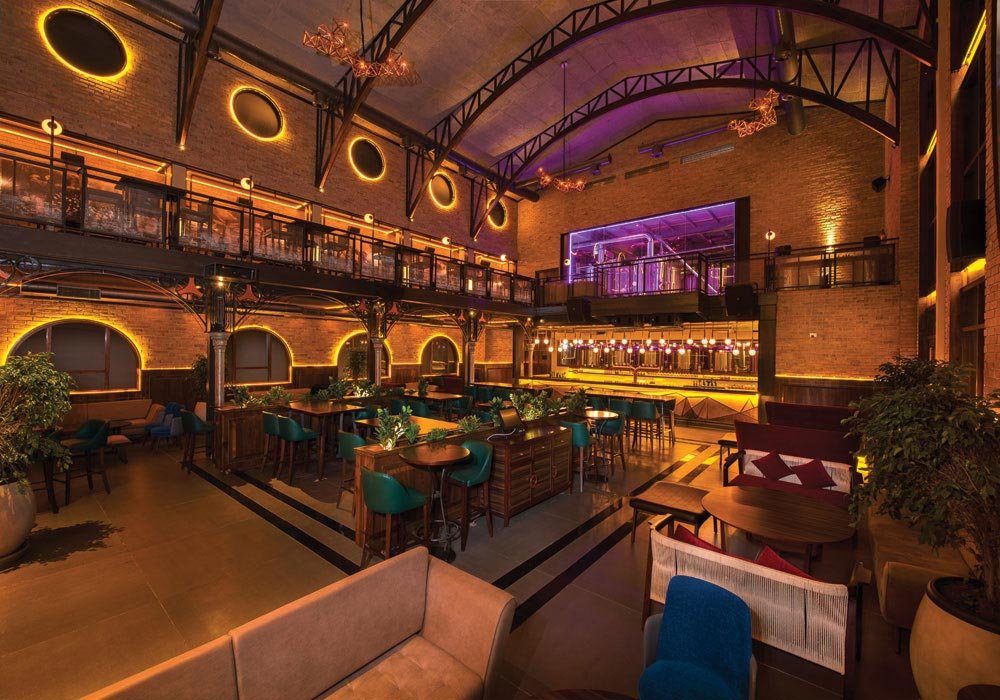 Jatin Hukkeri
Creative Director, WDA
WDA is a design studio specialising in food, beverage, recreation and entertainment spaces – delivering a complete guest experience through a multidisciplinary approach. At WDA, they specialise in creating spaces that are sensitive to context. From an architectural or interior design perspective and through our design, we believe in responding to the surroundings of a site.
Helmed by Jatin Hukkeri, Creative Director at WDA, his desire to spread his wings independently resulted in the genesis of WDA. Completing over 8 projects for renowned names centric to the beer & brewing industry, like XOOX BrewMill, The Pump House, Aurum Brew Works, Playboy Beer Garden & Brewmeister in Bangalore, Gateway Taproom in BKC Mumbai, and more.
Jatin's flair and aesthetic senses caught our attention at BW, and we took this opportunity to interview the brain behind the design. Sneha Nair, BW, in conversation with Jatin, WDA.
Could you give us a glimpse of the journey leading to opening your own firm – WDA?
It was in late 2010 that I was presented with an opportunity to work on the refurbishment of a boutique resort close to BIAL, which led me to establish WDA. We worked on that exciting resort for a year, a few residential projects post that & finally chanced upon F&B spaces in 2012. We have been fortunate to have been offered over 75 projects only in the F&B industry.
What does WDA offer that makes it unique to other architectural firms in the county?
Superior understanding of client requirements, improvisations to their vision of their space, timely delivery of design & details, and effective handholding through the course of a project.
What are the services you offer to potential clients?
To understand their vision for a space they seek to build, understand not just the designs sought but also their biz plan, their F&B offering, and to help manicure the same at all times before & through the course of a project.
What metrics are important to you as an architect?
To be able to create spaces that remain superior in functionality (thereby increasing their longevity) over aesthetics or gimmicks are pivotal in creating an effective envelope for a space. We swear by this, across all our designs.
What is your design philosophy?
Functionality over funk, or functionality coupled with great funk/aesthetics.

Where do you draw inspiration from? What advice would you give a budding architect?
TRAVEL, as much & as far as possible is the key source of inspiration for most professionals belonging to design industry. This factor has an upper hand over anything else & would be my personal advice to a budding designer.
Completing 8 projects centric to the brewery industry, what would you rate as the biggest trends seen across microbreweries in India?
It would be difficult to state a singular trend specific to MB but one thing that all our clients aspire for is to have a space which has no parallel. Largesse in terms of space availability & largesse in terms of excitement within that space, especially with play of lights, furniture & smart influx of landscape is something that has been trending on our drawing board.
Could you talk to us about some of the most memorable projects you've worked on? What made it unique for you XOOX BrewMill & The Pump House, both located in Bangalore, have been the most memorable & exciting projects till date. While XOOX was a dream project come true for us – in terms of Adaptive Reuse style of architecture (the site used to be a defunct manufacturing unit, which was repurposed to house a MB), TPH gave us carte blanche to create something never seen before on an open piece of land. The end product of both are here for everyone to appreciate.
What are the designs trends you anticipate for the future of microbreweries?
Trends differ from city to city, world over. As far as India is concerned, especially in cities where land is not as much of a luxury as it is in some, the trend is dictated by construction of MB on large land parcels – in which case, a MB doesn't limit itself to be a MB & could go onto to become a museum of sorts in some way or an art theatre or a seminar spot, a convention centre & many other such parallels which ensures the shelf life of the MB gets extended by years beyond ones expectations.
What is the biggest challenge you face as an architect?
It would be incorrect to answer this in a generic manner since the challenges faces by any architect are subjective – from project to project and client to client. However, if a common denominator is to be stated for this question, the answer would be:
To educate & help our clients understand that their spaces (F&B, in particular) should be designed keeping in mind their guest/customer preferences/comfort, since all hospitality space need to be able to lend themselves to create an extremely social environment & in the most effortless manner possible.
The above answer, to me, is challenging at times since most of our clients/customers seek for a space to be designed for them by not being too mindful of what their customers might wish for.
We always try to convince our clients as prudently as possible, that to us, it is pivotal to ensure that a guest coming into a space designed by us, remains effortlessly impressive for them to keep coming back time & again.
What are your thoughts on the growing beer market in India?
Having travelled extensively across the world to cities which have an abundance of MB, it would be safe for me to state that India has much to catch up with – in terms of the sheer number of MB, the quality of beer & the overall experience that is offered as a wholistic product. Having said that, it would be commendable to note that some MB within India are doing a great job for all aspects mentioned above & on par with global standards too.
Any advice you'd like to share about Brewery Designs?
Designing a Microbrewery (MB) is unlike designing a Taproom, a Bar, a Pub, a Lounge or a Restaurant. MB's are far more complex in terms of their BOH functionality, with a myriad of complex services involved in all technical spheres of MEP, which need to be designed tactfully for a smooth show on the frontend. The selection of materials for the MB equipment area is also as critical as the decision making involved in designing the services for the BOH.
In addition to making to tackling the BOH in a diligent manner, one needs to have a different bent of mind while designing the customer spaces (FOH) in a MB; which in fact, need to be planned differently since inception itself. The flow of guests into the space, their experience within the space, the vantage points offered to them within the space, the visibility of MB equipment, the flow of food & beverage to the place where they are seated at – all have to be a designed mindfully, and to a create an experience that is different from that of any other F&B space which does not manufacture their own beer or something that is not a MB.