Rooftop Breweries in Bengaluru
Rooftop Breweries are fun. It has always been a mystery why cocktail bars have friendly rooftop spaces but not beer bars or Breweries. Countless experiences can be improved by putting them on a rooftop, from pools to patios.
The cocktail crowd shouldn't have all the fun, right? The rooftop is not just for the swanky cocktail bars, now. Beer breweries have taken their patio game a step further by offering it upstairs. At these spectacular rooftop breweries in Bengaluru, you'll find great drinks, great vibes, and epic views. In fact, the views at these spots are even better than the drinks, and I'm not exaggerating.
As the cold weather has finally given way to rain and breweries have slowly started reopening throughout the country, our dreams of bottoming up Beer at one of these breweries are starting to seem real. So let's toast to rain and Beer!
A list of great  rooftop breweries is presented here, but it is by no means exhaustive.
IronHill
Ironhill, Bengaluru, is the largest Microbrewery globally, located in the 1.3 lakh square feet space in Marathahalli. Currently, this Rooftop brewery they offer eight craft beers, each unique in its own way. In addition, they are brewing some interesting beers with unique flavours. Florian, the brewmaster of Ironhill, has been crafting craft brews for over 8 years. Originally from Bavaria, Florian brews tasteful beers using traditional German mash techniques. Ironhill's launch menu includes eight beers, including German Hefeweizen, Belgian Witbier, English Red Ale, Summer Lager, Ragi Ale, Irish Stout, New England IPA, and an Apple Cider.
Red Rhino 
Red Rhino is a swanky place for great Beer and food in Whitefield. There are many things to love about the site, including the food, drink, and comfort. A bar is situated on one side of the central area of the bar, a semi-open kitchen is above, and a loft-style seating arrangement is above the kitchen. The Whitefield skyline is breathtaking from the terrace bar with its open-air seating and al fresco dining.
Red Rhino offers seven beers on tap as well as seasonal beers. Regulars are Bangalore Daze, Black Pearl, Coffee-laced Stout, Soul Surfer, Hefeweizen, GBP, and others.
ShakesBierre
A three-floor space, ShakesBierre is the first themed brewery in Bangalore, located in the EVA mall on Brigade Road. If a name is worth a thousand words, the brewery is called ShakesBierre, and its entire look and feel are inspired by Shakespeare. You will feel transported back in time with the old furniture and high walls here.
Although, there is an impressive use of technology, such as electronic name tags worn by the service staff and the ability to order and pay via a web-based app. Food selections and drinks are almost as extensive as Shakespearean plays, offering various dramatic dishes and drinks that even the most seasoned palates will enjoy.
An exceptional dining experience awaits at Shakespeare's Bierre's rooftop restaurant, where guests savour perfectly brewed craft beers and cocktails created by the bartender under the stars.
La Casa Brewery and Kitchen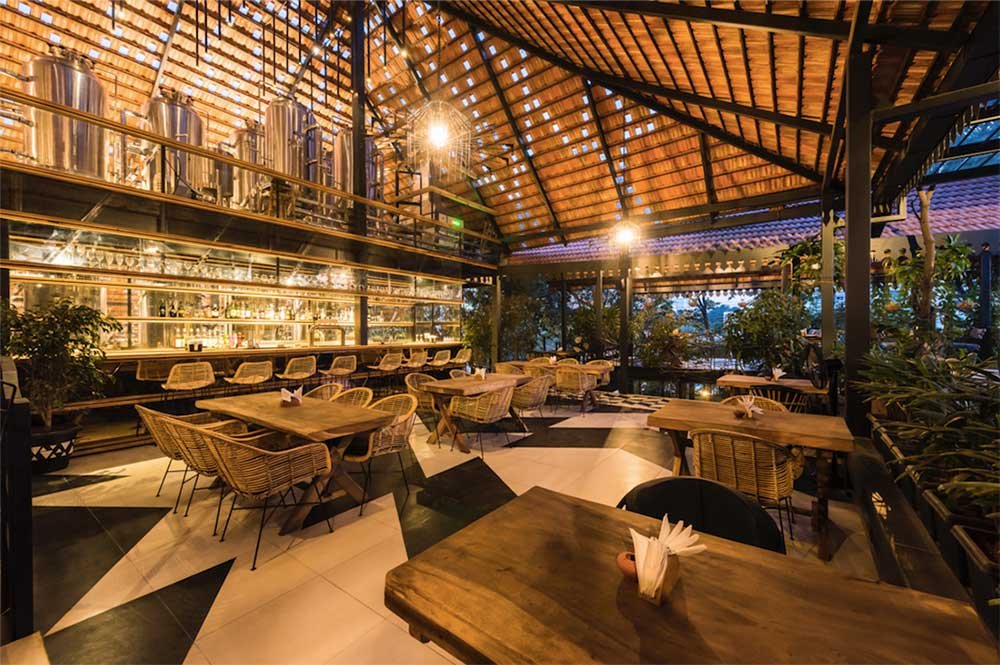 La Casa is an example of why you shouldn't judge a book by its cover. A truly magnificent ambiance pervades the room. In the middle of a garden, there is a brewery. While eating, you can see trees and plants around you and feel the beauty of nature as you consume your food. Additionally, the seating is pretty good. With its natural light, the restaurant is undoubtedly one of the best on Sarjapura Road. This is the only brewery with particular play areas for children, such as slides.
Wall Street Sky Lounge
A beautiful, sky-lit rooftop dining area is available at the Wall Street Sky Lounge, and the heated indoor space is also a romantic place to dine. Among the handcrafted beers they have are Vanilla, Hefe, IPA, and Stout. It's hard to pick a favourite. Drinking these beers would quickly get you drunk.
Levitate Brewery and Kitchen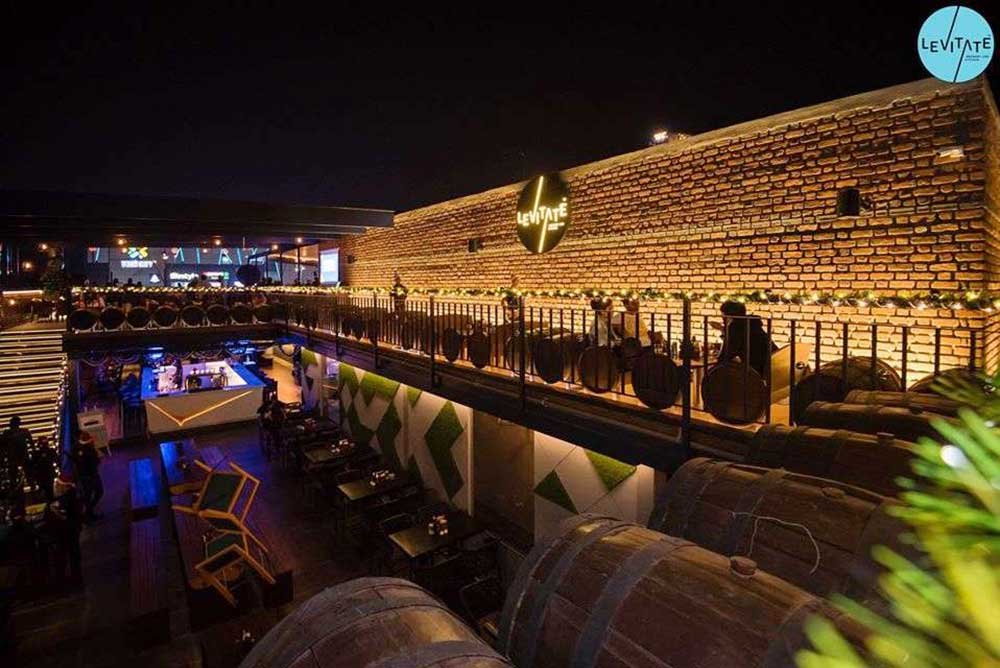 It's great to enjoy the open-air rooftop ambiance at Levitate Brewery and Kitchen with great food and drinks overlooking the hustle and bustle of Bangalore city life. The building is located near JP Nagar and Vega City mall. Vegetarians and non-vegetarians alike can enjoy everything on the menu, including appetizers and desserts and the best beer brews.
Bangalore Brew Works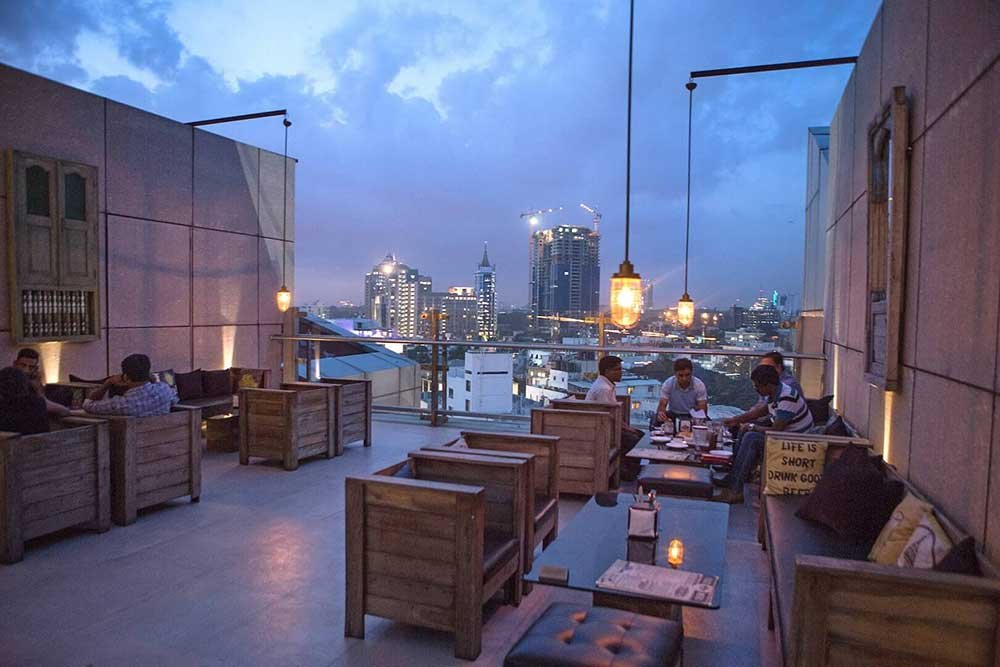 Located on Residency Road, Bangalore Brew Works serves a range of excellent craft beers. The wooden décor here keeps things cool, giving it the feel of an upmarket pub. The pool is an ideal place for quiet relaxation, but the bar is livelier.
It's an excellent place for a corporate lunch as well as a good time with your buddies. Bangalore Brew Works is a perfect place for corporate lunches as well as a good time with friends. It is a beautiful experience to make it to the tenth floor and enjoy the lovely atmosphere. A few barrels can be seen at the entrance, which indicates how Beer was stored in the early days. Almost everything in the place is made of wood. Therefore, open spaces will be more appealing to you.
An evening with a great city view, yummy food, fresh Beer, and a serene rooftop atmosphere is definitely a perfect evening.
Aurum Brew Works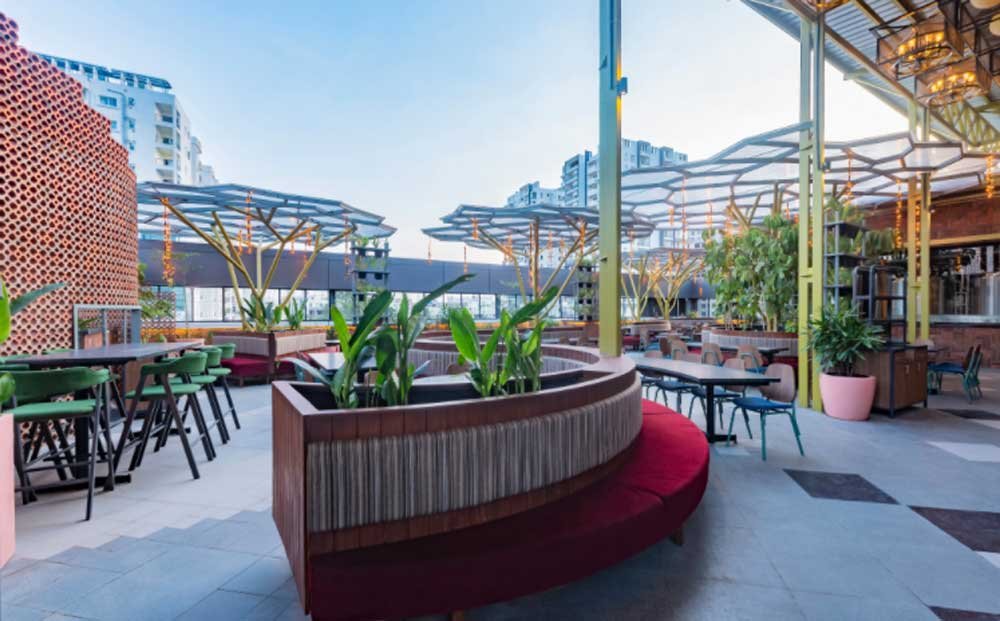 With space for 550 patrons on two floors, Arum Brew Works is spread over 23,000 square feet. A combination of design and architecture creates an environment that is welcoming to both professionals and families, meeting the requirements of both groups. Privacy zones have been created where necessary. It's not just the ambience that's fantastic, it's also the beer! They have Belgian Witbier, Hefeweizen, English IPA, Amber Lager and Stout , among others, that are their bestsellers. Try their Persian Kebabs for a delicious experience or anything from their Indian, Karnataka & Continental food menu. Aurum has over 200 varieties of plants, making it the only place in Bangalore to find this many varieties of plants in one place.
Byg Brewski Brewing Company (Hennur)
Byg Brewski Brewing Company in Hennur is a massive 65,000 square foot brewery that can seat up to 2,000 people at a time. It has a rustic, open-air feel with a huge lake and waterfalls smack in the centre and has a distinctive Big Brewsky Sarjapur vibe. Furthermore, there is a seating arrangement that resembles an amphitheatre where live performances occur. You can see all kinds of global cuisines cooking in the live kitchen opposite the main bar area. In addition to the great beer and food, their brunch is also a great option for couples.