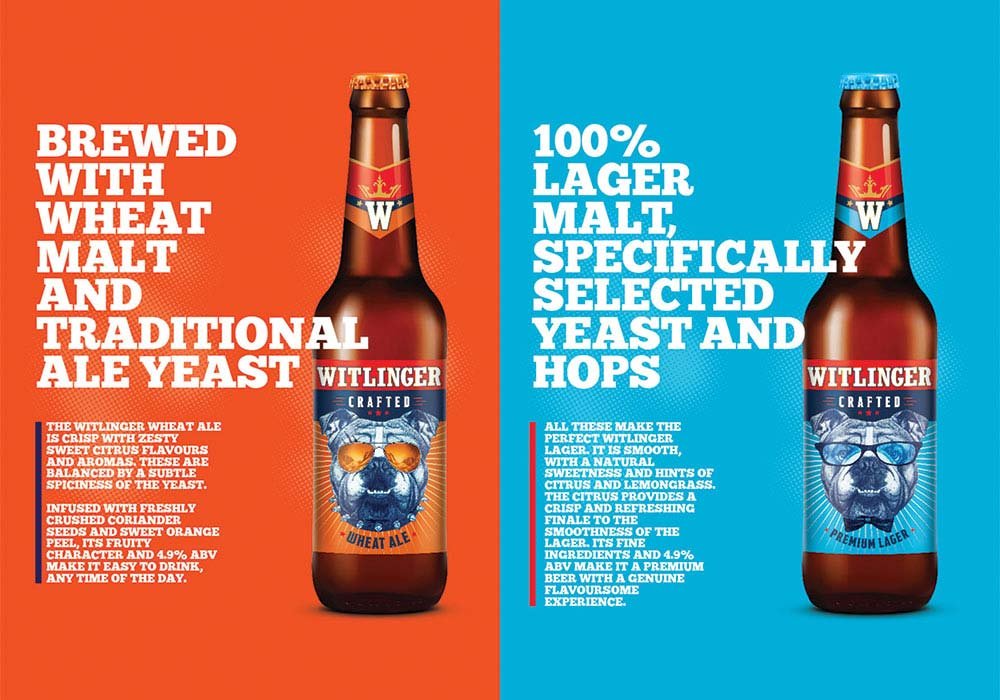 Anuj Kushwah
Managing Director & Founder, KAAMA Breweries Pvt. Ltd
With young urban-dwellers playing witness to a colourful display of craft beer brands stocked upon the shelves of their favourite restaurants, clubs and liquor stores, it won't take more than a sip to realise there's a lot that goes into a craft beer. From quirky brand mascots to wacky illustration creative names and intriguing merchandise, beer brands are going above and beyond to create brand identities. Equipped with their newest #BoldlyBritish, and vibrant packaging Witlinger offers a premium crafted beer experience available in a Wheat Ale & Lager. The 'British Bulldog' as a mascot characterises Witlinger's true brand identity and varies in personality with every variant.
Anuj Kushwah is the Managing Director and Founder of Kaama Breweries Pvt Ltd, and is strengthening the craft beer market in India and is extremely happy to share his passion with the emerging Indian market. He understands both Indian and western sensibilities and is keen to quench the thirst of a nation that is always looking for something new.
His love for beer and beverages made him relocate from the English countryside to India. An MBA from London in International Trade and Finance, he had an exciting number crunching business in UK when he decided to go after his rage and passion for beers. The love lead him to take a tour across the continent to explore craft beers. Pint by pint, he savoured the styles and selections of brews in UK and Europe and thought to himself, "India deserves some damn fine craft beer like this, too". After carefully understanding and considering Indian taste profile he decided to develop craft beers range that is easy to drink, simple yet complex, in-your-face ales, and huge aromatics bigger bodied beers.
That's how in 2014, Mr Kushwah launched Witlinger Beer – an honest craft beer with bold taste and has authentic British roots. Sneha Nair, in conversation with Anuj Kushwah.
Witlinger has now been a part of the Indian beer market since 2014, what has been the market response to your products?
When we started, we were the only Indian craft beer but since then there are several brands that have entered Indian beer market. Witlinger has created its own niche since we started and consumers love the honesty we offer in our brews. We are proud to say that we are 1st and only craft brand in the country making beer with 100% malt.
Where could one find Witlinger beer?
(Cities of distribution) Goa and Delhi as of now. Will be available in Mumbai and Bengaluru within 2 months followed by Hyderabad & West Bengal.
What makes Witlinger stand out? In terms of the ingredients used.
Witlinger beer is brewed with the finest ingredients sourced from around the world to offer distinctive flavors, giving a real and honest craft beer experience. Witlinger beers are made with 100% malt with no additives. Witlinger is a perfect choice for beer lovers who are frequently looking for a strong and bold brand with distinctive flavors and honest taste. We are currently available in 2 variants and will be launching 3rd one very soon.
Witlinger Wheat Ale Variant (available in Delhi and Goa)- Brewed with wheat malt and using traditional ale yeast. It is naturally cloudy beer infused with freshly crushed coriander seeds and sweet orange peel. Witlinger Wheat Ale is crisp and refreshing with zesty sweet citrus flavours and aromas balanced by a subtle spiciness from the yeast. It is light at 4.5% alc and its fruity character makes it easy to drink at any time of the day
Witlinger Premium Lager Variant (Only in Goa as of now) – Made using 100% lager malt and specifically selected lager yeast, Witlinger Lager is brewed and dry hopped with mix of interesting hops sourced from UK resulting in the lager being smooth, with a natural, clean, malty sweetness with hints of citrus and lemongrass, providing a refreshing, crisp finale with 4.5 abv.
Does your certification from the field of International trade and finance play advantage with your craft beer endeavor?
It certainly helps in understanding business in terms of core numbers also studying and working abroad gave me exposure to know how business works internationally.
You chose craft beer as your business proposition. What was the inspiration or business motive to get into craft beer?
In hindsight think it was a risky business proposition. I stopped my business in London to start something that was completely new. I think it was sheer love for beers and opportunity in Indian beer market that swayed me to move to India and start craft beer business.
I am pleased I took that decision.
How successful is the concept of producing craft beer of a small batch production, on a large scale?
Craft beer companies are known to experiment with flavours and producing varied style beers. It can be an expensive affair to produce creatively crafted beer on large scale if you are simply experimenting. However, if your recipe is set and you use same set of suppliers, it is easy to do it on large scale.
Is there a story behind the brand name and logo, that you could share with us? How did you settle on the name 'Witlinger'?
Funnily, my elder son Milin suggested the name 'Witlinger' when he was 4-year-old. Yeah, not very good parenting .
'British Bulldog' as a mascot characterizes Witlinger's true brand identity and conveys a strong message of being Bold – with a lot of attitude, honesty & fun. The mascot highlights Witlinger's British origin with a classic British Bulldog. British Bulldog design and personality will vary with every variant and different style of beer. Currently, Witlinger Wheat Ale has a bulldog design that portrays the personality of someone who is bold and wants to experience different flavours whereas Witlinger Lager has a bulldog portraying the personality of someone who is sophisticated and drinks socially after work.
Recently rebranding the look of Witlinger, what was the reason behind the rebranding?
We wanted to revamp its packaging to make it relatable to younger consumers. As a relatively new brand with a limited reach, our main focus was on attracting a new customer base, most of whom were millennials. To demonstrate the true personality & character through our packaging, Witlinger was launched in new design & powerful brand mascot. The new design captures attention of young millennial that are frequently looking for strong and bold brand appeal that they can easily understand and relate to. The new design with 'British Bulldog' as a mascot characterizes Witlinger's true brand identity and conveys a strong message of being Bold – with lot of attitude, Honest & Fun. The mascot highlights Witlinger's British origin with a classic British Bulldog. British Bulldog design and personality will vary with every variant and different style of beer. Currently Witlinger Wheat Ale has a Bulldog design that portray personality of someone who is bold and want to experience different flavors whereas Witlinger Lager has a Bulldog portraying personality of someone who is sophisticate and drinks socially after work.
As craft beer in bottle seems to be your business priority, where does craft beer on tap figure in your business plan? How much is the contribution of the latter in your business revenue?
I am not sure if you know this, but Witlinger was launched in India in draught. This was the first time one-kegs were used in India. We have since introduced bottles. Draught system in India is in nascent age and we need lot of education to ensure draught machines are maintained by bar and support staff to ensure beer quality is not damaged or altered. We are in process of introducing new draught machines that are easy to handle and does not require lot of support system. We target to do 10-15% of draught business but that might grow in future.
How do you view the setting up of numerous microbreweries in the craft beer market? Has this affected your market in any region? If not in sales, tastes?
Micobreweries are godsent for us. They help in educating consumers about craft beer which can be an expensive exercise if we try to do it our self. Microbreweries do business at a very small scale and do not affect our business as such.
What do you see as the biggest challenge to the growth of the beer industry in India?
Certainly, high taxes and government-controlled supply chain. Bringing GST under the preview of alcohol should certainly help but I do not see that happening very soon.
What are your plans to launch new craft beer variants and expand your marketing footprint?
We are in process of launching new variant this summer followed by some specialty beer during festive season (within this year). Yes, we are looking to enter new market in 2020.
What advice would you give a beer-preneur intending to take your path?
It is not easy to run a beer business as it requires big capital. If you do not have deep pockets, then do not even try getting into. And stay true to your brew as there are no short cuts in making good craft beer. Happy Beering!