Raizing the Bar in Kolkata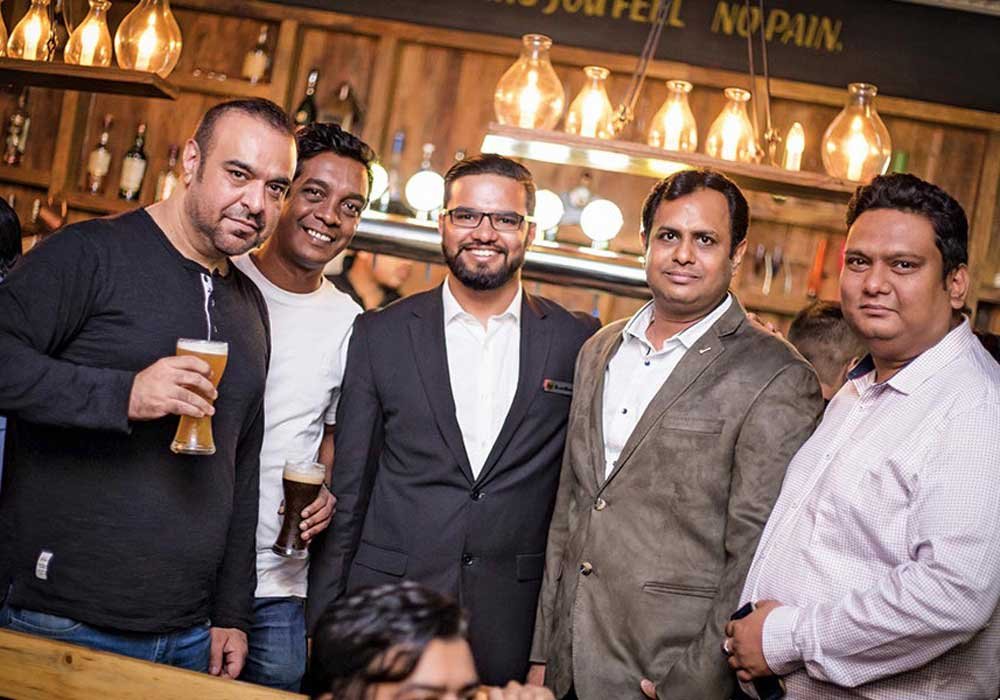 SHAILESH GANERIWALA & RISHABH SAWALKA
Owners, Raize the Bar
Spread over 5,000-square-foot, Raize the Bar (RTB) has become the next best nightlife destination in Salt Lake, Kolkata. Oozing with the aura of a complete package, from extensively curated menu's palate teasing beers and constantly evolving events like stand-up comedy, game nights and live bands.
Conceptualised over a cold brew, Shailesh Ganeriwala and Rishab Sawalka aimed at capitalising on Kolkata's ascending social life. "Kolkata has always been one of the few places to initiate or start some of the best things and we got the first mover advantage in Eastern India by dreaming about a microbrewery in Kolkata. And where better to follow your dreams than your home town?', adds Shailesh. "The name is the first thing which customers engage with, and now over a year and half, we can say that we have actually 'raised the bar' in terms of good beer, music, food, hospitality and creating one-of-a-kind experience for anyone visiting RTB". Plastered in charmingly quirky posters which aim to attract and educate every customer passing through, RTB mimics the interiors of a European country-side pub, with elegant lighting, casual seating, high tables, standing bench and many other styles that resemble country pubs décor will give you a feeling that you are at some lively place. "The concept was to attract people through the day with a contemporary ambience and avant-garde food. We aimed at creating a complete experience", states Shailesh.
In a surprising twist of faith, when we asked Shailesh about the challenges he went through while setting up RTB, he says, "What people don't realise initially is that West Bengal actually has very progressive licensing laws centric to opening a brewery. We had immense guidance from all excise officers we interacted with. They talked us through the documentation process, and answered all our questions., However, since the concept of a brewery was relatively new, processing all these formalities did move at a very slow pace. We struggled initially finding the right furniture and fittings for RTB, eventually we started creating our own stuff. We procured a team of carpenter's and can now proudly say we're a 'one-of-a-kind' establishment!"
Speaking with assistant brewer, Aaryan Singh, "At RTB, I try and cater to all types of palates. I've noticed that most Indians prefer a wheat beer over a stout. But the trends are constantly shifting. Our best-selling beer is a Belgian wheat infused with orange peels called a Belgian Moon. Our beer portfolio currently consists of an American beach-hat, which is a light, crispy and refreshing lager. An English Beard which replicates an authentic English Stout blended with vanilla pods for a rich aftertaste. And finally, the German Fog, which German wheat beer brewed with clove and banana. Our next big introduction to the Kolkata beer markets is a cider, made from fermented apples. When it comes to my brew motto, 'stick to the basics', master brewing classic styles first on any system before going experimental. Most importantly be inventive and take risks, you don't have to keep brewing in the same way," adds Aaryan. Ask Mr Sagar Powale, Raize the Bar's talented head brewer about the fierce market competition, "I concentrate on the quality of the beer, don't compromise, don't substitute and don't use adjuncts to create a half-hearted beer. It's safe to say quality sells, and why wouldn't it?".
On the expanding beer markets in India, Shailesh opines, "It is believed that you should have confidence in your own product first and then make people understand that your product is the best. And we did just that at Raize the Bar, we trained our waiters, serving staff and even educated ourselves on what we wanted to convey in the marketplace. Being a tropical country India is definitely an emerging and highly progressive market for beer. We have some of the breweries which have established themselves worldwide and doing excellent business. We have access to best of raw materials with experts who have already started educating people about the best brewing process and making world class beer.In West Bengal particularly, the government is very supportive and has plans to increase and expand the market. It is attracting many to invest in this sector on a large scale and investors are setting up their breweries in Bengal. This will make competition tough but interesting as I am sure the best will definitely survive".
Launching Raize the Bar on a bold route,as a restaurant, owners Shailesh Ganeriwala & Rishabh Sawalka, created their identity banking on quality food, and it worked wonders. "People really like our food and that was the main uplift for all of us at RTB. Till today, we have loyal customers who are coming from the early days just because they get good food and service. After the liquor and brewery started we have definitely scaled new heights and getting featured in leading magazine covers and dailies which is giving a great boost to our brand", adds Shailesh.
Brace yourself to see a Raize the Bar outlet in tier II cities nearby like Bhubaneswar, Ranchi, Guwahati, Siliguri and more. These are very big markets for the craft beer. "Recently, we have also finalized one project in South Kolkata under the same brand with the same concept in mind as "Raize the Bar 2.0" and then will move on to other cities," adds Shailesh. "So please do join us for a beer whenever you see a Raize the Bar, and we're more than happy to be a part of your craft beer journey".