Quality Hops since 1845; Hopsteiner
Hopsteiner Group
Today Hopsteiner is one of the world's largest hop growing, trading, breeding and processing firm. Constantly motivated to develop and improve the science, technology and the art of growing, processing and distributing hops. With over 170 years of expertise and tradition is the foundation that continues to propel Hopsteiner into the future as they pursue new frontiers in the industry and excellent service for customers and farmers. Hopsteiner's contract growers and farm managers set the industry standard for agricultural practices and sustainability.
We interact with hop growers from around the world on a daily basis. In addition, we only grow or purchase hops that meet our stringent standards for high-quality. We process hops worldwide and invest in new technology to remain at the forefront of quality, efficiency and sustainable practices. We are a full-service provider – from the most time-honoured traditional kettle hop products to the most advanced and innovative downstream hop products.
Quality management, responsibility for our products and safeguarding the Hop plants themselves are linked to the company philosophy. Our HACCP concept is anchored in our quality management system and serves as a self-monitoring system at every stage of production – from receiving the raw material to putting the finishing touches on our final products.
Hops are our Passion
We are enthralled by anything to do with Hops. We produce innovative, premium hop products for the brewing industry and for a wide range of applications in other branches of the industry. Everything we do, whether it be cultivating, producing, trading, consulting is pursued with sustainability and long-term success in mind.
CONVENTIONAL PRODUCTS:
Conventional hop products are based on a natural preparation of raw hops. In processing raw hops to pellets with different concentrations of bitter substances (type 90/ type 45), the valued compounds in hops are homogenized and standardized, generating a product of consistently uniform quality for the brewing process. Ethanol and CO2 extracts also offer advantages relating to storage volume and attributes specific to these products. Different groups of substances present in the hops are dissolved during the extraction process with CO2 or Ethanol. These substances are homogenised and added to the product stream in the form of an extract during the brewing process. Hopsteiner is the only company to operate an ethanol extraction unit with the capacity to process 1.5 -1.8 tons of raw hops per hour.
ISOMERIZED PRODUCTS:
The alpha acids in hop products are isomerized through the addition of magnesium oxide (MgO) during pellet production, followed by thermal treatment (50˚C) for 10-14 days. Isomerized products are intend for the application as kettle products in the brewhouse. They can also be utilized on the cold side of beer production, as downstream products following further fraction. Isomerized products can intensify the bitterness in beer or improve light or foam stability. Furthermore they provide a means for efficient utilization of hop products.
SPECIAL PRODUCTS:
We also make of other products consisting of oils and raw hops for use in a wide range of beyond the brewery. These products impart aroma and possess selective antibacterial or strong antioxidative properties. They are used industrial fermentation process as natural aromas in food & animal feed as antioxidants.
HOP OILS: The extraction of Hop oils from single variety hops represents another way to add hops during the brewing process. This method of hop addition is even more beneficial for sustainability without affecting the technical process or the sensory characteristics of the product. In the distillation process, around 50 millilitres of hop oil is extracted from five kilograms of hop pellets. The aroma profile is not only dependent on the specific hop variety but also on the type of product used in dry hopping on the cold side. Among the various products employed for dry hopping, hop oil is rated the highest by a tasting panel with regards to bitterness, aroma and overall impression.
EXPERIMENTAL HOPS:
The Hopsteiner Corporation constantly aims at broadening the spectrum of hops available for the brewing industry. Innovation and experimentation adds to Hopsteiner's offerings for brewers.
Lemondrop™:
Lemondrop, as the name suggests, offers a "unique lemon-citrus character with a pleasant aroma". The bright citrus and subtle herbaceous notes are perfect for sessionable beers. While ales tend to bring out her sweeter side, Lemondrop is delicate and refined enough for quality lagers.
Eureka™:
Complex in nature, Eureka is dank and resinous with fruity notes ranging all the way from tropical-citrus to dark stone fruit. Eureka rounds out blends and truly shines as a late hop addition. A variety for the "classic hop head," Eureka is one you won't want to miss!
Hop Highlights: Aroma Specification:
Black current, Dark Fruits,
17—19% Alpha Strong herbal notes, Pine tree
4.5—6% Beta
High Total Oil
Plays well with others
Hop Highlights: Aroma Specification: Lemon, Mint, Green Tea, Light Melon
5—7% Alpha
4—6% Beta
For more information about Hopsteiner's experimental hops, visit: https://www.hopsteiner.com/variety-data-sheets/
A focus on Sustainability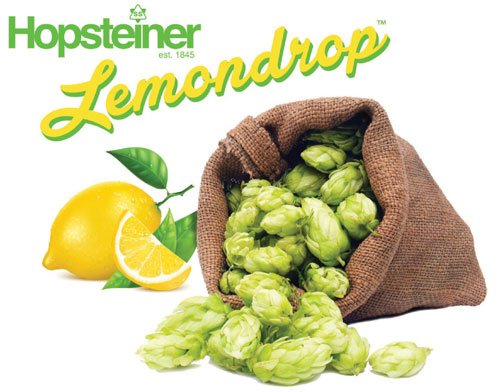 The world's population is growing and the earth's resources are not limitless. This reality requires comprehensive, efficient systems for providing and distributing energy, water and manufactured products. All resources need to be utilized in an economic and judicious manner to ensure that we leave the farmers and customers. Hopsteiner is registered with EcoVadis and Sedex to ensure the transparency of our sustainability practices, and we will answer any questions that customers may have in regard to hop industry sustainability.
Our ambitious breeding programmes furthers the development of disease-resistant hop varieties, which in turn require less treatment with pesticides. Other objectives of our breeding programme also include improving crop yield and developing innovative varieties for the creations of new flavour profiles in beer. In this way, sustainability is realized through application in the real world and can consequently be measured and quantified.
Statement from sustainability manager, Andrea Schmid – "We consider sustainable practices to be a fundamental part of the hop industry, for only by pursuing an approach viable over the long-term can we continue to offer hops, a natural product, at a consistently high-level of quality. Concrete questions have been asked regarding the products we sell, and information has also been requested concerning levels of energy consumption and CO2 emissions during production. Our customers have been interested in this topic and want to know more about our goals and strategies. We go beyond our needs as company and also engage hop growers. By doing so, we create a boarder of awareness of sustainability in hop cultivation".