Pune Gets India's 1st Tap Station-Have Your Favourite Craft Brews Delivered To Your Doorstep!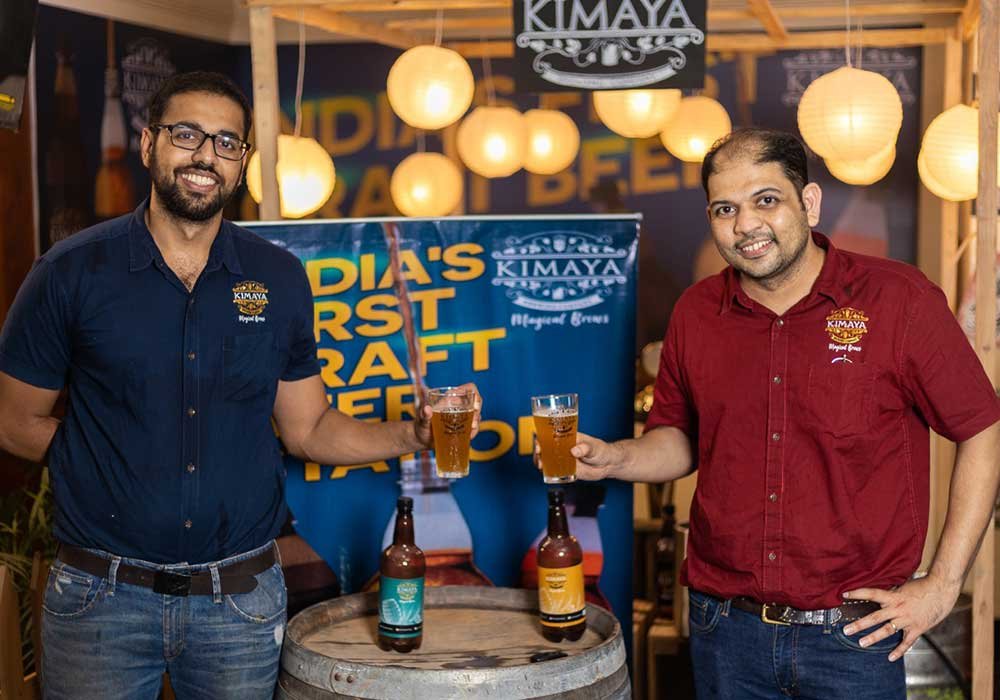 If you're looking to get your craft beer fix whilst your beloved microbreweries remain shut, Pune has good news. Kimaya Brewing Co. is opening India's first ever craft beer shoppe – a one-stop destination for craft beer lovers craving a taste of fresh, locally-brewed beer. The shop opens for business today and is located at Karve Road, Kothrud, Pune – right above Hotel Kimaya.
Whether you're partial to an IPA, or prefer a Pilsner – this is the place where you can order PET bottles of brewed beers. We managed to grab a quick chat with Saurabh Patwardhan, owner at Kimaya Brewing Co., a Pune-based microbrewery owning this project, to find out more.
"In very simple words, this is parcelled, fresh draught beer, which is also known as growler," explains Saurabh.  "The whole concept", he further elaborates, "is about taking your favourite craft beer from the taps and filling it into bottles for you to take home and enjoy."
What's on their inventory list?
According to the law that Kimaya Brewing Co. has passed via the Craft Brewers Association of India – the Maharashtra Chapter, any microbrewery within Maharashtra that holds a microbrewery licence can sell their craft beer via the Craft Beer Shoppe.
"We are starting with Kimaya of course," says Saurabh proudly. "In the next ten days, we will also have Doolally; they have a unique lager which will be coming on board very shortly. In the future, we also have Moonshine Meadery, since we are allowed to sell meads too. Other microbreweries we are in talks with are Great State Aleworks, another microbrewery in Pune and Crafters from Mumbai. I would also like to keep our taps open to serving beers that we collaborate and brew with other microbreweries."
Each litre of craft beer at the Craft Beer Shoppe is priced between Rs. 400 to 450/-, depending on the style including the taxes which is 5 percent.
How will the craft beer be packaged and sold?
We are selling our craft beer via PET bottles which I personally believe is the safest and most affordable way of packing fresh craft beer from the tap," explains Saurabh. "The PET bottles are high pressure-rated which makes them extremely safe while the one time use of PET takes care of sanitation. However we would soon have other options like glass and food grade stainless steel growlers for customers who want it."
Speaking of use-and-throw, Saurabh also highlights how their plan includes a recycling of these containers. He asserts: "We will be starting PET collection centres across Pune and Mumbai via which we will incentivise all the customers who return the PET bottles."
Any expansion plans?
Saurabh, who has full faith in the growler model, reveals that his plan currently includes setting up 10 growler stations across Pune and Mumbai very soon. "I personally also want to go into small towns like Satara, Nashik, Sangli and Kolhapur. We are just waiting for everything to normalise right now before we go all out," he further elaborates. "This is a great concept that lets you take away your beer and have a good fun time at home. You don't have to step into a microbrewery to enjoy craft beer. Beers have also become very affordable, so yes, I definitely want to expand. We are just waiting for everything to normalise right now before we go all out."

Operational hours and how to shop
As per the excise law, the Craft Beer Shoppe can operate from 10 am to 10:30 pm during normal circumstances. For now, it will only operate from 10 am to 6:00 pm, in accordance to the current lockdown rules.
"As of now, we are open for takeaway and online delivery both. However, we encourage people to order online just because of the given situation," Saurabh urges. "However, once things are normalised, we would love everyone to come and see our Craft Beer Shoppe!"
For more details, visit: airmenus.in/Menu/KBC