Preimium Hops from the Sunny Slopes of the Alps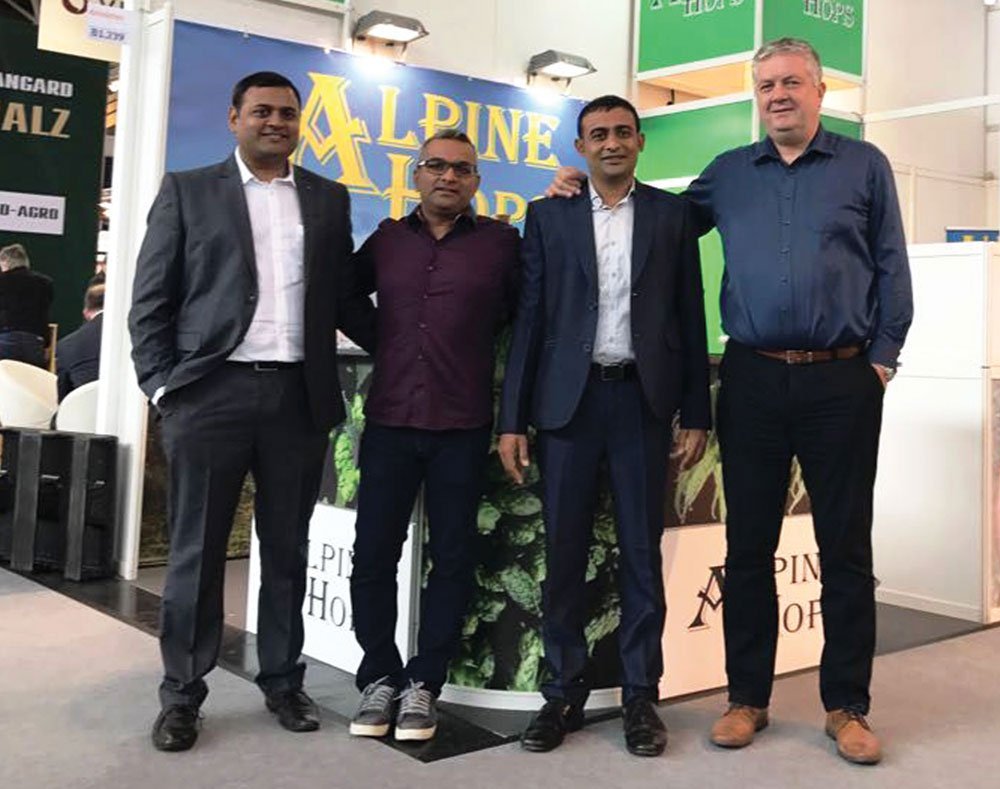 Nachiket Vaishnav & Sanjay Pansuriya
Directors, Alpine Hops & DVKSP Impex Private Limited
We at Alpine Hops® represents Hop Grower's in Slovenia & Germany. We bring some of the best European Hops worldwide. We also supply premium American Hops to rest of the world. We primarily represent Agricultural Association of Petrovče (Kmetijska Zadruga Petrovče, z.o.o.) from beautiful Savinjski Valley of Slovenia and a couple of similar hop-growers association from Hallertau and Spalt region of Germany. Most Slovene hops are exported to premium breweries worldwide. Agricultural Association of Petrovče is one of the largest producers of hops in Slovenia. All Alpine Hops products are available in India through their business partner and representative DVKSP IMPEX PRIVATE LIMITED which stock the entire range of products.
What makes Slovenia conducive to hop farming? What does the hop quality depend on?
Quality of hops depend on the weather conditions, micro-climate and specialty of fields. Slovenia is situated on south part of Alps and has better weather conditions conducive to hops farming. Slovenia has more sunny days compared to other hops growing countries, especially in July and August, which gives a kind of special aroma to hops, Slovenian hops growers say, "August gives you Hops or takes away from you".
Can you tell us how growing hops in Slovenia is different from rest of Europe or North America?
Different climate and soil conditions gives different characteristics to hops. Slovenia has unique climate conditions which is suitable for both high alpha and aroma hops. Attempts to grow hops in Slovenia date back to 1844. Saaz hops and Bavarian hops were brought to the region but did not grow well. A British hop, mislabelled "Golding" was imported instead, and it flourished. The resulting hops, now known as Styrian Golding, are probably a derivation of Fuggle, not English Golding. Still, they have become the cultivar that is most closely associated with Slovenia. It has a murky background, but is probably of central European origin. Today, Slovenia has a large variety of bitter and aroma hops to offer, most of which are produced from local breeding programs.
How do you assess the future of the craft beer market?
India offers interesting opportunities to companies throughout the FMCG-sector, and the food and beverage market in particular shows a large potential for growth. India's food and beverage industry is expected to touch US$ 66.3 billion by 2018, amounting to a growth of 18 percent.
If we look at the alcohol and liquor industry, we see that the market has progressed well in last 7 years, with major brands entering the market. In the coming years also, we are set to see steady growth in this sector. For beer, the Indian market is expected to grow by 13.2%. The growth rate of the beer industry is an indication of the huge scope of opportunities available for breweries and beer brands marketing and/or manufacturing in India. Most of the major distilleries and breweries have now created a base in India, either in the form of a manufacturing unit or through distributors and importers.
The craft beer industry is still new in India and growing. The growth has also attracted attention of the big-brewers. Craft beer may have to endure a wave of consolidation and contraction in the next few years. Beer volume sales are forecast to grow at a CAGR (Compound annual growth rate) of 10 % in the period 2012-2017. Forecast sales growth is expected to be more or less in tune with review period sales growth, as companies continue to build distribution and keep introducing variants like flavoured beer or mild beer. Imported beer is expected to show a steady increase, as in craft beer, though both will represent a small share of overall beer volume.
Our representative partner in India as DVKSP Impex Private Limited, is a well-known name in Craft and Industrial brewing. We always focus on good quality and services. DVKSP has very large infrastructure pan India. With eight warehouses we are very near to almost all breweries in India. In the next few months we will have more warehouses to serve our customers very well to ensure timely delivery.
India offers interesting opportunities to companies throughout the FMCG-sector, and the food and beverage market in particular shows a large potential for growth. India's food and beverage industry is expected to touch US$ 66.3 billion by 2018, amounting to a growth of 18 percent.
With the industry growing, would you think about selling to home brewers? Is this an area you may want to address?
In India, there is huge potential for home brewing. As Indian trend, most of micro-breweries were home brewers in the past. So that's really potential market for us. We are working on packaging, logistics for home brewing and we will start shortly to serve home brewing. We will share more information about home brewing in next few months.
Do you consider the climate and soil good enough for growing hops in India?
The cultivation of hops began since 1973 in India. Last year there was approximately 30 metric tonnes of hops production grown mostly in the remote regions of tribal Lahaul and Spiti district of Himachal Pradesh which has favourable climate and soil conditions. Until now we observed that quality produced in India is with less alpha and aromas, which really is a concern for beer. Hence, we believe that Indian hops is not popular to use in beer productions.
Are you collaborating with Indian breweries? Do you see buyers for hops in the Indian market?
In India, Our representative partner DVKSP Impex Private limited. We are present since 2009. We already have very good market share in Industrial breweries as well as micro-breweries. Slovenian hops have different flavours than other origins, so many breweries love to use Slovenian hops. In Ahmedabad, DVKSP has temperature and humidity controlled cold storage.
We are really concerned about quality, so we believe in taking care of our infrastructure. Every year we achieve almost 20% sales growth, volume wise. Since last 2-3 years, more and more brewery licences are being sanctioned so we are expecting 28% growth this year. Slovenian selling hops by DVKSP India. Every brewer/brewery has their choice of taste and flavour, DVKSP is always ready to serve them.
Can you tell us what makes Alpine Hops stand out from various other global Hop suppliers?
https://www.brewer-world.com/2019/03/19/preimium-hops-from-the-sunny-slopes-of-the-alps/
Consistent quality year after year (subject to annual weather based variations). In fact, you can visit our farms and check out our hops on vine and even pick farms from which your hops will be delivered.
Guaranteed delivery of your hops year after year – we can get in a contract for up to five years for your hops (again with further flexibility of you being able to pick fields from which your hops are delivered).
This provides tremendous stability and future visibility to both our farmers and also to you as a brewer.
Direct convenient delivery at your doorstep (scheduled/multiple delivery if necessary). We handle all the import process and paperwork and delivery logistics (currently we have hops stored at our Petrovče Slovenia, Ahmedabad India & Oakland California Cold storage warehouses).
Flexibility/visibility for growth/change – based on customers future projections and contract we can work with farmers to plant/switch hop varieties based on future need.
Pricing – is not the main factor compared to the above parameters. We are confident we provide at least 10-20% better pricing.
Tell us about the various varieties offered by Alpine Hops?
Alpine Hops® has growers of following Slovenian verities.
Super Styrian Aurora
Styrian Golding (Celeia)
Hallertauer Magnum
Styrian Savinjski Golding
Styrian Golding B (Bobek)
Styrian Cardinal
Styrian Wolf
Styrian Eagle
Styrian Eureka
In addition, DVKSP Alpine Hops® also supplies around 80 varieties of Hops from Germany, USA, Czech, UK, NZ, and Australian. We always work hard to increase our product portfolio as per customer needs. For more details, please visit our website
www.alpinehops.com and
www.dvksp.com