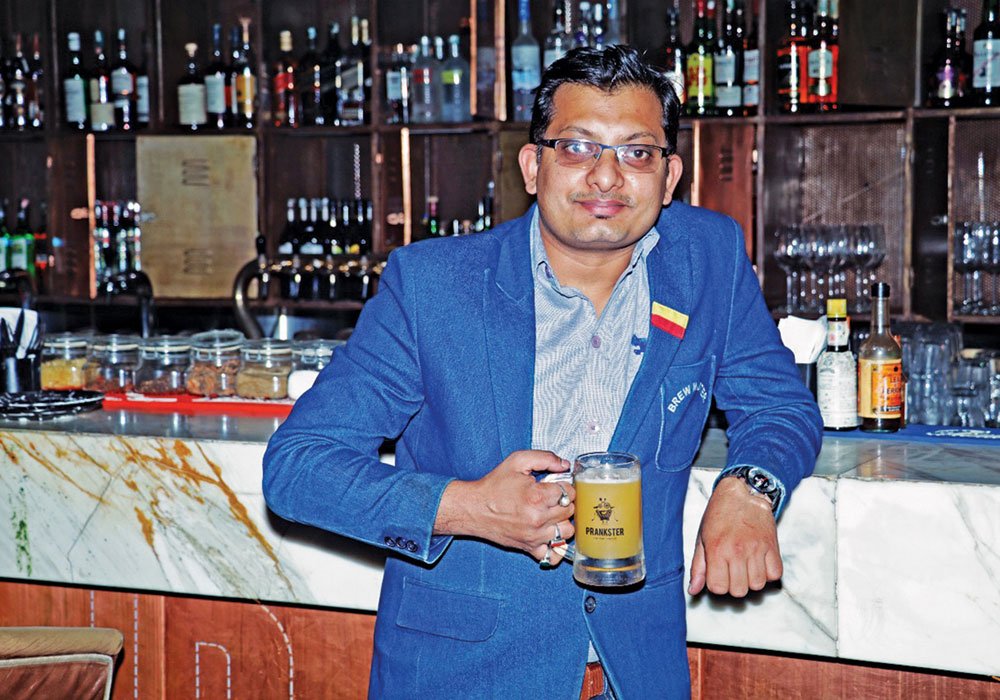 Sayantan Mukherjee
Brew Master, Prankster
Sayantan Mukherjee is nothing less than an encyclopaedia, having completed his graduation in Biotechnology from Bangalore University, his post-graduation Periyar University, Salem, and an M.Phil in Biotechnology from Bharathidasan University, Tamil Nadu. He kick-started his brewing career at the Carlsberg India brewery and is currently brewing at Prankster, Gurgaon. This brewmaster got to indulge in the best of the brewing world. Born & brought up in Uttarpara, West Bengal, Sayantan speaks to Sneha Nair, BW about his journey into the beersphere.
Tell us about your experience of working in a large scale commercial brewery when you began your career at Carlsberg India?
Spending more than 9 years in the commercial sector as a brewer, I can tell you that the basic brewing process is the same whether in a commercial brewery, a microbrewery, or in homebrewing, but the most noticeable difference is in the variety of raw-materials used. Commercial-sector breweries mostly prefer to use Indian manufactured malt as their staple ingredient. It is easier to access and more substantial to the company. In craft brewing, various speciality malts, varieties of hops and different dry yeast are generally imported, and that's mainly what makes craft beer a craft! Usually the brew capacity of a commercial brewery starts from 125 HL and above. Coordination & communication among various departments is a must and time plays a key factor. There should be smooth accessibility in between process, quality control and utility. Separate quality control department played an important part to culture the imported yeast. The protocol for quality checks and parameters are very different in a commercial brewery.
Acting in the capacity of a brew master at a commercial set-up is versatile and adapting to brewing larger quantities of beer is a skill to master. At a microbrewery, one needs to pay attention to frequently changing palate as customers are always searching for something new to try. On that aspect working at craft brewery has given me a platform for different experimental brews, working with new ingredients, and allowing me space to get creative.
What are your thoughts about your Prankster customers' tastes in beer? What do you believe is the difference with the beers brewed at Prankster?
In Gurgaon customers have a sweeter palate as compared to Bangalore and Pune. We keep this in mind while creating a recipe. At the same time people appreciate a beer with heavier body and moderate alcohol. That's why almost 50% of the market is dominated by wheat beer like a Hefeweizen or a Belgian Wheat. However, recently we've witnessed people looking forward to tasting experimental beer as well.
At Prankster, we always try to ensure German purity law of brewing. We pay attention to every detail from the careful selection of raw materials to design a standard recipe. We ensure quality water and maintain better hygiene levels with CIP of the brewing vessel, fermentation vessel and BBT at regular intervals.
As a brewer, I put all my passion and love so that our brews are true in quality. We are committed to developing a new generation of exceptional brewers with the passion for excellence, innovation and quality that sets up apart from others. We are totally motivated. A natural dynamism drives us to improvement and pursuit of perfection through team work.
What do you think of the rising beer market in India?
If I had one word to describe, it would be 'promising.' The general public's enthusiasm towards the craft beer market has been extreme, which in turn has encouraged so many entrepreneurs to invest in the industry. With almost 10 years of working in this industry, I have noticed how craft beer is slowly capturing the market and I have a feeling it will soon overtake what commercial breweries have to offer. Even State policies for getting the licenses are being changed, worked on or updated which could mean the Government is finally realising the potential of the market and more importantly, craft breweries are becoming a complete package – with detailed ambience, attention to food quality and pairing, simultaneously, engaging with their customers, to ensure they enjoy themselves at an extreme level.
At a microbrewery,  one needs to pay attention to frequently changing palate as customers are always searching for something new to try. On that aspect working at a craft brewery has given me a platform for different experimental brews, working with new ingredients, and allowing me space to get creative.
How do you strategize on brewing reasonably good beers given that the Gurgaon market is swamped by multiple players?
Firstly, I think we must realise, that this industry is at its initial stages, so the more microbreweries, the easier it is to educate the masses on what is craft beer. We're all working towards the same goal. So, there definitely is a sense of healthy competition.
As a brew master, I always try to stick to my basics, the fundamentals of brewing a good beer. From the selection of malts and hops, to equipment, quality checks and standard hygiene levels, we don't substitute our quality of production for anything. Also, focusing on how to retain your customer is to create an unforgettable experience – the key to that would be innovation! At Prankster, we're constantly working on new innovative recipes, ideas, flavour profiles, etc and aim at designing a new recipe on every monthly.
Rapid Fire
What is your brew motto?
I'm on a mission to introduce some world-class recipes into the Indian market. To give our customers the taste of global standard, to create an impact and set a benchmark for the market.
Favourite beer styles?
In order of preference – Hefeweizen, Belgian Wheat, Belgian Dubbel, Stout or Porter, IPA, Weizenbock, Saison, Marzan, Apple cider and different seasonal fruit beer.
Could you share a beer recipe with us?
INDIAN PALE ALE (1 HL)
Malt:
Pale ale malt: 61.22 %
Munich Malt: 30.61 %
Cara aromatic Malt: 8.16 %
Bitter Hops:
Centennial: 150 gms
Aromatic Hops:
Mosaic: 200 gms
Cascade: 200 gms
Mittlefruh: 200 gms
Yeast:
Safale SO4
Mashing:
Mash at: 450 C
Rest 450 C
Rest 540 C (10 minutes)
Rest 630 C (60 minutes)
Saccharification rest 720 C
(25/ 30 minutes)
Rest 780 C (5 minutes)
Transfer to LT
Fermentation: 23º C