Meet The Co-Founders Of Asia's First Mead brand- Moonshine Meadery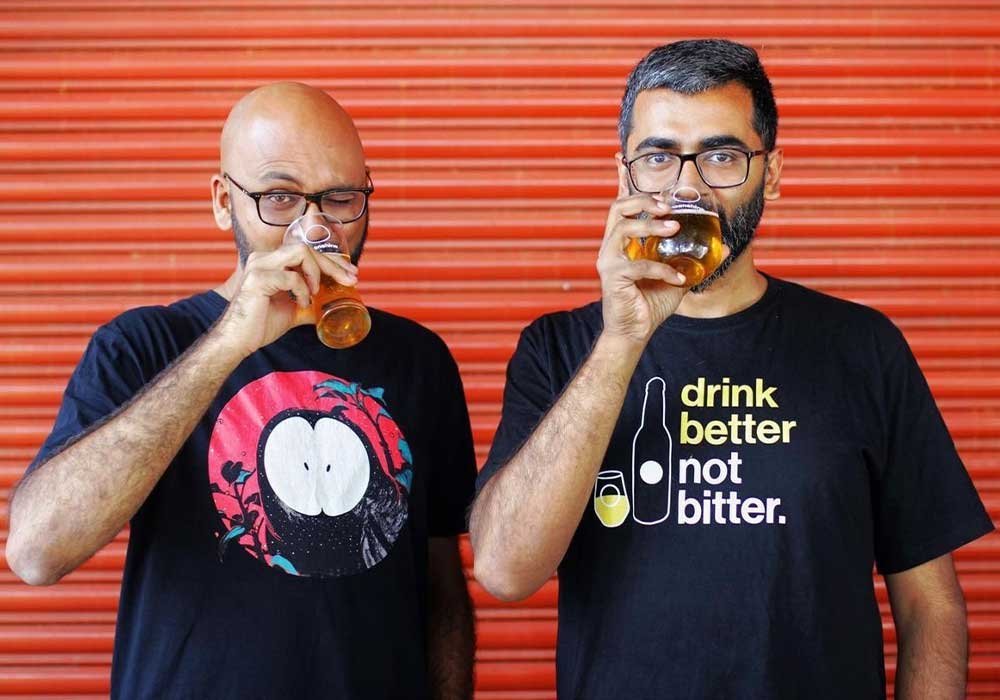 Moonshine Meadery, an award-winning mead brand that started as a garage project in 2014 and later became Asia's and India's first meadery in 2018, has created ripples in the Indian alcobev industry with its out-of-the-box flavoured gluten-free meads and label design concept. The USP of the brand is the ingredients they constantly experiment with to deliver fresh and new varieties of meads that take your palate on a soothing journey while you sit back and relax.
Co-Founders Rohan Rehani and Nitin Vishwas are working towards a mission to bring back the elixir of the Gods to this & future-century lovers of all things craft. In the interview below, Rohan takes us through their journey in the beverage space, their idea behind starting a meadery and their product line. He also talks about the expansion plans and its target market.
When and how did the concept of making mead and opening a meadery first occur to you? Tell our readers a little bit about Moonshine Meadery.
In 2014, Nitin read about London's first meadery in an in-flight magazine. While we'd read about ancient meads before, we didn't know they still existed as a beverage. Curiosity about how it would taste led us to start some trials in making meads in my grandmother's kitchen. It began as a hobby, but seeing the great response we got from our friends and family, we considered turning it into a business. And so, Moonshine Meadery was born as Asia's and India's first Mead brand. 
Through Moonshine, we're bringing back Meads – the world's oldest alcoholic beverage – in a contemporary form. The brand offers a diverse range of meads that suit the differing preferences of our customers.
Tell us about its USPs, and how it is currently positioned as a dominant force in the market it serves. 
Meads are a white canvas on which we can overlay a range of flavours. And since they come with countless flavour combinations, there's a mead for everyone. Our meads are made with all-natural ingredients and carbonated to give consumers a flavour-packed, session-able beverage. It is also gluten-free and will not give you a bloated stomach after consumption. 
Furthermore, we are constantly innovating and experimenting with a variety of ingredients, including multi-floral honey, orange blossom honey, coffee beans, guavas, apples, chillies, kaffir lime, and many more, to bring a wide range of meads to the table for everyone to discover their own tastes and preferences. 
Consumers are increasingly gravitating towards non-bitter options, and this is reflected in the growing popularity of mead. Over the last 5 years, Moonshine has established itself as a prominent player in the craft alcohol industry. With an increasing number of consumers seeking high-quality, exceptional beverages, the demand for mead is expected to continue to expand, solidifying its position in the market.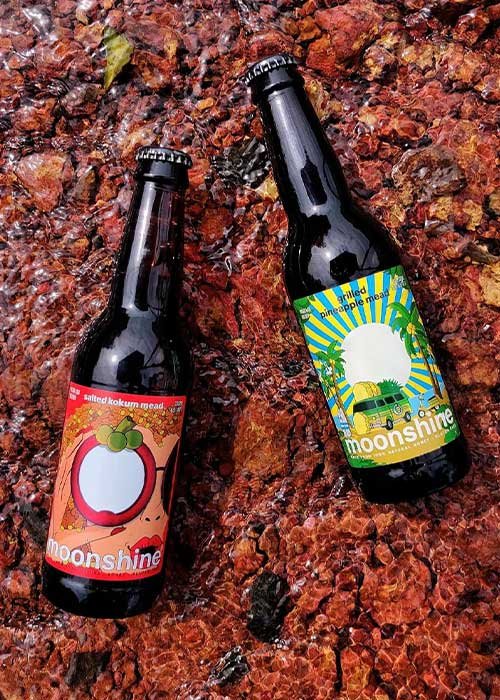 Take us through the production process.
Each of Moonshine's meads is made of 100% pure honey. Since honey is the most important raw material in the manufacturing of meads, we try our best to source the honey we use directly from beekeepers from different parts of the country. We also have 300 odd bee boxes under our Moonshine Honey Project that give us single variety honey—some of which we ferment, while the rest we package and sell. 
When it comes to preparing a drink like meads, there are a lot of variables to consider, such as temperature, acidity, and a variety of other minor factors. We got into mead making because we loved the beverage and the craft, and we believe that reflects in our meads always. 
Once we mix the honey with water, we let it ferment for anywhere between ten to fourteen days. After which, it is filtered, carbonated and bottled.
How do you ensure the consistency and quality of your mead?
We collaborate with natural farming practitioners and strive to use locally sourced ingredients as much as possible. Most of the fruits we use are sourced from different parts of Maharashtra, while we get our honey from local beekeepers & trusted aggregators from other states whom we personally visit and have built relationships with over time, to ensure the quality we get with the honey. This ensures that the ingredients we use are fresh and of the highest quality, which, in turn, translates to the taste of our final product. It also helps us create meads that people can connect with while supporting the local economy. 
We have an in-house team in place to constantly do quality tests to ensure the consistency and quality of our meads are maintained at all times.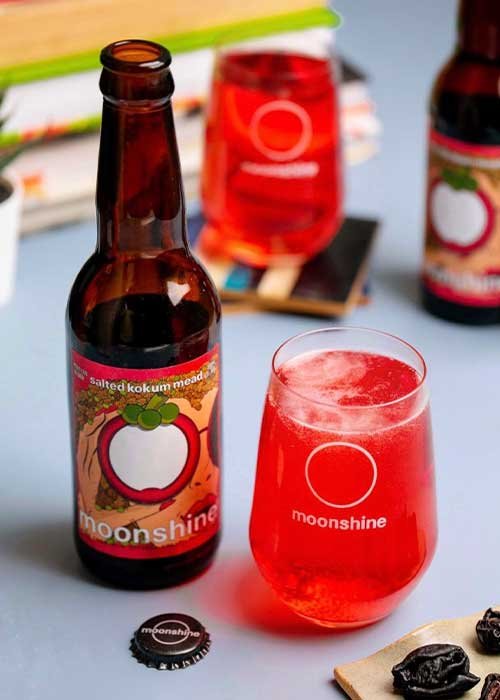 Tell us about your product range. Which is one of your best selling meads and why?
We offer a wide range of flavour options. Our Flagship meads—the Apple Mead, Traditional Mead, and Coffee Mead—are available all year round. Meanwhile, we also offer various seasonal/smallbatch meads known as MeadLABs. These include Salted Kokum Mead, Guava Chilli Mead, Hopped Mead, and Grilled Pineapple Mead, amongst others. 
When it comes to our bestseller, the Apple Mead is an all-time favourite with our consumers.
Who is your target market? Do you believe that consumer preferences have changed after the pandemic? Why, if so?
In India, we have observed a growing interest among consumers in high-quality, artisanal beverages that are made using locally-sourced ingredients. The younger generation is also open to experimenting with their drinks as they don't always want to drink what their parents used to. 
Over the past four years, we have been able to establish a new category for ourselves in the Indian market, which caters to a discerning audience that is interested in knowing where their food and beverages come from. This has allowed us to tap into a white space between non-alcoholic, flavourful beverages like Coke and alcoholic, bitter beverages like commercial beer. 
Our consumers appreciate our meads, which are made using ethically sourced pure honey and other locally-sourced ingredients. We work closely with our vendors to ensure a consistent quality at all times.
As seasoned leaders, express your thoughts on the influence of the latest technology adoption, digital marketing, and e-commerce on the industry you serve and what else might be anticipated in the future. 
Thus far, AI & Big Data have had little to no impact on the alcobev space but with better regulations coming into place slowly, one day we will directly be in touch with our customers and that's when we'll see these technologies come into play.
 You both have impressive career graphs. How do you ensure that you are the ideal addition to one another?
Both Nitin and I have known each other for a very long time, and so that allows an incredible amount of comfort in addressing and resolving the small issues that are bound to come up during any kind of collaboration. 
Moreover, we also have very divergent perspectives on things, so invariably it leads to a lot of debate, and the final solution to problems is always something that we've looked at from different perspectives. 
What are some of the initial challenges you faced, and how did you overcome them?
As mentioned earlier, our curiosity about meads prompted us to try making meads in my grandmother's kitchen. However, when we decided to go commercial after two years, we realised that the category for meads did not exist.
We kept getting mistaken for beer and still do sometimes. This is because we come packaged in a 330ml amber bottle – similar to beer. The solution to this – at times – involves me holding a cardboard sign that says #MeadIsNotBeer on the streets and plenty of other guerilla marketing techniques. 
Likewise, we are well aware of the restrictions on alcohol advertising, particularly in India. This has led us to take a more grassroots approach to marketing our product, primarily through personal interaction with customers. We participate in festivals and events where we can connect with potential customers and introduce them to our brand. We also offer meadery tours every Sunday, where visitors can learn about the history of mead and the production process. 
In fact, in our journey, we have tried everything – from pop-ups to masterclasses, corporate tie-ups, and tasting sessions. You might have come across our collaboration posts on social media featuring brands like Nomad Food Project, Subko Coffee and Pack-a-Pav. 
And, of course, we rely on social media education and guerilla marketing – like personally meeting all those customers in Bangalore who had been asking us to launch in the city for the last three years – to reach our potential audience.
Tell us about some advice you received when you first started. Was it helpful?
Amongst the best advice we've received was – listen to your consumers. Every style of mead we've made has always been offered to consumers at popups or events for trials, post which we incorporated the feedback received back into making the next iteration better. 
This way, each mead was refined using consumer feedback, and moreover, we had a set of consumers who knew the style before it was released. 
Are there any plans to expand this year or to enter a foreign market?
We have always envisioned Moonshine as a national and global brand. Early this year, we took our first step beyond the Indian border by launching in the UAE. And within India, will be launching in Gurgaon pretty soon.
Our primary focus will be on consolidating our current markets in Maharashtra, Karnataka, Goa, Rajasthan, Daman, Assam, Uttar Pradesh and Himachal Pradesh, with special attention to increasing our distribution.
How do you see expanding Moonshine's business and product lines in 2023 and beyond?
In 2023, we aim to consolidate our efforts in our existing markets. 
From a marketing perspective, we plan to shine the spotlight on the purpose we exist – bees and their linkage to the mead we consume. 
Every pint of mead consumed creates a demand on the beekeeping industry, and so helps the world we live in