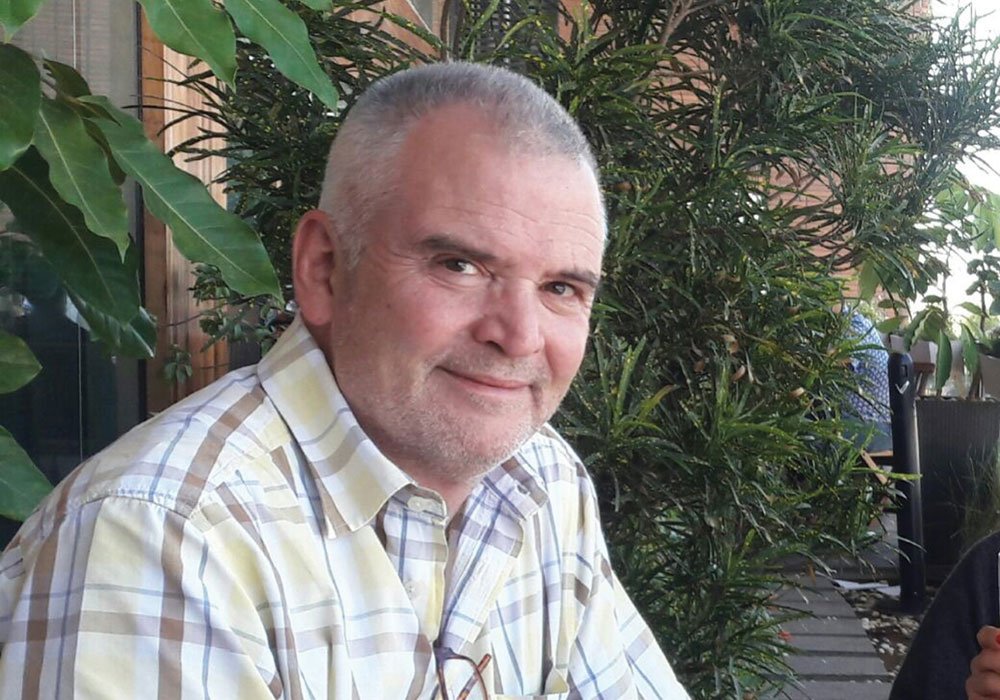 MATTHEW CALLAGHAN
In a world full of self-propaganda experts, Matthew is an extremely soft spoken, versatile and passionate person, very reluctant to talk about himself. His foci in life are clear, Good Beer, Great Beer and Home! In that order.
It is rather a surprise to know that Matthew has been a military man, a nuclear power plant employee, a full time traveller and serious fishing enthusiast. But right now is where is totally loves to be-in a brewery, in a city he likes, doing what he loves most-making great beer.
If in TOIT, in the heart of Bangalore, one can catch him keeping a paternal eye on the beer being served and the people enjoying his brew. Walk up to him, but be sure to speak louder, it's a noisy pub and Matthew is an extremely soft spoken man!
Here is the conversation BW had with Matthew Callaghan on his life, passions and dreams:
TELL US HOW IT ALL STARTED
I have been brewing for 19 years now. I am from Ireland but have spent a good part of my life traveling and working around different parts of the world. I spent about 10 years in nuclear power, in the US, working in instrumentation and controls, licensing and engineering support. In 1997, they announced that the plant would close permanently due to, I believe, political reasons. After redundancy in America, I found it very difficult to find a compatible job in the sense of a challenge as well as wages and benefits. After some thought and research, I decided to return to school and ended up in the North-east of England. There I did a brewing course, and that changed my career as well as my life. I spent about the next 2 years doing my brewing apprenticeship at mostly small breweries in England, Ireland and the Isle of Mann. From there I've spent time brewing in Micronesia, South Korea, Australia, Denmark and now India. Now, I been in Bangalore for about four and a half years and they have kept me very busy, not just at TOIT, but at our new location we are setting up in Pune, plus other projects in the pipeline. The 19 years have passed quickly, it seems.
HOW DID INDIA HAPPEN AND HOW DID YOU GET ASSOCIATED WITH TOIT?
I have a friend, Phil, whom I met in South Korea working at a different brew pub. After that, we kept in touch during our travels and on occassion would meet in Manila. During one of our stopovers in Manila, catching up on our exploits, (over what else, a beer) I told him the cold weather was getting to me in Denmark. Phil said that he was finishing the setup at ToiT and was looking for a brewer. after A few more pints and a few months for a visa, here I am and the rest is history.
ToiT had been running for about six months when I first came here.
WHEN YOU CAME HERE, HOW DID YOU FIND THE BEER SCENE IN BANGALORE, AND INDIA?
I'm not much of a city person, living most of my life in small towns and villages, of about 800-20,000 people. In Micronesia, the whole country was 20,000 people! I'm still a bit uncomfortable in big cities, with traffic and noise, but I think I have adapted well here. The weather definitely agrees with me.
That said, the Craft Beer scene here is almost unbelievable. It reminds me of Ireland from times gone by. ToiT is not just a brew pub, but a social meeting place for family, friends, co-workers or just acquaintances. It's what a pub is supposed to be.
I'm hoping we can duplicate the ToiT atmosphere / culture in our new outlets. We've had a lot of positive responses and people looking forward to visiting them.
TELL US SOMETHING ABOUT YOUR WORK AT TOIT?
Well, to start with, brewing is not a 9-5 job. We are pretty much 24/7, not just with brewing, but maintenance, cleaning, hygiene, as well as training and paper work. We have very good German built equipment but it is well over 20 years old and so requires a little more maintenance. People sometimes don't believe me, but as brewers, we spend about 80% of our time in the brewery, cleaning. It is very important to have very good hygiene to produce great beer. Beside myself, I have been training additional brewers to take my place at some point and also for our new projects, so we are producing great brewers as well as great beer. As we are dealing with alcohol, we have our fair share of paper work to maintain for all the government agencies regulating us. With all this, we are also working on our third expansion, with engineering, production delays and more to handle.
Again, being limited on what we can produce here, I think the selection of beers we produce, goes a long way in satisfying the palates of our customers.
So after 19 years of brewing, it has been very refreshing to again, see the Saturday afternoon ladies groups, family sunday brunch with the kids and parents or the week day business meetings with suit and ties and of course, the evening party crowds. On a daily basis, I have patrons stopping me, just to say thank you, good job or keep up the good work. It seems "Everybody knows your name". I guess the part that makes it difficult to fathom, is just the numbers, (large city, large numbers I guess) but also, I thought this culture was gone or at least very difficult to find anymore. In India, it's still in the early stages here but it has a lot of potential.
WHERE DO YOU SEE YOURSELF IN ANOTHER TWENTY YEARS?
Retired! I'm not a spring chicken anymore. If I still have my health in twenty years, maybe some consulting. In the meantime, it would be nice to have my own brewery, maybe in the Philippines or Ireland. I do miss them both and don't get to visit as much as I would like. Time will tell.
YOU ARE THE PRESIDENT OF CRAFT BREWERS ASSOCIATION OF INDIA, (CBAI) WHAT ARE YOUR OBSERVATIONS ON THE CRAFT BREWING INDUSTRY IN INDIA?
As president of the CBAI, I see a lot of potential here, but the craft beer industry as a whole has to be very careful. I have seen it too many times, at the beginning they go through this excitement of something new, there is initial growth and they see a huge increase in sheer number of breweries. But over a period of time, they lose sight on how it all began and the basics then crash! Most countries I've brewed in and others have all been the same. Some have come back and doing well now, America, Ireland, and South Korea for example. We'll have to wait and see how India does. I think in India, it's very important that we do not see other brew pubs or breweries as competitors but opportunities to learn and grow together. The industry needs collaboration and cooperation with all the breweries, big ones as well as the smaller ones. This is critical for prosperity of the industry if not survival.
The CBAI charter is based on collaboration and learning. Besides this, we are also looking at fair and uniform regulation pan India for craft brewers. So we petition both state and federal agencies regularly on various issues that concern us.
Next would be training. The CBAI is working with an internationally recognised institutions for brewer training and certification, so we can improve the quality of our products through our brewers.
Another issue for the Indian brewing industry is supply of raw ingredients, especially malting barley and hops. These ingredients are mostly imported now as they normally need specific climate conditions to produce quality brewing ingredients. That being said, India does have some areas that might potentially be good for growing hops and malting barley, but this has not been exploited enough by either the government or the brewing industry. With the right collaboration between the brewing industry, farmers and government, this would be a "win-win" for all involved.
As you can see, the CBAI, even though a young organisation, (about 3 years) we have our plate full.
I see a lot of potential here, but the craft beer industry as a whole has to be very careful. I have seen it too many times, at the beginning they go through this excitement of something new, an initial growth and see a huge increase in sheer number of breweries. But over a period of time, they lose sight on how it all began and the basics then the crash.