King, Azadi Records, Ikka, & Gully Gang To Headline At Simba Uproar '22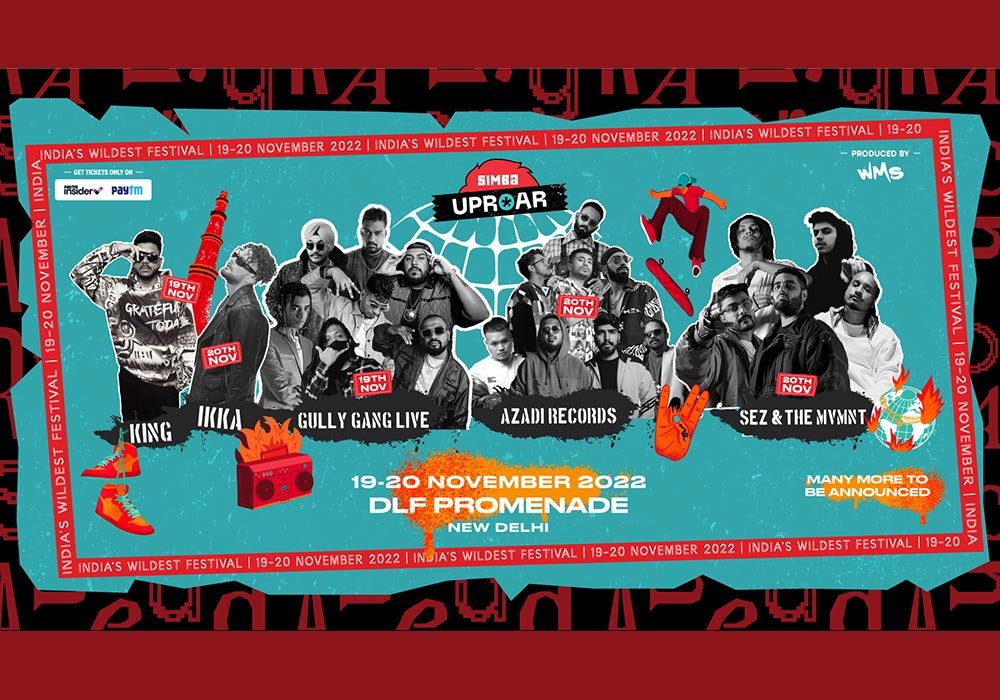 India's leading hip-hop artists to perform at Simba Uproar, India's Wildest Festival, this November in Delhi
Simba, India's foremost & most cherished craft beer, is set to bring the primary edition of Simba Uproar 2022 – India's Wildest Festival – to town. Scheduled to take place on 19-20 November at THE HUB, DLF PROMENADE in the Capital. Simba Uproar is an elemental union of music, urban experience and finely crafted beer!
On the two-day bill we have our headliners; King, Azadi Records including Ahmer, DJ BLUnt, Jelo, Prabh Deep, Rebel 7, Seedhe Maut & Tienas, IKKA, and the 'more than a label' Gully Gang, which features the likes of MC Altaf, D'Evil, Shah Rul, Tsumyoki, Riar Saab, DJ Proof, and Karan Kanchan. Along with music producer Sez on the Beat and with rappers DAKAIT, Ab 17, Yungsta, Aniket Raturi. The line-up certainly promises to bring the wild flow of the wordplay and a lot of electric vibes to the Delhi stage.
Simba Uproar '22 has been conceived as a platform to allow hip-hop artists to gain greater exposure, to grow and popularize hip-hop and street culture in India, and to present an exciting experience for enthusiasts and patrons.
"We're thrilled to bring the most prominent names in the Indian Hip-Hop community to Delhi. With artists hailing from underground and mainstream, this genre has evolved to be the most sought by the year. We wanted to highlight the extent of the 'bond' Indians have with them today. Alongside our vision to ensemble the most acknowledged acts among the music and youth culture" – Ishwaraj Bhatia, Co-founder and COO, Simba Beer
In six years, Simba has established itself as a brand that resonates with millennials across the country. Complementing the music acts, Simba Uproar embraces to curate an ecosystem of experiences across; urban and extreme sports, high-street apparel fashion, streetwear, cave cocktails, urban delicacies, art, etc.  This is a fest you wouldn't want to miss.
Tickets – https://insider.in/simba-uproar-nov19-2022/event
Instagram – https://www.instagram.com/simba.uproar/?hl=en
---
About Simba Beer
Founded in 2016, Simba is the first home-grown, family-run craft beer brand in India by Sona Beverages, introduced by those who take their beer earnestly. Simba has stayed consistent and authentic with the quality and ingredients across its portfolio.
Hence, in five years, the brand has spread its market presence in 16 states i.e. Chhattisgarh, Assam, Himachal Pradesh, Haryana, Karnataka, Tripura, Goa, Kerala, Maharashtra, West Bengal, Jharkhand, Delhi, Arunachal Pradesh Meghalaya, Punjab and Andhra Pradesh with a portfolio consisting of WIT, Light, Stout and Strong across different price segments in the industry.