A Kadak Year Ahead For The Kadak Boys: Founders Ishan, Amit and Mayank Look Forward To 2021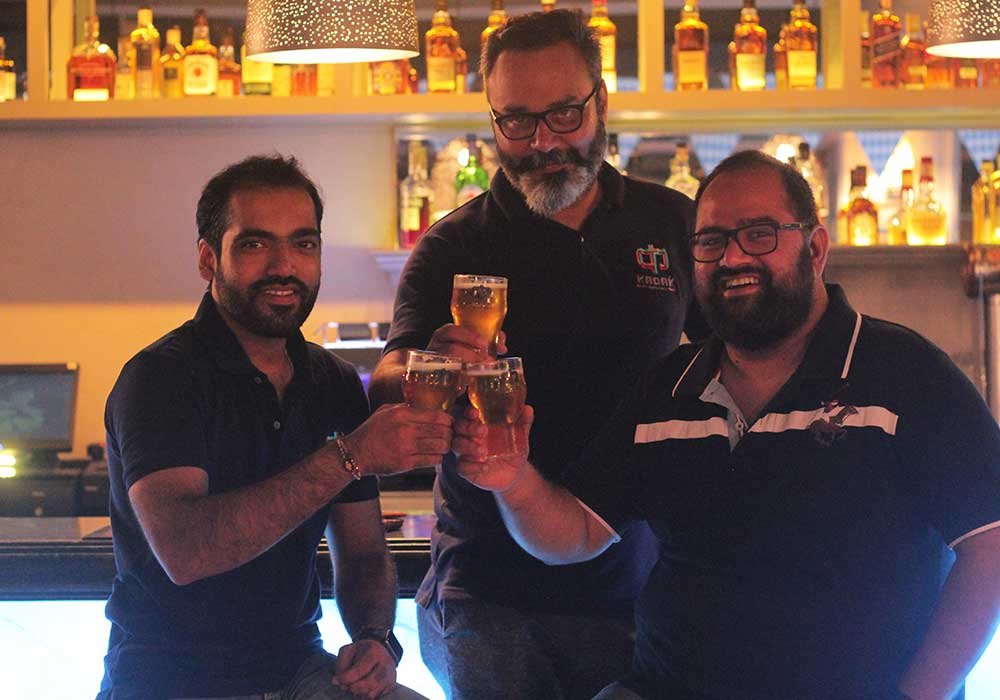 2020 was a year of challenges and disruptive change for craft breweries. Despite the difficulties, craft brewers and business owners are doing what they do best: innovating and creating more opportunities that keep consumers engaged and coming back for more.
Mumbai-based Kadak Craft Beers' founders – Ishan Grover, Amit Mishra and Mayank Shekhar have some big plans this year. The trio has already made headlines last year after successfully bringing Kadak's unique flavours all the way from the Gateway of India to the City of Joy. In this week's piece on craft beer trends – Ishan, Amit and Mayank look back on the year that's been while shedding some light on future market size and trends and giving us a sneak-peek into Kadak's future plans!

1. What upcoming key global craft beer trends do you foresee for the year of 2021? How do these compare to the trends specific to the Indian market? 
Ishan: 2021 is all about the revival of the beer industry. Globally, we see breweries taking up new initiatives to bring back customers. It is going to be the same trend in India too. I personally feel it's time for craft beer brands and brewers to work together and put up a unified front to fortify the status of this industry and improve the scope of beer business in the country.
2. What is going to be the market size of the beer industry in 2021 and what will be the key driving factors? 
Mayank: The market size will take a year to be able to match up to 2019's numbers. Most of the beer brewed is consumed during summers – which usually starts from April and lasts till August-September for the majority of markets. Once the majority of the world's population is vaccinated, the economy will improve as people will be able to spend more.

3. What measures would you suggest to increase per capita consumption of beer in India? 
Amit: From the government's end, I think there needs to be a lot of emphasis on educating consumers on drinking habits and alcohol consumption. Moreover, alcobeverages like beer and wine still continue to be called "soft liquor" – which is still an incorrect term. It is up to the government to work with brewers to ensure that India knows the difference between liquor and beer.
The responsibility to increase per capita beer consumption in India lies with craft brewers and beer business owners as well. Apart from continuing to experiment and brew great beer styles, making a greater effort to connect with our audience and working together to fortify the community should be amongst the top priorities on our list.
4. What is the market size and consumer demand for higher ABV beers vs low ABV ones? 
Ishan: In the commercial segment, it is currently 90 percent for 'strong' and 10 percent for 'low'. But that trend is changing thanks to craft brewers!

5. How relevant is e-commerce for the future of doing beer business in India? Please elaborate. 
Mayank: E-commerce won't last for long. India is very used to traditional retail models which generate a lot of money for the states via taxation and results in high employment. E-commerce, on the other hand, would not be able to match the numbers. It will also lead to the rise of monopolistic business by large companies who have money to influence digitally.
6. What are your thoughts on the future of the Growler Policy in India?   
Amit: The Growler Policy certainly empowers craft brewers to make their business more sustainable. It should be legal all across India.
7. What, in your opinion, are some of the biggest wins the Indian craft beer industry witnessed this year? 
Ishan: The Growler Policy being made permanent in Maharashtra and the option to open Retail are two of the biggest wins and will make a huge positive impact on the craft brewing industry.
8. What are your key learnings of 2020? 
Ishan: To summarise, we'd say:
Save money for rainy days
Do not build business for false valuation
Have a strong distribution plan
Negotiate hard
Stay healthy
9. What is the future looking like for Kadak? 
Ishan: We are planning to open retail stores all across Maharashtra. Our plan is to revolutionise the craft beer retail experience by opening premium stores featuring our in-house beers along with a collection of the best craft beers from Maharashtra. 2021 is the year when we focus on EBITDA  (Earnings Before Interest, Taxes, Depreciation and Amortisation).
Brewer World Exclusive