BW Exclusive: I Believe The Word Organic Is Misused: Chef Nishant Choubey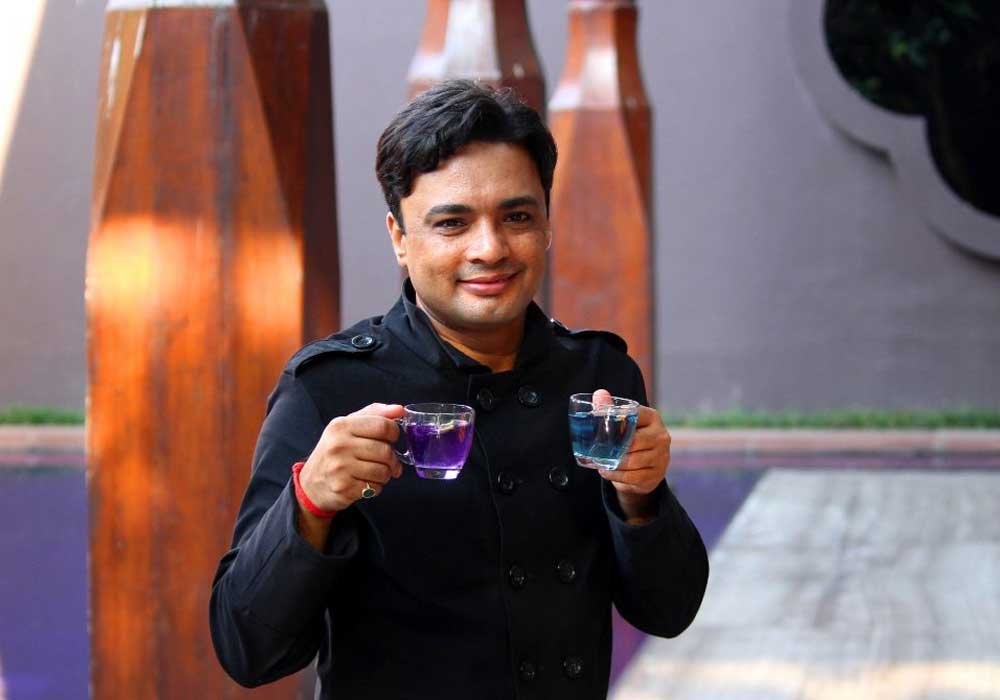 Today, contemporary cooking is more focused on produce than ever before. Sustainable gastronomy is characterised by the use of organic, local products and a direct connection with local producers. This ties in closely with respect for the environment and is then reflected in menus that are adapted to the seasons of nature.
Many chefs of today have shown that sustainability takes on another dimension once there is more awareness about it, transforming itself into a philosophy of life that becomes a focus point for their culinary projects. One such chef who is working towards Sustainability is Nishant Choubey.
Chef Nishant Choubey comes from a family of academicians. He attended Kendriya Vidyalaya and Bokaro Steel City. After graduating from Bhopal Catering College, he worked as a chef. He started with The Oberoi Group Of Hotels, Jumeirah Group,and Olive. He was a part of the pre-launch of Ai and Lap, before joining Dusit Devarana and Cibo.
Chef Choubey was one of the few Indians chosen to attend Master's Chef Classes at the World Gourmet Summit in Singapore when he was associated with the Seinan Group (Tokyo) and the Michelin-Plated Indus Bangkok. He is also the Co-Founder of Street Storyss in Indiranagar, Bengaluru. Meghana Harikumar for Brewer World spoke to Chef Nishant Choubey about him being called the Sustainable Chef. Below are the excerpts.
What inspired you to become a chef?
There are several inspirations in my life starting from my mother who cooks with so much love, care and still so modest to Chef Thomas Kellar who is a professional chef and still so humble to share his knowledge to the legendary Dr Pushpesh Pant who is an encyclopaedia of Indian food. I am grateful for them to have always had my back.
Could you tell us a bit about your background?
I graduated from IHMCTAN Bhopal in the year 1999, and then worked with Rajvilas for 2 years in a junior position. Then I went abroad and worked with Madinat Jumeirah for 3 years in different specialty restaurants (pier chic, sagreto, khayamat), after which I worked with Olive for 3.5 years before moving to Roseate Hotels. I worked with Roseate for 9 years and presently I am the Corporate Chef at Seinan Tokyo, Consulting Chef for Michelin plated Indus Bangkok and Co-founder for Street Storyss, Bangalore.
Which cuisine do you find most comfortable?
Indian and Mediterranean – modern and traditional both.
You are called The Sustainable Chef, how important are issues such as food waste and ethical, local sourcing? Do you have a policy in place?
I'm glad to be called one amongst the few others in the world. Well, yes, I believe it's a crime to waste food and I am implementing a no bin policy in my kitchens. I believe each and everything can be used. For me, local is exotic just that one should understand the ways to make it in that league. I would request the authorities to make strong rules and penalties against food wastage. 
No Bread Watermelon Toast
Do you believe restaurateurs and chefs are doing enough to shake the sector up to sustainability?
Yes, I can see that there is a movement going on in the food and beverage industry and every hotelier is focusing on the same. I can see special local markets getting exhibited in different parts of India and people are acquiring awareness of the sanctity of using local ingredients. Somewhere it is connected to a healthy lifestyle too and health is a big trend and necessary. It is also far more economical to use local produce and showcase it to the guests.
Let's take delight and pride in showing our own produce, let's eat mindful – shop artisanal and spread awareness. At Street Storyss, we are committed to sustainability and are cooking dishes purely according to seasonal produce. In fact, the humble jamun chat made us win the World on the Plate Championship.
Millennials are increasingly purchasing ethical products and services, so will the era of the super chefs come to an end?
No, I don't think the era of super chefs will ever go. I firmly believe that the time and training that is being given to get into a chef's profession is very meaningful and it's a very creative career. Of course, the timely decision to handle critical situations can't be neglected too.
Why do you think it is important to use organic ingredients?
It's very important to use organic produce although I believe the word organic is misused. There is a complete process and certification to achieve organic, having said that I endorse organic supplies since it's pro-environment and very healthy. Ingredients are a key and soul to a recipe and it's very important to use the right ingredient to ensure mouth-watering dishes. At Street Storyss we have tied up with local farmers and developers to give us local produce.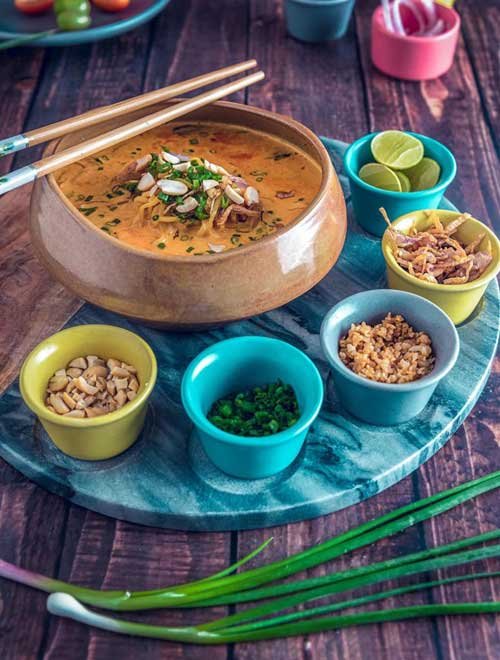 Khao Suey
What is your philosophy about food and dining?
It's quite simple. Eat right – my philosophy is all about balance – love what you eat and be what you eat, to live a long healthy, and tasty life.
What goes into creating a dish?
Lot of hard work, passion, not fear of losing out, several trials, commitment, and above all the attitude which has to be always positive. I of course do a lot of research to understand and only then curate. I also endorse saying that seeing is believing and as a chef I invest in loads of time travelling and experience. I then come back to my space and improvise. This makes me happy and satisfied.
Where do you see yourself in 5 years?
I would still be cooking because that's what makes me happy…
Do you drink beer?
Yes I love beer.
Is there one beer brand that you always go to?
I love fresh beer so I have inclinations towards breweries. If there is a brand then I love Guinness beer.
Which is your favourite brewery?
Connaught Club House in Delhi is my favourite brewery.
What is your favourite beer, and food pairing?
I love to hog into Fried fish when I drink beer
Do you cook with beer?
Yes I do cook with beer. In fact I love to cook with beer. Beer battered fish is one of the dishes that I love to cook and be happy with.
Do you consider beer a sustainable product?
Beer is generally not a sustainable product but the work is on to produce green beer which is more efficient in terms of electricity and water consumption.