Highlights From The 2023 BW Conclave, Conference & Awards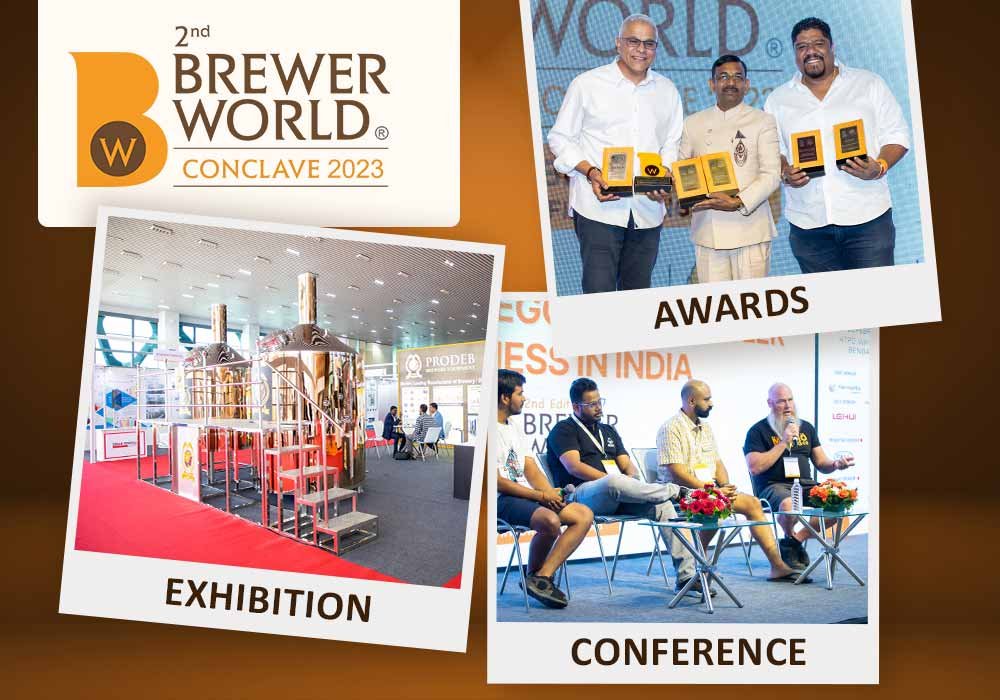 Professionals and representatives from across the beer and brewing industry met in Bengaluru on February 23-24-25 for the second edition of BW Conclave. The Brewer World Conclave kicked off with a packed exhibition hall and a keynote address from Anitha Raghunath, Director of Brewer World. That led to a full day of presentations, workshops and panel discussions from some of the top professionals from the beer and brewing industry. This year, the conclave consisted of more than 30+ exhibitors, ready to share their knowledge and provide products and turnkey solutions to brewers and breweries to carry out an efficient brewing process along with offering trade prospects. 
The Brewer World Conclave provided an opportunity for exhibitors to meet, network, and interact with potential customers such as Beer Manufacturers, Micro Breweries, Craft Breweries, Turnkey Project Consultants, and many more.
These exhibitors included some of the top importers and suppliers of malt, hops, yeasts, beer and brewing equipment and technology providers. The exhibitors involved this year were Falcon, SpectraA Technology Solutions, Zytex Biotech, Lallemand Specialities Inc, Ace technologies, Lumiere Technologies, DVKSP Impex, Brewnation, Biofact India Enterprises, Gai Macchine Imbottigliatrici Spa, Brew Esssentials, Economy Process Solutions, Rapid Bevtech, Lehui Finnah India Engineering and Equipment, Donaldson India Filter Systems, Rinac India, Krome Dispense, Wild Goose Filling, Om Distributors, Chr. Hansen India, Pall Corporation, Brewdriver, Micronizing India, Innopac Crown Packaging, Prodeb Brewery Technology Belgium, Hypro Engineers, Geist Beerworks Restaurants & Microbrewery and Diversey India Hygiene Pvt. Ltd. 
Visitors shifted their focus between the exhibition floor and the series of presentations and workshops at KTPO Conference Hall, designed to give participants a deep dive into the world of beer and brewing. Nguyen Duc Huy, Regional Sales Manager SEA, Fermentis along with Vidya Kubher, Head Brewer at Geist Brewing Co., set the tone for the day with a presentation on "Yeast & Hops Interaction- A Practical Guide For Brewers." As they noted, the importance of the aroma and flavour potential of varied hops and their interaction with a variety of yeast and styles of beers.
Following that, there were three-panel talks with well-read and experienced brewers and owners, aimed to cover all aspects of brewing techniques. The first session focused on "Brewing beers with local ingredients and giving an Indian spin to the World's favourite beverage," The second discussion focused on thinking through dos and don'ts when brewing to guarantee consistency and high-quality brews every time. A panel discussion on "Preparing a business plan to launch your microbrewery, brewpub, or taproom" was the day's final event.
Day 1 of the BW Conclave also included presentations designed to help breweries and brewers already involved in the beer industry to develop their expertise even further. For example, followed up with some valuable presentations on how beer brand owners can take advantage of smart industry brewing solutions for their brands, including 'Brew more from less-Sustainability at all levels, BLEFA Stainless Steel Containers for Beverages, SmartBev Solutions by Chr. Hansen, the importance of cleaning and hygiene for the brewing industry and Sustainable beer filtration and stabilisation solutions for tasteful results. 
Day 2 opened with a Strong Community: Smart Business presentation by Charles Guerrier, Founder of Asia Brewers Network, which was followed by a technical presentation on Biotransformation 101 by Scott Sharp Heward, Technical Manager, Lallemand Brewing and a presentation by Stephan Raeker, Sales Director Asia, Hopsteiner on Five ways to save money on hops and still brew amazing beers.
The second day also hosted 3-panel discussions and two workshops with brewers and CEOs from the industry. The discussions mainly focused on topics like the Future of Kegging and Growler Business in India, Making a Pan India Brand- the Future of Tier 2-3 Cities, Scaling up your recipe from pilot brewing to production brewing and Troubleshooting. The workshops  IPAs of the World by Lallemand Brewing and Hops Sensory Workshop by Glen Harrison, Technical Brewer at Ellerslie Hops. 
Following the presentations, panel discussions and workshops, the second day also called for the awards ceremony for giving away the prestigious BOI and Brewer World Awards to the winners. The management presented the BW (Brewer World) Awards and BOI Awards (Beer of India Awards) to recognise excellence in the Beer and Brewing Industry. For the BOI Awards, this year the judging panel consisted of BJCP judges, certified cicerone and sensory experts. We had 5 judges, 58 categories and 205 entries this year. The beers were judged/ scored on the following criteria 1. Colour 2. Aroma 3. Flavour 4. Mouthfeel 5. Overall impression. After 10 days of vigorous judging and scoring more than 200 beers in three different cities around the country. Brewer World announced the award winners on the 24th of February at KTPO. The awards were presented by our esteemed founding members,  Anitha Raghunath, Suraaj Nair, Raghunath and our sponsors to all winners. 
Suraaj Nair, Co-Founder and Director of Brewer World, expressed his gratification at the event's success, saying, "We are absolutely delighted to have organised an event that aims to showcase the best of the Indian brewing industry. The Brewer World Conclave was highly successful in providing opportunities for industry stakeholders to gather, discuss, and collaborate. We were delighted to feature 30+ brands this year, showcasing the most recent technologies, products, equipment, and solutions available to Indian beer manufacturers as well as  giving out the BW Awards and BOI Awards across categories for Excellence in different aspects of beer and brewing. We would like to thank our speakers, media partners, supporting associations, judges, venue partners, and, most importantly, the attendees for their participation and their involvement in this event."
About Brewer World
India's 1st of its kind online beer ecosystem connecting B2B and B2C beer industry stakeholders. A platform for beer enthusiasts to receive the latest news and information, participate, interact, contribute content and thereby belong to a beer community. Brewer World has taken the initiative and has organised BW Conclave, – India's only dedicated 3-day B2B expo, conference and awards for the beer and brewing community under one roof to capitalise on the current growth potential and to close the market gap. 
To know more, please visit: www.brewer-world.com/ www.bwconclave.com
To participate as an exhibitor for the next event, reach out to: suraaj@brewer-world.com/ divya@brewer-world.com