The Hershey's Chocolate Porter From Yuengling Is Making A Comeback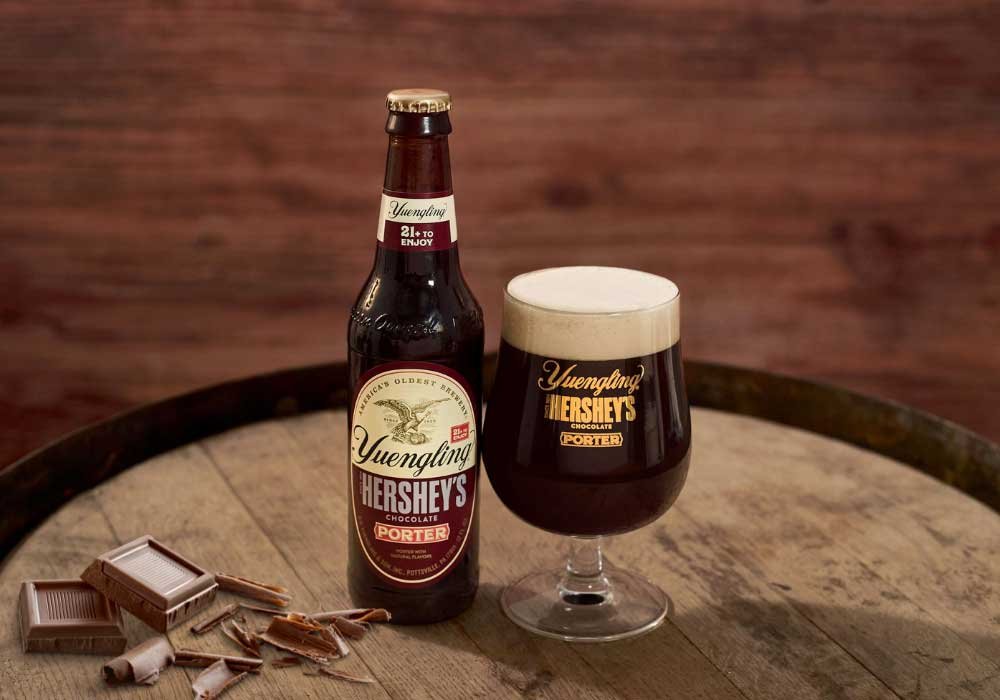 A historic, 192 year old American brewery and chocolate company join forces once again for a decadent chocolate porter. Yuengling, America's oldest brewery, and Hershey's, America's most iconic chocolate, are coming together again this year, to provide a decadent creation for their loyal fans to savour. America loves beer and America loves chocolate, so in 2019, Yuengling and Hershey joined forces to bring the best of both worlds to their fans with a limited-edition Yuengling Hershey's Chocolate Porter.
Upon a successful outing, Yuengling is bringing their porter back for the third time in bottles for consumers to enjoy the holiday season. Whether it's Halloween, the holidays or Valentine's Day, Chocolate Porter is a delicious brew meant for any occasion.  This fan-favourite collaboration gives consumers a rich, chocolate taste and premium drinking experience.
What does it taste like?
This is Yuengling's fresh take on their dark Porter that was brewed about 200 years ago. This first-ever collaboration for Yuengling combines the classic taste of Yuengling's Porter with the unmistakable taste of Hershey's chocolate to create a deliciously unique and smooth porter with hints of roasted malts and a rich chocolate finish. The unique, limited-edition brew has an ABV of 4.7%, and its smooth, rich and chocolatey flavour pairs well with chocolate, barbecue and cheeses.
The Chocolate Porter is brewed using a combination of Hershey's iconic chocolate syrup, Hershey's cocoa powder, and cacao nibs to create this once in a lifetime collaboration along with Yuengling's nearly 200-year-old dark Porter recipe.
Any other future collaborations?
Yuengling says "As the 6th Generation, we look forward to the future of Yuengling and creating new opportunities and experiences for our fans and consumers alike, like our Bourbon Barrel small batch reserves and our new Yuengling Hershey's Chocolate Porter. You'll have to stay tuned to hear any more updates about exciting ways to experience our Yuengling brand."
"We've heard that our beer is the go-to choice for Halloween fanatics that celebrate all month long," Jennifer Yuengling, vice president of operations and 6th generation brewer, D.G. Yuengling & Son, Inc, has stated in a press release. "So, in keeping with that tradition, we decided to make this year's return even more exciting by engaging with our fans around this passion point."
As always, Yuengling is set to release the Chocolate Porter during the first week of October.