Harnessing The Power of Beer and Food Pairings To Elevate Customer Experience: XOOX's Rekhanksh Karamchandani Tells Us More!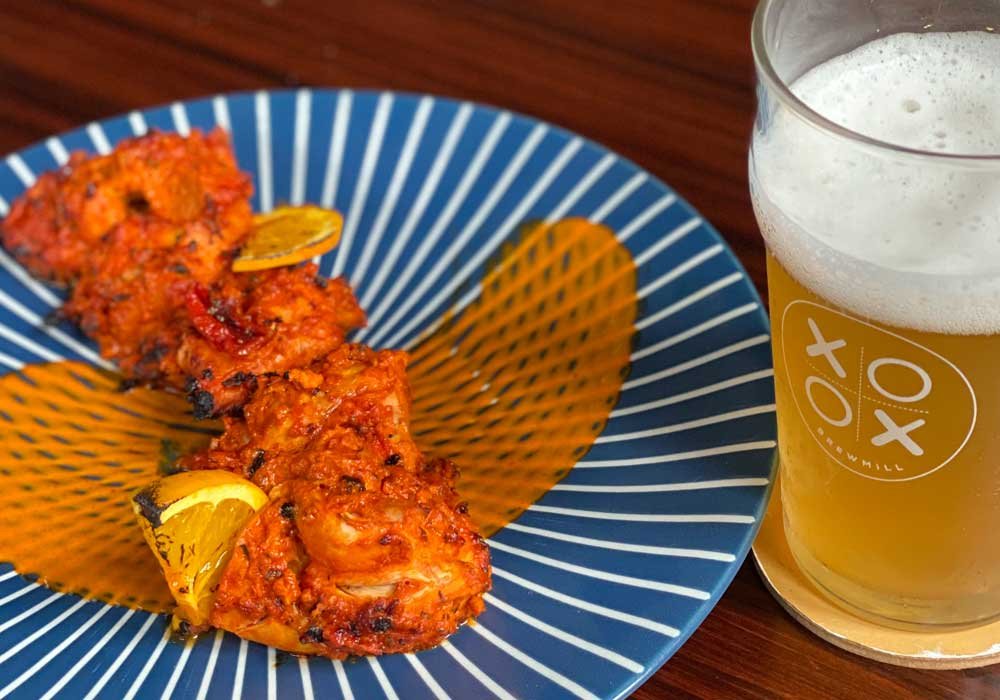 Are you looking to level up your dining experience from boring to brilliant with a choice pint but are unsure of where to start? You don't need to be a master chef or brewer to be able to ace matching culinary creations with the right beer styles. Instead, a good place to turn to for some inspiration would be your neighbourhood watering hole!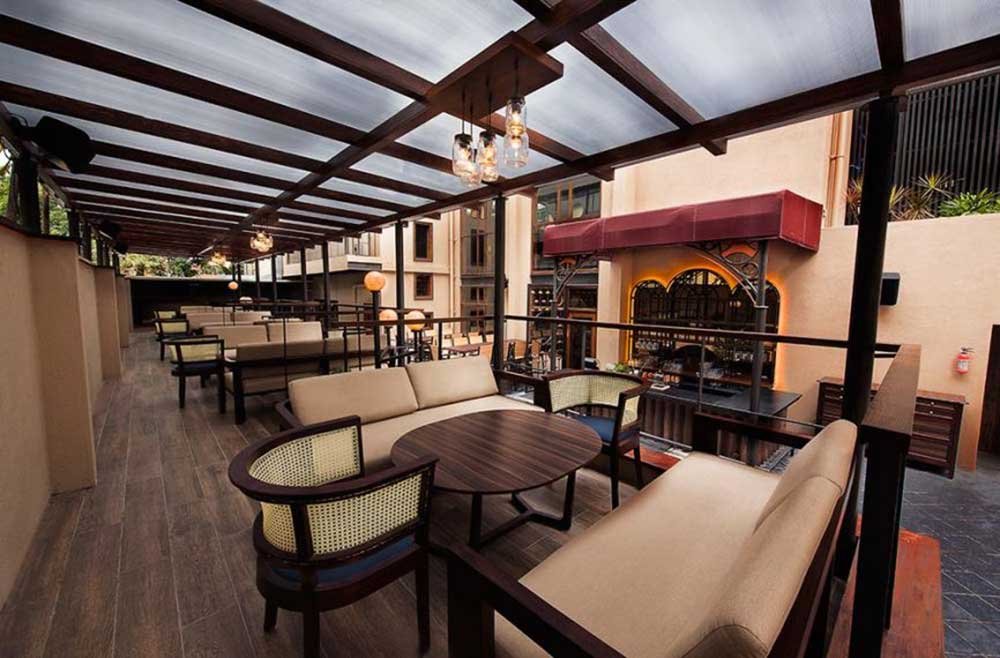 Today, brewpubs are paying just as much attention to their food selections as they do their beer menus, going the extra mile to ensure one pairs well with the other. Take XOOX Brewmill, for instance. Built from an old mill – a manufacturing unit from the 70s, this magnificent, 15,000 square feet, three-storeyed, Bengaluru-based microbrewery is one of the most spectacular places for great-tasting craft beer the Beer Capital has seen. It attracts both locals and expats with an ambience that seamlessly transitions between cosy corners tucked away indoors and an open-air lounge for those who wish to go the al-fresco way and is even designed to give visitors a live demonstration on how their beers are made.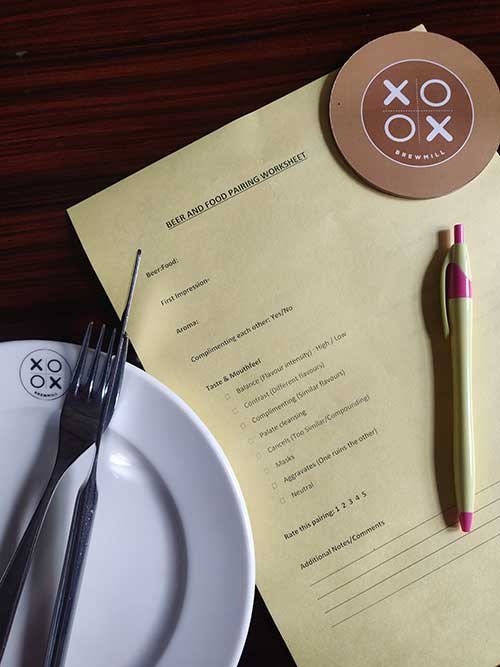 Undoubtedly, their taps are always brimming over with a wide range of styles but their food leaves you equally spoilt for choice. From flavourful Baida Rotis and Ghee Roasts to light Asian Curries and Cheesy Quesadillas and Pizzas – XOOX Brewmill's food menu lets you have the best of all worlds! But that's not all. The staff is on a mission to deep-dive further into the art of beer and food pairing to whip up some scintillating combinations for our tastebuds! On 22nd November, the microbrewery conducted an exclusive tasting session – an intimate gathering of some of Bengaluru's most revered beer connoisseurs and experts. The focus group was treated to a variety of beer and food combinations, post which, attendees recorded their observations and feedback.
What was on the menu?
A dazzling range of beer styles served with portions of the most lip-smacking dishes! Their famous Japanese Dry Blonde Ale was contrasted with a spiced Tandoori Paneer & Fig while the Mango Cider was matched against savoury chops made of minced soy. A juicy Cheese Chicken Bacon burger accompanied the Smoked Lager and the Milk Stout was married with a side of Kerala Beef Fry. Meanwhile, the Belgian Wit was complemented by a chicken marinated in a tangy, orange-flavoured sauce – the Santrewala Murgh Tikka.
The Brewer World team was ecstatic to be on the guest list and couldn't resist approaching Rekhansh Karamchandani, Founder and Managing Director of XOOX to pick his brain on bringing beer and food together in perfect harmony.
1. Is there really any right or wrong to the art of beer and food pairing?
Beer and food are both very subjective in nature and there is no textbook definition of pairing the right food with the right beer. But if you know your style of beer and if you know the ingredients that are going into your food – you will most probably be able to tell what works and what doesn't when it comes to a particular beer style or cuisine. It took a lot of trial and error over the years, by brewers and connoisseurs to put together guidelines on pairing certain beer styles with different categories of food. There are a lot of people who take reference from these sources but I don't think there is anything definitive when it comes to beer and food pairing.

2. Would you say food pairing is more science or art, or a combination of both?
In my opinion, pairing beer with food is definitely more of an art than science. It is purely the impression each pairing makes on the brewmaster and the chef – a conscious decision they arrive at after analysing what effect a particular beer could have on specific ingredients of a food item.
3. India has so many states and so many special types of cuisine. What are some of your favourite tips to follow when pairing Indian beer with food and why?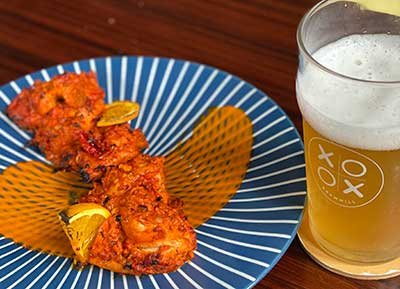 Like I mentioned, there are no hard and fast rules when it comes to beer and food pairing. But I do have a few favourite tricks I like to swear by. For instance, India drinks a lot of Wheat beer. I like to pair these beers with some spicy Indian food to contrast the flavours.
For a typically bitter, hop-forward IPA, barbecued meats or any kind of grilled food that gives off that smoky aroma and flavour would be a great compliment. We also do something called the Scotch Brown Ale at XOOX which we usually pair with a lot of delicately flavoured Japanese foods like sushi and exotic seafood. On the other hand, if you're having a lager, I'd suggest pairing it with something light like a salad.
4. Why, in your opinion should bars, pubs and microbreweries pay just as much attention to their food menu selections as they do to their beer menu?
Firstly, it's a very conscious decision to open a microbrewery or a taproom. The real reason behind opening a taproom or a microbrewery is that you are marketing – or rather – selling your hero, which happens to be your beer. But what most people forget in the process is that if you have a kitchen associated with the same place where you are selling your beer – food needs to be of prime importance too. We should do complete justice to the experience of the customer by trying to keep those kinds of foods in the menu that marry well with our beers. And though there is no fixed method of doing this, I believe if the brewer and the chef work together on various beer and food combinations, it would definitely elevate the customer's experience by several notches.
It is very difficult asking pubs, bars and microbreweries to do this because not everyone has the same process, or understands the intricacies of beer and food pairing. But, I think as a community it is very important to learn from each other. The average consumer is looking to have a different experience in a different brewery every time. If the chefs and brewers conceptualise both their beer and food menus keeping customer palate preferences in mind, it will enhance customer experience tenfold!
Brewer World Exclusive Interview