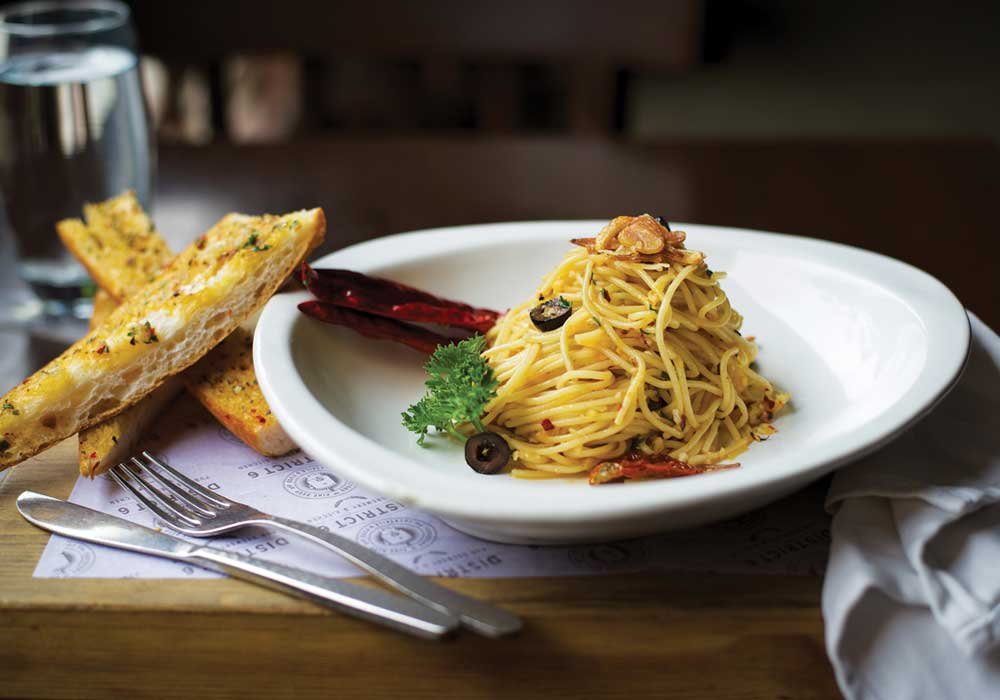 Spaghetti Aglio Olio E Pepperoncino
INGREDIENTS
Spaghetti Pasta Pre-Boiled 180 GM
Extra Virgin Olive Oil 30 GM
Chili Flakes 5 GM
Guntur Chili 3 GM
Minced Garlic 15 GM
Sliced Black Olives 10 GM
Sun Dried Tomatoes 10 GM
Salt 2 GM
Chopped Parsley 7 GM
Grated Parmesan 15 GM
Sliced Garlic 10 GM
Corn Flour 2 GM
Garlic Butter Crostini Bread 2 SLICES
METHOD
Heat Oil over high heat in a non-stick pan.
While the oil is getting heated blanch the pre-boiled spaghetti in a pasta blancher for 30 seconds and drain for another 30 seconds.
Add minced garlic to the oil followed by chili flakes and whole Guntur Chili and cook until the garlic is browned.
Once the minced garlic has attained the desired color, immediately add the blanched and refreshed pasta to the pan and toss briefly.
Reduce the flame to medium heat and add the black olives, sundried tomatoes and salt. Stir to mix.
Add the chopped parsley while continuously tossing the pasta from a height of about 10''to ensure that the parsley is well mixed.
Turn the flame off and add the grated parmesan in the same manner as parsley as illustrated above.
Plate the pasta using a tong making a twirl on the pasta strands. Arrange the whole Guntur chilies in a pinwheel form around the mound of pasta.
Place the fried garlic chips atop the pasta in the center. Served hot with Garlic Butter Crostini Bread.