Evolution of Beer Drinking in India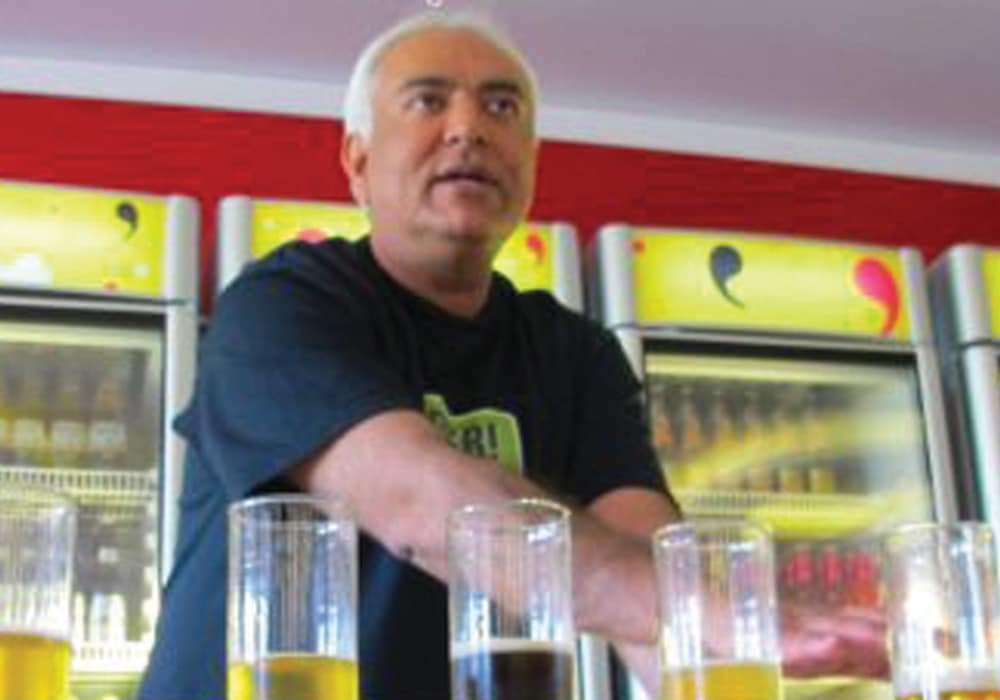 PRADEEP GIDWANI
The evolutionary map of beer marketing in India has a very interesting story, with some clear milestones.
Traditionally the marketing of beer brands in India has been very simplistic. Till about 25 years ago, there was Kingfisher, Royal Challenge, Sandpiper, Golden Eagle which were mild beers (under 5% abv) and marketed as light beers. Then there was Kingfisher Strong, Hayward's 5000, Thunderbolt, Godfather that were sold as what was termed 'strong' beer (over 5% abv). Other than alcohol strength there was very little differentiation. Drinking was all about "kick at a price" and this led to the evolution and domination of the beer market by 'strong' beers.
In the late nineteen nineties, the equation changed a bit with the entry of multinational and foreign brands of beer, the first being the entry of Fosters in the premium lager space. This was followed by more brands like Carlsberg, Budweiser, Tuborg, Heineken, Miller and Peroni within the next ten years.
This was the era of international brands and premiumization, if I may call it that. The market had a number of premium brands, with high quality beer as well as higher prices. The Indian beer lovers did not seem to mind this, and this was the first milestone in the beer market evolution in the country. Started by Fosters' and continued by the incoming brands, the Indian beer market saw premium beer for the first time.
In 2010 came another trend- that of beer differentiation. This was the first time when Indians started seeing beer beyond a lager. Till then, only whiskey had differentiation – single malt, blended scotch and so on. But beer was only beer – either Light or Strong. Here we had a whole line of new flavours, different pricing, different types and interesting varieties. 2010 saw the entry of imported beers into India. We saw the Stout coming in, Irish Stouts, Wheat Beers, Ales, etc – all were now selling in India. This was probably the second milestone in the evolution of beer in India.
About the same time, in 2010-2011, the trend of microbreweries started. It started as a trickle but over the last 6 years, we are touching about 100 microbreweries across the four major cities of the country-Gurgaon, Bangalore, Pune, and now Mumbai.
This has been the reason for another kind of differentiation–not only brands but also product focus. Indians, people have now started seeing differentiation in beer in more ways than one. The average beer drinker in urban areas today can identify Ale, Wheat Beer, Stout and a number of other types, as well as new flavours that breweries develop.
The messaging about beer brands has also followed a similar path.
Till 1998, communication was very simple- Kingfisher, Royal Challenge and Sandpiper were the best known brands. The market placement of Kingfisher was as "the king of good times", associated with cricket, football, fashion, everything that involved a luxurious, modern lifestyle. The statement was very clear-a cut above.
The messaging about strong beer was focused only on strength…Hayward's 5000, 10,000…STRONG…very masculine and about the "Big Boys' Club". Advertising was about giving in to the enthusiasm, and strength–and that was it.
In 1998, Fosters came in with a totally new message-living the Australian lifestyle-free, outdoors, sporty. They associated with sports like Formula 1, which actually led to the birth of Formula 1 Racing events in India.
Carlsberg came at a very premium positioning- senior corporate executive and high flying professionals were the target audience, so the brand was associated with good quality beer while Tuborg was targeting people younger at heart-young professionals who frequented pubs after work, spent weekends in pubs, trendy bars, star hotels etc. Budweiser came with American positioning-which is its global messaging-king of beers. So from being about strength and power, beer became more focused on lifestyle-Tuborg is fun, Carlsberg is high end lager. That is the key development that's been happening.
Thus, we could say that differentiation had started not only products but in the messaging as well, since late 1990s and early 2000s.
Today, however, Craft beer is the icing on the cake. It's a small segment but will grow well, at least in the mild beer and premium segments. This is inevitable, since even in traditionally more beer consuming countries like the US, craft beer market is 13% of the whole but it is growing while traditional beer market has been declining. This is the trend in every country, so it's clear that the craft brewery trend is here to stay, and even grow.
What is significant here is, it took 60 years for 100 commercial breweries to establish themselves, and only 6 years for craft breweries to get a market acceptance and growth to touch the 100 mark.
Today, Gurgaon has around 25-30 micro breweries and Bangalore and Pune also have quite a few; very soon there will be over a 100 micro breweries in the country. What is significant here is, it took 60 years for 100 commercial breweries to establish themselves, and only 6 years for craft breweries to get a market acceptance and growth to touch the 100 mark. This phenomenon must mean something.
So six years ago, who had heard of Beer Garden? But today, even five star hotels are looking at selling a large variety of brands. Now in all premium hotels people are preferring brands like Bira, Hoegaarden, Stella Artois and many others.
There is clearly an evolution happening at the top end. That space is taken by craft and imported beers and it is one of the fastest growing spaces in the beer market in India today.
Over the next five years, beer will become an increasingly more lifestyle drink, with many people preferring to drink for social reasons rather than for getting drunk. As acceptance and interest in new taste will grow, there will be more microbreweries. But the top end will stay with imported beers and good craft breweries, which is a trend similar to what we see in the whisky market. Earlier, people were happy with Johnny Walker Black Label, but now there is a much larger range of Single Malt brands available. Similar to when Smirnoff vodka came in 1996, it was the epitome of vodka, but over the years, tastes have refined and now Absolut is getting strong as a brand in the space, and premium brands like Grey Goose are also well accepted.
So I think the strength of premiumization and differentiations will move the beer market, as it has till now.
In the end, the beer market is at a stage where it will continue to grow. It still has a very small share of the total alcohol pie, and if the government policies become more favourable, young Indians will become more beer people. But there is space for everyone at the top, so while a Kingfisher will continue to grow, I can also see craft growing alongside. They both haven't yet reached the best they can do!
CONCEPT: THE PINT ROOM
A NEIGHBOURHOOD CAFÉ TO MEET PEOPLE AND MAKE FRIENDS OVER BEER
Pradeep Gidwani has been responsible for bringing not one but 5 beer brands to India. Starting with Foster's, Tuborg, Carlsberg beers, Pradeep turned entrepreneur and got into the beer retail space and set up The Beer café and now The Pint Room for Indian beer lovers.
After quitting the corporate world in 2010, Gidwani was scouting for opportunities in the same industry- beer was a passion and brand launches were a habit, so he couldn't stray very far. "At that point, coffee shops were being born, casual places where one could have a conversation over coffee and maybe a few bites. These have become ubiquitous around and almost in every single neighbourhood now. Who would have thought in a tea drinking nation, you would have beautiful coffee shops in every locality? These have now become the favourite hangouts for all Indians, in every city. So my thought was, why coffee, why not beer?" Gidwani says.
This was the beginning of a thought on bringing beer to the market as a social drinking aid, meeting up with friends over conversations in clean, prettily designed, cheerful places instead of dark, smoky corner joints which did not allow too many conversations and were not usually associated with a cheerful demeanour. "The idea was a neighbourhood coffee shop, relax, and share a beer. We wanted to replicate a coffee shop model," and so the first concept was The Beer Café, which was conceived by him. This concept met with instant success. Subsequently Pradeep sold his interests in The Beer Café and restarted.
In 2012, Gidwani set up The Pint Room, on the same concept-a cool, clean and cheerful place with some great finger foods-and some great beer. "We stock a wide variety of beers in the Pint Room, alongside some good tapas, sandwiches, burgers, brochettes, good quality finger food that goes with an interesting variety of beers…just simple beers. There have been challenges, licences, and extremely high taxation, to name a few. However, we have very good response to Pint Room- it is not a pub, there is no loud music, you can come in and have a quiet place to hang out. The Pint room's client profile is largely corporates, professionals and expats. Most people come in to socialize and it is not about getting 'drunk'." Clearly Gidwani is positioning The Pint Room as a casual neighbourhood conversation café, pretty much like Starbucks.
The innovative concept that brings out beer drinking from behind the curtain of 'alcohol', something traditional India is so sensitive about, The Pint Room is seeing great traction from the young Indian, always open to new, interesting experiences. The goal Gidwani has set is about expanding in more cities as well as upping the quality of beer served.
This could perhaps be the next milestone in beer industry in the country-social drinking of a wide range of beers-in a similar concept to coffee shops. The days of beer cafes have arrived, it would seem.