Drink Technology India 2016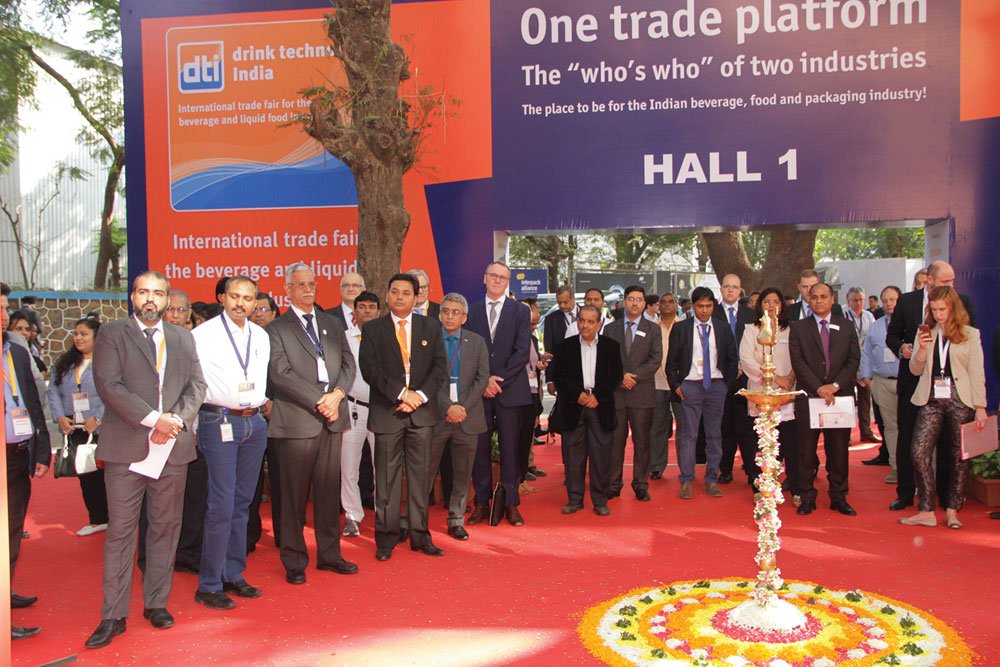 Drink Technology India, the country's most significant International Trade Fair for the beverage and liquid food industry, was held at the Bombay Exhibition & Convention Centre, Mumbai, India between December 15 and 17, 2016.
The event was organised by Messe München India, a subsidiary of Messe München. The simultaneous International PackTech India and FoodPex India held at the same venue were organized by Messe Düsseldorf and its subsidiary Messe Düsseldorf India.
The event is held once every two years, and was started in 2007. It covers the food and beverage industry, showcases the products and services for India and the world's market leaders, and creates trend-setting platforms that bring together technology specialists, decision-makers and people of influence from across the industry. The participants are from various aspects of the food industry-raw materials, processing, filling, packaging, logistics and marketing solutions.
This year's event was the largest till date, and the Exhibition that consisted of Drink Technology India (DTI), PackTech India and FoodPex India, occupied 14,000 square meters of space and saw nearly 12,000 visitors, 298 exhibitors (146 in Drink Technology India, and 152 in International PackTech India/FoodPex India). They showcased latest products and technologies for the Indian market on more than 40 percent more exhibition space than 2014.
Among the list of exhibitors were established global brands like Weyermann, ACE Technologies, Bosch Packaging, Multivac, Manjushree, KHS and Krones AG, DME, GEA, Anton Par, DuPont, Brew Force, to name just a few. Bhupinder Singh, CEO of Messe München India said "Over the years, our trade fairs have established themselves as 'must attend' B2B events for the beverage, food and packaging industries. With strong industry support and diverse line-up of knowledge rich programs we are pleased that our visitors experienced high quality trade fairs and enriching supporting programs."
The event brought to fore the suitable plants and machinery required for the growth of industry, and that were on display here in the event. Visitors as well as exhibitors were very satisfied with the business outcomes as well.
In addition, the Packaging Design, Innovation and Technology (PDIT) Conference that was organized and held in conjunction with International PackTech India and FoodPex India was also very well received. It focused on the new trends and innovations in the packaging industry, and was supported by statistics-the results of a field study on food losses in India. The objective of the scientific study was to find ways to avoid food losses in India and hence identify solutions to remedy these situations, the result is a win – win business situation for both vendors and users of the technology and products.
Top decision-makers in large numbers attended the supporting programs such as the Roundtable Discussions, Exhibitor Forum, Packaging Design Innovation and Technology Conference, and Buyer Seller Forum. About 235 delegates collectively participated in these programs for knowledge exchange and networking. The buyer-seller meetings that DTI organized helped to promote the exchange between exhibitors and the industry's leading executives from companies such as AB InBev India and Coca Cola India Pvt. Ltd.
One of the speakers at the fairs, Mehul Shah, Manager, Sales & Marketing, ASB International said: "We have been regularly attending Drink Technology India and International PackTech India, and we feel that these events are very informative and offer excellent platform for all the key players, consultants and manufacturers to discuss the challenges in the food and beverages industry, food processing as well as the packaging industry."
Satish Arcade, Senior Manager at Amul India, one of the buyers at the forum said: "We have a pan India presence and as we manufacture dairy products, we require different kinds of packaging material. The trade fairs provide us with the platform to interact and network with the key players and suppliers in the packaging industry. We would recommend Drink Technology India, PackTech India and FoodPex India to everyone connected with the food processing, packaging and beverage industry Ramesh Sundaram, General Manager, Sales & Marketing, Ishida said "Ours is a 123 year old Japanese organization and spread all over the world in over 70 countries. We have been in India since 2007, and are really happy to participate. Looking at the organizers Messe München, we have always been serviced well, which is another reason for us to return every year. We have also participated at Interpack and our support to the organizers continues. The location is also very good, which is Mumbai, a favourite destination for most visitors. We are looking forward to a lot of participation both from corporate customers and major industries in India from the Food sector. We will surely participate in the next edition of the trade fair, and will look forward to a lot more participation from the known names in the industry."
For the craft breweries, there was the MicroBrew Symposium India, which was organized by the VLB- Research and Teaching Institute for Brewing in Berlin. The MicroBrew Symposium India revolved around technological and quality-related aspects of brewing beer, and was held at the Barking Deer Brewpub in Mumbai, as a part of this event.
Thomas Schlitt, Managing Director of Messe Dusseldorf India Pvt. Ltd., concluded by adding: "We are happy that PackTech India, Drink Technology India and FoodPex India create synergies together by bringing a complete range of solutions. We hope that together – Messe München India and Messe Dusseldorf India will continue to organize valuable fairs for the food, beverage and packaging sectors in India."
The next edition of the three Indian exhibitions will take place at the Bombay Convention & Exhibition Center in Mumbai from October 24 to 26, 2018.