Don't Settle for anything less than magic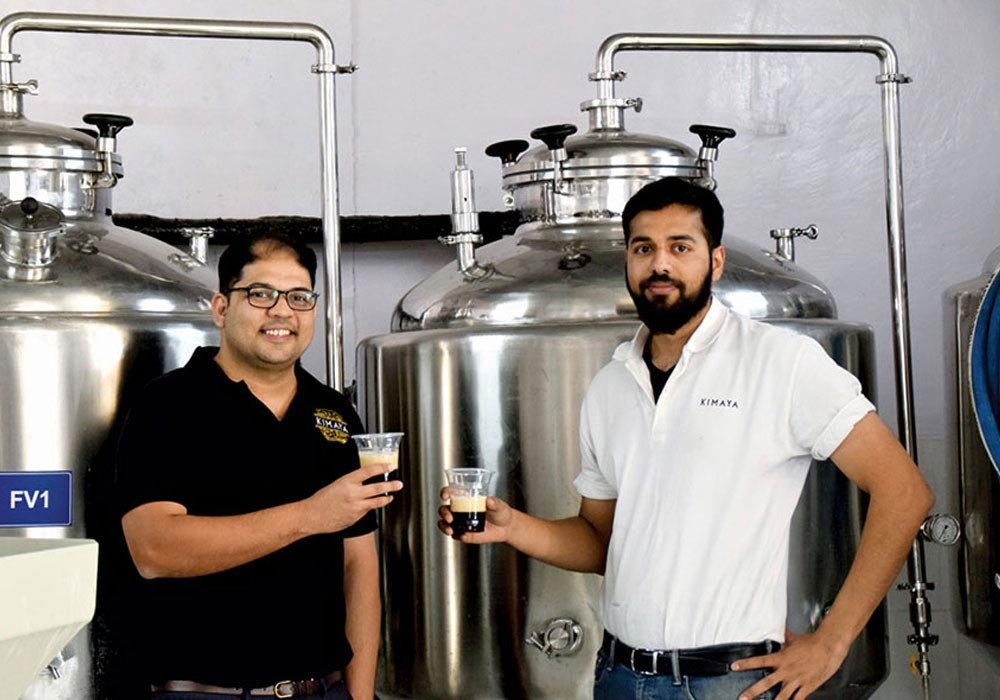 Cheers to Kimaya's nanobrewery!
Saurabh & Sameer Patwardhan
Co-Founder, Kimaya Brewing Company
Magical craft brews made only from the best handpicked ingredients. "Kimaya" or divine magic is the exact feeling that flows with every sip of their beers. Kimaya is completelty #makeinindia small artisanal brewery with a capacity of 3000 to 3500 ltrs a month.Saurabh & Sameer Patwardhan speaks with budding entrepreneurs from PKSBE, Divyesh Patil & Sonika Choudhury.
Apart from our Flagship Beers, We do a lot of experimentation with local ingredients. Last year we brewed a Buckwheat Ale from Grains which were locally sourced from The Nagar District. It was a collaboration with Happy Roots, An NGO which works farmers for sustainable farming practices.
Are you planning to open a taproom?
Presently, we are working on the model of a taproom somewhere in Pune. As of now we want to open up in Pune only. Our operations started 17-18 years back. We have our own restaurant and a packaged drinking water business under the same brand Name. The thing with craft beer is the storage and the dispensing also matters as much as the brewing. A beautifully brewed beer can taste bad if dispensed the wrong way. With a taproom you get complete control over the storage and dispensing of the beer. However I see a bright future for distribution also. More and more restaurants are investing in dispensing systems and want craft beers to be served the right way. With a proper cold supply chain and dispensing systems in place I see a huge market in distribution too.
Tell us about your brews.
We make small batches using the best of ingredients. Our flagship beers are Witbier, Vanilla Porter and the IPA. Our Vanilla Porter is has got a phenomenal response. The porter bagged the most Favorite Beer Awards at India's biggest craft beer festival Tapped. I personally feel the Indian palate is more malt forward, not too bitter, crisp brews. However, that is changing too. Pale Ales and IPAs are suddenly becoming popular. Apart from our flagship beers, we do a lot of experimentation with local ingredients. Last year we brewed a buckwheat ale from grains which were locally sourced from the Nagar district. It was a collaboration with Happy Roots, an NGO which works with farmers for sustainable farming practices. Next one was a nutmeg-raisins ale. Both of these ingredients are extensively used in Maharashtrian cooking and we wanted to include them in the beer. We are coming up with a mango cider wherein the mangoes will be handpicked from Ratnagiri.
More importantly, we believe in no secret recipes. All our reciepes are available on indianbrewer.com. Our award winning Vanilla Porter recipe is also available on the blog. Anyone who gets a better beer than what we already do, we will be happy to collaborate and put that beer on the tap.
Why the name Kimaya?
In the year 1950, my grandmother one of Pune's first lady doctor started her clinic in one of the most distant parts of Pune, Today's Kothrud. She treated patients successfully without any modern-day hospital equipment and probably without any electricity. Eventually people started calling her clinic Kimaya which means Divine Magic in Marathi. Of course it was no magic but sheer hard work, dedication and commitment. Inspired by her work we continued our journey opening up Kimaya Real Estate, Kimaya Aquapure, Kimaya Veg Restaurant and now Kimaya Brewing Company. We are humbled by the support and blessings Punekars have given us over the years. We took our brand to Mumbai for the first time for the Tapped beer Fest and we were overwhelmed by the response. Everyone loved the beers and we have been having a lot of enquiries from the city of dreams. So we might start supplying to Mumbai soon.
How do you differentiate yourself from other breweries?
I would say all the craft breweries are differentiating themselves from the regular drinks that are available for the consumer. We as an industry are making a difference. My friends at Dollaly put up the first microbrewery and ever since the market has been growing. Effingut and IBC followed with some superb brews. Last year Kimaya , Moonshine and Great State started and all of us together putting artisanal beverages on the shelf. Praful Chandawarkar, owner and founder of Malaka Spice told me when I started the brewery "Keep pushing the envelope, get out of your comfort zone and you will succeed". I think this is what differentiated us. The Vanilla Porter was a very bold beer for the Pune Market.
It was a dark complex beer with flavours of vanilla, roasted malts all coming through. It was an expensive beer too. We were skeptical of the sales it would achieve, but now we are happy we decided to brew it. Its become an instant hit and also the people's favorite… .!!!
Are you planning to go into bottling or kegging?
As of now we are focused on Kegging. I have not studied the bottling model yet. The licenses are different, the processes are different. So we need to study the model before venturing into it
What water do you use?
We use water from reverse osmosis process; we have our own live springs, so we source water from there.

What is your opinion about this industry?
It's a sunrise industry. Times may seem tough now but I see a bright future for this. One thing that stands out in the industry atleast in Maharahstra is the camaraderie the industry players share. There is no foul competition amongst us. We help each other in terms of equipments, raw ingredients, licensing everything. Very rare to see this in a competitive corporate world. I think craft beer right now is little bit over-priced, but that's due to the tax structure in place. If we get some concessions in tax we can reduce the prices making it more affordable.
Are you looking at getting funding?
We have gotten many enquiries for funding. A lot of people have shown interest in our Brand, and we might look at the options in future. However as of now all enterprises under the brand Kimaya are completely owned by me, my brother and my father.
It's a fully family owned and operated enterprise. We have also had quite a few franchise enquiries in recent past.
We are working on it and might open the franchise model soon. More details will follow on our social media handles.
What's your take on Bira?
I feel Bira has actually done a very good job in getting other styles of beers to the masses. I like the Bira white very much. Ankur is a brilliant guy; and I think he has done a great job of spreading craft beer to the masses. It's a big blessing to the craft beer industry.
Any tips for future entrepreneur?
If you like good handcrafted beverages get into the business, don't join for the money. We are passionate about what we brew and serve. If any beer enthusiaist has a great recipe, they can bring it over, if we like it, we will collaborate.