Byg Brewski Announces Novemberfest 2020, Demonstrates The Power of Collaboration and Community
Convention often dictates that business success requires cutthroat competition. But not in the craft brewing industry.
All over the world, the craft beer segment shows a common sentiment: the unshakeable belief that the industry is stronger when everyone is one team. You'll often find breweries getting together to create new recipes and beers, holding both small and large-scale collaboration events and festivals and also, supporting causes jointly.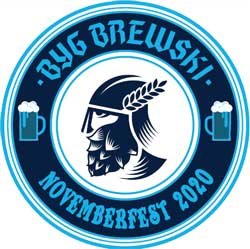 This stands true both in the best and the worst of times. Perhaps that's how Byg Brewski, Bangalore, is pulling off a mega collab brewfest – the biggest the city has ever seen, in a dismal year like 2020.
A spin-off of the world-famous Oktoberfest, a celebration that fell flat everywhere this year, globally – the Novemberfest is officially kicking off today and will be hosted at Byg Brewski, Asia's largest microbrewery. The event will run till the 13th of December 2020 (or until the stocks of these very limited beers last), to remind us that true love for beer will overcome just about anything, even a global pandemic.
Four of the Beer Capital's top brewers – Martin Bernard (Byg Brewski), Amit Mishra (The Bier Library), Karthik Singh (Wallstreet Sky Lounge) and Hollis Coats (Arbor Brewing Co.) are coming together to release four exclusive beers, served fresh on tap with a specially curated menu to go with! A larger-than-life event like this demands the right media partner, and as India's first and only platform for the beer and brewing industry, Brewer World is, for the first time, partnering with Byg Brewski to exclusively cover this event.
Here we are, in conversation with Pravesh Pandey, Partner and Chief Belief Officer of Byg Brewski to shed some light on Novemberfest while sharing some of his key takeaways from this year.
1. Please tell us what prompted you to come up with Novemberfest. What is the aim of this event and how do you see it contributing to Bangalore's Craft Beer Culture?
The situation created by COVID has not made it any easier on the hospitality sector worldwide. It has also affected major celebratory events like Sunburn and Oktoberfest. We at Byg Brewski aim at creating concepts that are abstract in nature and Novemberfest is a great example of one such concept. The contributions from brewers coming together to collaborate something that Bangalore has never seen before in a year like 2020 is absolutely mesmerizing.
2. Would you say this would be the biggest collaboration Bangalore has ever seen, with four renowned brewers releasing their beers at the same time?
Absolutely! The coming together of the 4 most eminent brewers of Bangalore is probably the best the Beer Capital has seen. In future, we would like to do bigger and better with the increasing number of breweries across the country.
3. Can you tell us a little about the beers that have been brewed exclusively for Novemberfest?
We have four exclusive beers; extremely limited batches. There's the big, bold, beautiful Byg Dubbel K courtesy Karthik Singh and a malty, chocolatey Arbyg by Hollis Coats. Amit Mishra has contributed two lovely beers: a South German style Hefeweizen that bursts with tropical and summery notes and the legendary Märzen lager that finds its roots in the Bavarian Oktoberfest. There's also a crisp, dry Imperial Pilsner that's sure to be a real crowd-pleaser.
All three brewers – Amit, Hollis and Karthik personally came over to Byg Brewski two and a half months prior to brew this range of beers (or "Brewers Choice", as they like to call it!). From raw materials like malts to the final processing of the beers – everything was specially bought in for our brewmasters along with Martin and Amruta here at Byg.

4. Please tell us a little about the food selections for Novemberfest. Have they been specially curated for this month-long event?
In the words of our Head chef Sandeep, beer brings out the richness of meats and leaves behind the delicate flavour. Smoking makes the food more intriguing.
So yes, the entire menu has been specially curated keeping in mind the food and infusions, thereby again, adding a BYG twist to it. Giving an example – the Stout soft Pretzel with beer mustard is an interesting take on the usually hard baked twisted bread, and ours has a fascinating blend of stout. The tacos on the menu have a unique twist as well, with meats that are smoked with Jackfruit wood.
5. Could you please highlight the safety and sanitization policies in place that would help your customers have a stress-free outdoors experience?
We take pride in announcing about our "COVID – ambassadors" who sanitize the area every 30 minutes. We like to remind our guests in terms of following protocols, for example when social distancing isn't maintained. And maintaining social distance in Asia's largest microbrewery isn't a problem at all, with every table being well spaced out. Sanitizers are placed on every table and sections across the brewery along with temperature checks for all guests and staff. Additionally, our staff has also been tested by the BBMP. Our guests can rest assured that their health will be our top most priority.

6. 2020 has seen the cancellation of so many events with microbreweries being forced to pull down their shutters. How do you feel about hosting this year's largest collab at Byg Brewski?
Fabulous! We are leading innovators, we do things differently in terms of creating experiences, breaking barriers and crafting concepts and events. Pre-COVID we have hosted events like FIFA World Cup screening and Forbidden night and we were known for holding the largest corporate annual gatherings in the city. In the current pandemic that has taken over us, we are glad that we are spread over a 65,000 sq. ft under the lovely Bangalore sky – some of it that's open air and some of it that's indoors.
7. With the year drawing to a close, what are some key takeaways that you will carry with you into the year ahead?
This year like I mentioned earlier, has hit various sectors especially the hospitality. We as a brand have emerged stronger now than ever. The ability to think, plan and execute in a clinical fashion is key to realizing the nature of business change which leaders need to drive. This is about thinking through the ideas, experimenting quickly and scaling up. It is about surprising customers with possibilities that they never thought were possible!
The Novemberfest is being held at Byg Brewski, Hennur and will continue until December 13th, 2020 (or until stocks last). Be sure to not miss the largest collab of the year! 
Brewer World Exclusive Interview