Brewer Talks: A Pint with Callaway Ryan, Brewer at Windmills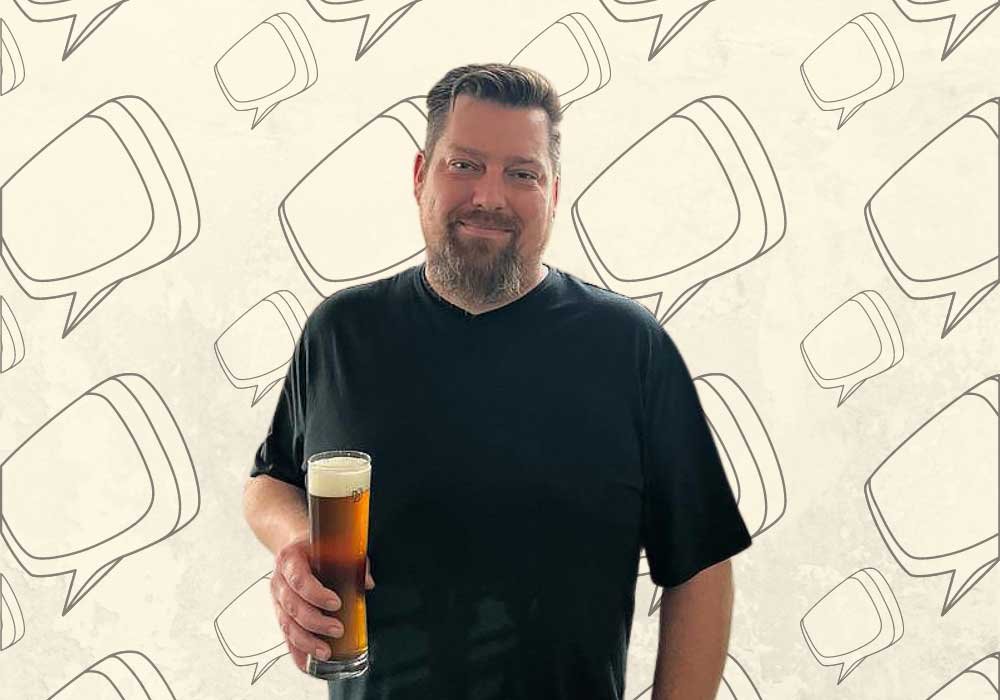 Windmills' Director of Brewing Operations, Callaway Ryan, has always done things a little differently. For starters, Cal had developed an interest for beers while working at a specialty grocery store and eventually got into homebrewing. He figured out a deep connection between history, culture, food, biology and chemistry pertaining to beer. From Minneapolis to San Diego to Baja California, Cal, travelled across several cities and has exposure to a plethora of beer styles and their history.
With over a decade of brewing experience in the beer industry, Cal brings in his diverse beer styles to Windmills Brewpub in Texas and Bangalore. An award-winning brewer who had bagged a Gold for his Double IPA and a Bronze for his American Amber Ale at the 'Cerveza México'. This month, as a part of our brewer talks series, which interviews brewers across the beer community around the world, we sat down with Callaway Ryan, to pick his brains on beer journey, award winning styles and industry insights. Read on.
Tell us about your journey and where your passion and knowledge for brewing craft beers had come from?
For me, like a lot of people it all started at university. I was attending the University of Texas at Austin and working in a specialty grocery store. I sold specialty coffee and tea while my good friend was the wine and beer guy. We bonded over exploring the huge selection of beers on hand, and eventually we got into homebrewing.
Our first few batches turned out really nicely, and I realised that brewing incorporated a lot of the things that interested me: history, food, biology, chemistry and exploring other cultures. Plus, you get beer at the end! This was back in the mid-00's, and Texas was still a bit of a beer desert, so we were able to brew styles we might not ever get to regularly drink otherwise.
I signed up for the American Brewers Guild's online degree program and was on my way. I apprenticed at Live Oak Brewing, where my love of traditional European brewing grew even deeper before working on the bottling line at Real Ale Brewing. From there I moved to Minneapolis, Minnesota and got my first full-time production brewing job at Surly. Todd Haug, the head brewer, taught me most of what I know to this day, and I'm always grateful for my time and the friendships I built up there.
After realising I couldn't handle the brutal winters of MN, I moved down to San Diego, CA and spent a couple of years working at Stone Brewing Company before setting out on my own as a freelancer. I helped open and expand several breweries there and wrote a lot of recipes before getting an opportunity to work in Ensenada, Baja California, just an hour south of the Mexican border.
Walk us through your Mexican brewing experience. How big is the craft beer industry in Mexico and what are some of the popular or most sought beer styles?
My contract work put me in contact with an American expat down in Ensenada, and we agreed that I would help him open Cerveceria Transpeninsular there. The Tijuana border is the busiest land crossing in the world, and the commute got old fast, so the family and I moved down for a year. It was an amazing experience.
Baja is known as being one of the best locations in all of Mexico for wine, beer and food. Whatever we made there would be sought after in the rest of the country, especially Mexico City. IPA (pronounced "ee-pah") was definitely the most popular style in craft circles. That being said, corn lagers and cheladas (lager with juices like tomato or lime and spices) were the biggest sellers in the wider market by far. Compared to the scene up in San Diego, the beers were generally a little lighter in body and alcohol, but otherwise were pretty comparable in style and in quality. It's an amazingly vibrant scene and has only grown since my time there.
At the 2017 Cerveza Mexico, you have bagged a Gold for Double IPA and a Bronze for American Amber. What was your thought process behind these award-winning beers, how did you come up with the idea?
The DIPA was a straight-ahead San Diego-style brew, with about 8% ABV, 80 IBU, and about 10% corn sugar to keep the body light. Hop selection is key, obviously, so we really worked to dial that in although there was nothing particularly crazy in it. Mostly Citra and Amarillo with some Simcoe and Centennial to bring out the "West Coast" aroma.
The amber was inspired by Surly's Furious Ale, though with a dialled back malt presence. The idea was to produce a beer with big flavours while still maintaining a balance between malt and hops. We used a good deal of crystal malts as well as some amber to round out the malt while keeping it dry and just a touch of roast for colour. It was definitely my go-to beer when I was living there.
Are you a BJCP judge and/or a Cicerone? If yes, how important is it for a brewer to hold certifications in the beer industry? If not, do you plan on becoming one in the future and why?
I don't hold any certifications myself, though I definitely see the value in them. The most important thing for me is to constantly be trying beers, especially as one is developing one's palate. I was privileged enough to spend time in some of America's most established and diverse brewing scenes as I came up and had the opportunity to visit with brewers during festivals and events. Ask questions, but don't buttonhole someone for an hour. Keep your eyes and ears open.
Those opportunities aren't available to everyone, especially if they're not already a full-time professional brewer or live in a less established market. BJCP and Cicerone programs are especially valuable then.
What are your thoughts on the growth of the Indian craft beer industry since its inception?
I came in a little late in the game compared to some of my peers, so I was surprised to see how developed the Indian scene has become in the decade or so that it's been going strong. The potential for growth in India is, of course, huge. I'm really excited to see the growth in markets outside of our home in Bangalore. I can only hope that the regulatory environment can reflect and foster that growth.
What are your observations on the Indian consumer palate? How is it different from what you have observed abroad or in the United States?
It's definitely the sweetest/malt-forward market I've worked in, which has presented plenty of opportunities for growth in my own formulation and brewing skills. The number of unique flavour profiles and ingredients here are staggering, and I've only barely been able to begin my explorations. Having an amazing culinary crew at Windmills has been an amazing resource in terms of developing flavours and learning techniques I've never seen before.
Are you coming up with any new experimental beers for Windmills brewpub in Texas and Bangalore, perhaps later this year?
We have a collaboration brew coming up with Liquid Love in Chicago that I'm really looking forward to. I can't get into too much detail, but it will be in the Saison family, which is one of my favourite styles to brew. Beyond that, I'm looking forward to some more culinary brews using what Indian ingredients we can get here. We just released a smoke rye lager that I think turned out amazingly. Super-complex while still being relatively session-able.