Bira 91 Rings In Diwali With Three New Limited-Release Beers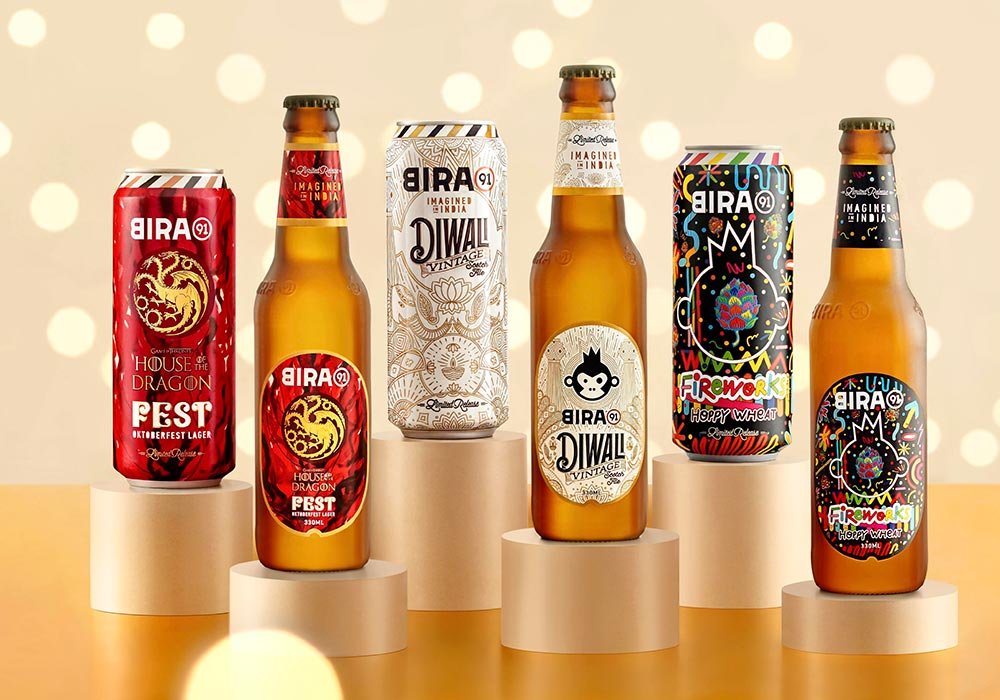 Bira 91 announced the second phase of 'Imagined in India', a portfolio of three new limited-release beers – Fest Oktoberfest Lager, Fireworks Hoppy Wheat, and Diwali Vintage Scotch Ale. These limited release beers have been crafted as the perfect companions for the festive season and are set to elevate the celebrations across the country.
Keeping the 'Imagined in India' tradition intact, Bira 91 has continued its collaboration with emerging artists for designing the beer packaging for the second phase of the series, to celebrate the booming creative spirit in the subcontinent. Moreover, the brand has taken its tradition of collaborations up a notch this time by collaborating with Warner Bros. Discovery Global Consumer Products to launch – limited release Oktoberfest Lager beer inspired by the HBO Original series House of the Dragon, the successor series to Game of Thrones.
Fest – Oktoberfest Lager
The Fest beer celebrates one of the most successful series, House of The Dragon, giving the Indian fans another opportunity to connect to this legendary franchise. The beer is an Oktoberfest lager, a centuries-old beer style with its origins dating back to the 16th century that is rich in malt with a balance of clean, hop bitterness, and has a toasted bread or biscuit-like malt aroma and flavor. Its appearance is amber orange to deep reddish copper in color.
The beer packaging invokes imagery of the iconic series, featuring the House Targaryen sigil with the three headed dragon superimposed over blazing flames.
Bira 91 also released exclusive House of the Dragon x Bira 91 merchandise recently dedicated to the shows' fans across India, which includes glassware, graphic t-shirts and collectibles like bar blades and coasters inspired by the Seven Kingdoms. Consumers can shop the limited-edition merchandise here.
Diwali Vintage Scotch Ale
India's first Scotch Ale, Diwali Vintage, is a malty and rich beer with mild sweetness from the dark malts, balanced delicately with the spicy bitterness of noble hops. The beer gets its robust flavor from the dominant smoky aromas from peated malts used in the best Scotch whiskeys. The Diwali Vintage is a beer for sipping slowly by the fireplace and celebrating the year gone by.
For the scotch ale's packaging design, Bira 91 collaborated with Kashmira Sarode, an illustrator and muralist. Sarode combines traditional hand drawn folk illustrations into modern blends of indulgence and games. Her love for traditional hand-drawn folk illustrations is transformed into a modern minimal palette of gold and white for Diwali Vintage, layered with little gifts of details for us to discover.
Fireworks Hoppy Wheat
Up next is the Fireworks Hoppy Wheat, an explosion of hops and flavors, with wheat bringing an unexpected sweetness to the palate. This unconventional take on wheat beers is brewed with American ale yeast and has a strong hop finish, silky body, and fruity character, making it perfect for every celebration. This experimental beer style is certain to become a favorite as consumers gear up for the festival of lights!
The beer's packaging has been designed by the accomplished creative director and designer, Pranav Bhardwaj. His works are loud, bright, and beautiful explosions of maximalism. He puts out all his personal imperfections such as colors, shapes, and forms.
Commenting on the launch, Ankur Jain, Founder, and CEO, of Bira 91 said "After the massive success of the first phase, we are thrilled to launch the second phase of 'Imagined in India' portfolio, furthering our proposition of bringing experimental and flavorful beers to Indian consumers. Our brewers have used never-seen-before ingredients like peated malts to bring a unique combination of flavors that is apt for the upcoming festive season and celebrations."
He further added, "Bira 91 and the House of the Dragon coming together is the perfect recipe for a blockbuster! We are delighted to partner with Warner Bros. Discovery Global Consumer Products and celebrate the ongoing popular series House of the Dragon with the launch of our limited release beer, 'Fest'. With Diwali Vintage, we bring India's first scotch ale, a perfect partner for the festive celebrations and we take the festivities a notch above with Fireworks, which is a truly unusual take on wheat beers."
Phase two of 'Imagined in India' Limited Release beers will be available in 330ml bottles and 500ml cans across Mumbai, Bengaluru, Delhi, and Pune.
---
About Bira 91
A refreshingly modern beer brand, Imagined in India, Bira 91 aspires to bring flavorful beers to the new world. As one of the fastest growing brands in the world, Bira 91 has built a diverse portfolio of award-winning beers, one for every occasion, and aims to drive the global shift in beer towards more color and flavor. Bira 91 is now enjoyed in over 550 towns and cities spread across 18 countries and brews its beers across four breweries in India. Bira 91 has its flagship taproom in Bengaluru, where it releases one new experimental beer every week, paired with its curry-shop menu. Bira 91 also offers branded merchandise across categories such as glassware, apparel, and gifts, to make every day a lot more playful. Established in 2015, Bira 91 is driven by a dynamic team of over 600 passionate beer lovers and is backed by Sequoia Capital India, Sofina of Belgium, and Kirin Holding of Japan.
About Warner Bros. Discovery Global Consumer Products
Warner Bros. Discovery Global Consumer Products (WBDGCP), part of Warner Bros. Discovery Global Brands and Experiences, extends the company's powerful portfolio of entertainment brands and franchises into the lives of fans around the world. WBDGCP partners with best-in-class licensees globally on award-winning toy, fashion, home décor and publishing programs inspired by the biggest franchises from Warner Bros.' film, television, animation, and games studios, HBO, Discovery, DC, Cartoon Network, HGTV, Eurosport, Adult Swim, and more. With innovative global licensing and merchandising programs, retail initiatives, and promotional partnerships, WBDGCP is one of the leading licensing and retail merchandising organizations in the world.
House Of The Dragon and all related characters and elements © & TM Home Box Office, Inc. (s22)