Raise A Glass To India's Top Beer Destinations
Beer tourism in India is a rapidly growing trend that combines the pleasures of travel with the exploration of the country's diverse beer culture. As India's craft beer scene continues to expand, more and more travellers are seeking out unique beer-related experiences. Many cities across India now boast craft breweries that offer tours of their facilities. These tours often include insights into the beer-making process, from brewing to bottling, along with tastings of various beer styles. Cities like Bengaluru, Pune, and Gurugram have become hotspots for craft brewery visits.
Craft breweries and beer bars often host tasting sessions where visitors can sample a flight of different beers. This allows tourists to explore a wide range of flavours and styles, from hoppy IPAs to rich stouts, and even unique Indian-inspired brews. Some breweries and pubs offer beer and food pairing events, where local dishes are expertly matched with specific beers to enhance the dining experience. It's a fantastic way to savour both regional cuisine and craft beer simultaneously.
If you enjoy travelling, exploring, and drinking fine beer, here are some notable breweries and taprooms in India to visit: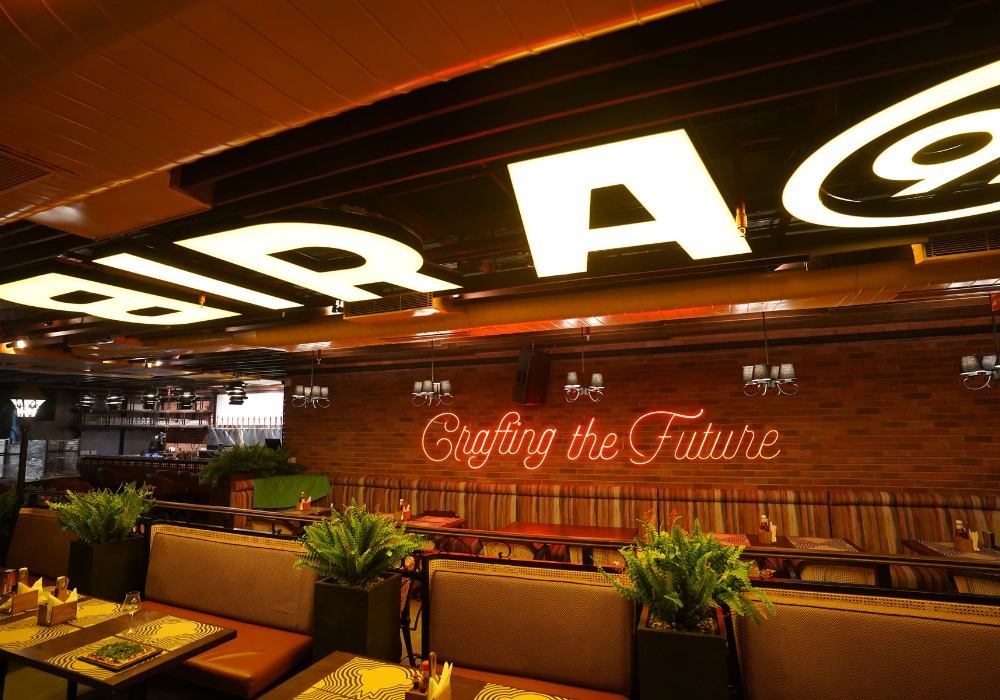 Bira 91, a household name in the world of craft beer in India, has made its mark with its exceptional range of brews. With taprooms in Gurugram and Bangalore, Bira 91 offers a delightful craft beer experience that's worth exploring. The taprooms serve as a haven for beer enthusiasts, offering an opportunity to indulge in a diverse array of flavours. The crowd favourite Superfresh White is a must-try at the taprooms. 
From their small-batch seasonal brews, we recommend trying Hefeweizen — a creamy wheat beer that's received a lot of love at the taprooms in Bengaluru. Whether you're a craft beer aficionado or simply curious about new tastes, a visit to Bira 91's taprooms promises a delightful experience filled with exceptional brews and the spirit of exploration. If you're up to try something new, we also recommend trying 3 limited-release beers from their Millet series – Golden Saison, Millet Pale Ale & Sunset Lager. 
Must-Try Beers 
Bira 91 Superfresh White, Blonde Summer Lager, The Indian Pale Ale (brewed with Pomelo), Gold Wheat Strong and Malabar Stout. 
Arbor Brewing Company, also known as ABC, stands as an iconic microbrewery in Bengaluru, a city often hailed as the craft beer capital of India. At ABC, craft beer is not just a beverage; it's a passion. They offer a diverse range of handcrafted beers, each meticulously brewed to perfection. Whether you're a seasoned beer connoisseur or a newcomer to the craft beer scene, ABC has something to delight your taste buds.
The taproom at Arbor Brewing Company is more than just a place to enjoy great beer; it's an experience. The atmosphere is alive with energy, making it the perfect spot to unwind, socialize, and appreciate the art of craft brewing. With a commitment to crafting exceptional brews and providing a lively taproom atmosphere, they have earned their place as a favorite among locals and visitors alike.
Must-Try Beers 
Bangalore Bliss (Hefeweizen), Beachshack (West Coast IPA), Smooth Criminal (Honey & Lavender Spiced Ale), Michael Faricy (Irish Stout)  and No Parking (German Pilsner) 
Toit Brewpub, a beloved brewery in the heart of Bengaluru, is celebrated for its exceptional craft beer and commitment to local ingredients. Toit Brewpub takes pride in drawing inspiration from locally sourced ingredients, infusing a unique regional flair into their craft beer creations. This dedication to the local ecosystem is a testament to their commitment to quality and innovation.
Toit offers a warm and unpretentious atmosphere, making it an ideal choice for both a leisurely brunch and an enjoyable night out. Whether you're seeking a relaxed afternoon or a lively evening, Toit's ambience caters to all. Toit sets itself apart with its innovative brewing techniques and diverse beer styles. Their offerings span a wide spectrum, from Double IPAs and pale ales to lagers and porters, also including their signature Toit Weiss and Basmati Blonde, along with delicious food to complement the beer. With each brew, they push the boundaries of flavour and creativity.
Must-Try Beers 
Independence Brew (smoked rye ale), Belgian Riot (Belgian style ale), Breaking Matt (Indian pale ale), CzechMate (Czech style lager), the Dark Knight (speciality brew), Tintin Toit (light brew), and A Winter's Ale (Scottish ale)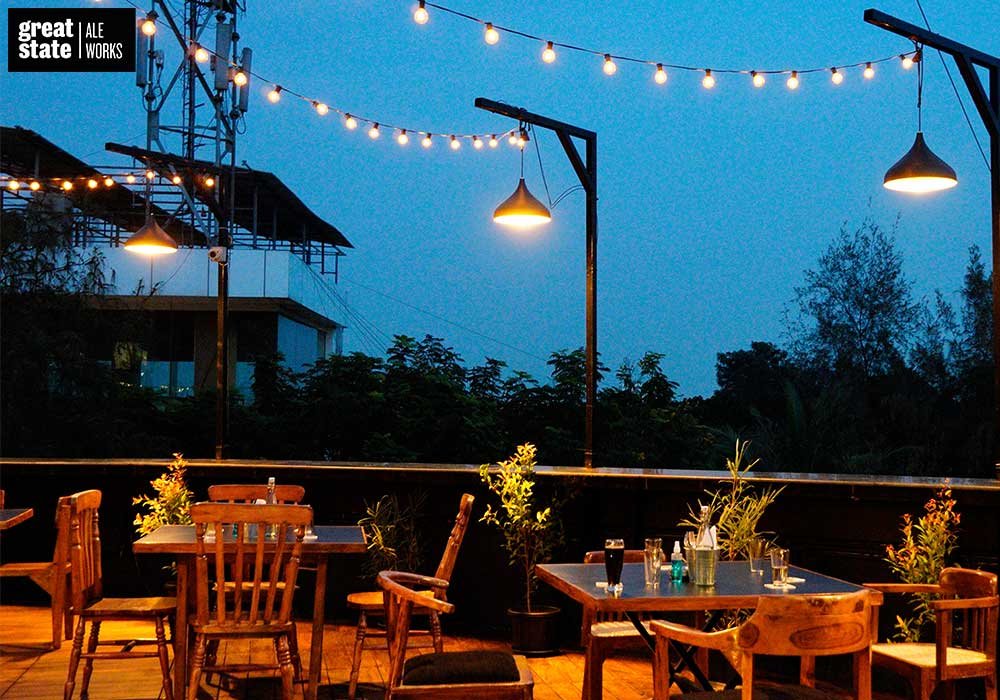 Great State Aleworks, established in 2017, is a pioneering production brewery nestled in the industrial district of Pune, Maharashtra. Great State Aleworks is celebrated for its inventive beer creations, often incorporating distinctive local ingredients that add a unique twist to their brews. The brewery's reputation for quality and innovation extends far and wide, with its craft beer being distributed to more than 60 bars and restaurants across Pune, Mumbai, and Goa.
Great State Dive, an extension of Great State Aleworks, is a 40-seater rooftop bar situated in the vibrant neighbourhood of Koregaon Park, Pune. It adds a new dimension to the brewery's ethos by offering a unique drinking and dining experience. The bar serves a diverse range of beers, including local, freshly brewed, experimental, and unique styles. Whether you're a seasoned craft beer enthusiast or a newcomer, there's something to delight your taste buds. Their menu is thoughtfully designed, focusing on comfort food with a mindful touch. You can enjoy a satisfying meal that perfectly complements your drinks.
Must-Try Beers
Helles Lager, Sunshine, Sunny Afternoon, Second Haze, Mr. Blue Sky, Dark Necessity, Chope, Off Duty, and Brightside
Windmills, situated in the heart of Bangalore, stands as one of the city's most cherished microbreweries. Windmills excel in creating a captivating ambience, brought to life by enchanting lighting arrangements that infuse energy into the atmosphere. With various seating layouts, it ensures that every visitor finds the perfect spot to enjoy the experience.
Renowned for its live music and mesmerizing jazz performances, Windmills offers more than just great beer. It provides a platform for patrons to relish melodious tunes while immersing themselves in the vibrant atmosphere. Windmills takes pride in its extensive bar menu, boasting an impressive array of speciality beers. The commitment to crafting exceptional brews, particularly inspired by classic wheat beers like the German hefeweizen, makes it a standout destination for beer enthusiasts. Complementing their stellar beer selection, Windmills offers a tantalizing array of kebabs that are simply a must-try. These savoury treats enhance the overall dining experience, adding a delightful twist to your visit.
There are a broad variety of craft beers available, such as the Hefeweizen, Golden Ale, Stout, and a couple of really good IPAs.
Must-Try Beers 
German Hefeweizen, Golden Ale, Hazy Pale Ale, Cucumber Gose and Spectrum IPA
BrewDog, an iconic international Scottish craft beer brewery and pub chain, has been a trailblazer in leading the craft beer revolution worldwide. With a reputation for innovation and quality, BrewDog is recognized as the world's fastest-growing draught beer brand and holds a significant share of the international market. Since its introduction to India, the brand has experienced impressive growth, and it's poised to become a major player in the Indian craft beer market.
With an impressive lineup of 30 beer draft taps, BrewDog Gurgaon Taproom is a paradise for beer connoisseurs. You can enjoy a wide selection of BrewDog's own epic beers, as well as offerings from your favourite global guest breweries. Whether you're into ales, lagers, stouts, or IPAs, there's something to suit every beer lover's palate. The Taproom offers an extensive beverage menu beyond brews. Indulge in handcrafted cocktails, explore a curated wine selection, or savour spirits that cater to your taste. The variety ensures that everyone can find their perfect drink.
Best-Selling Beers 
Sudoku Rice Lager, Wild Card Wheat, Insta Cloud
Must-Try Beers 
Cocoa Psycho, Crystal Ball, YPOM, Elvis Juice, Punk IPA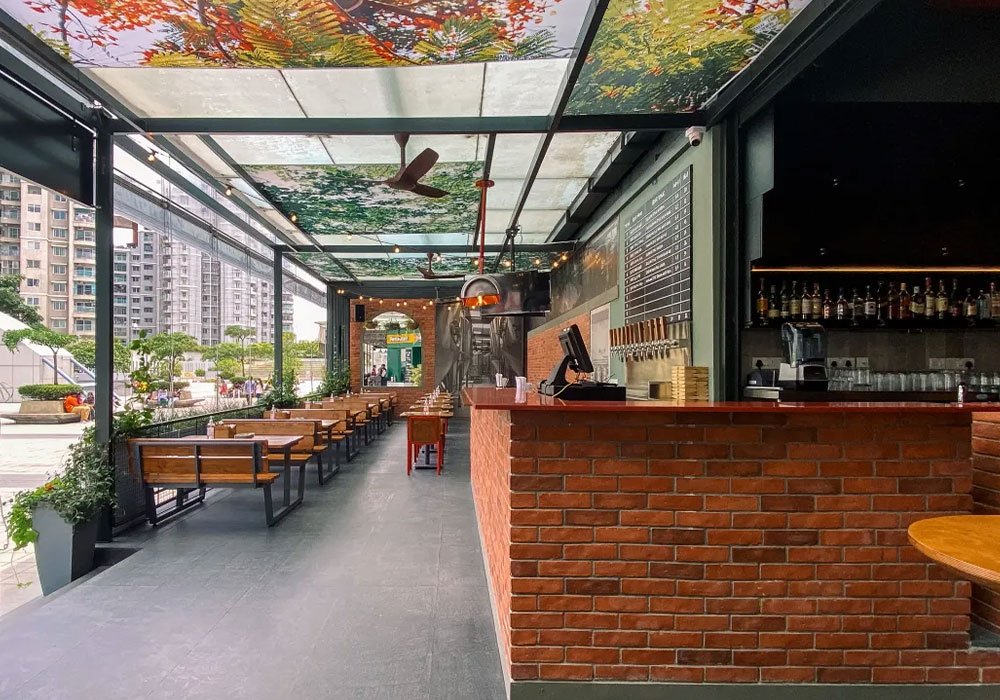 Geist Brewing Company, established in 2017, stands as a beacon of craft beer innovation in India, offering not just exceptional brews but also a commitment to environmental sustainability. Their focus on freshness and planet-friendly practices makes them a standout in the craft beer landscape.
Their mission is to bring the art of craft brewing to a broader audience, delivering a diverse range of global craft beer styles directly to customers and local hospitality businesses. Quality is non-negotiable at Geist Brewing Company. They source only the finest ingredients to create their craft beers, ensuring that every sip is an experience worth savouring.
Geist Brewing Co. Rajajinagar offers a charming and intimate craft beer taproom, cocktail bar, and restaurant with a picturesque view overlooking the Orion Mall lake. It's the perfect spot for craft beer enthusiasts to gather and enjoy a selection of meticulously brewed beers in a cosy setting. Whether you're looking for a relaxed evening out or a place to unwind with friends, this compact yet charming taproom and bar has you covered.
Must-try Beers
Geist Weiss Guy, Geist Kamacitra, Geist Uncle Dunkel, Geist Witty Wit, 
Limited Release 
Geist Kölsch-Style Ale, Geist Picket Fence IPA, Geist Show Me The Honey
Ironhill India in Bangalore is an extraordinary microbrewery, earning the title of the world's largest, sprawling across an impressive 1.3 million square feet. Here, luxury seamlessly blends with the art of brewing, creating a haven for those seeking an unparalleled experience.
At 'Ironhill,' the heart of this expansive region, you'll discover the art of brewing at its finest. They offer an impressive selection of 8 freshly brewed beer flavours, expertly crafted to tantalize your taste buds. These brews are perfectly complemented by delectable appetizers, ensuring a memorable culinary experience. German Hefeweizen, Belgian Witbier, English Red Ale, Summer Lager, Ragi Ale, Irish Stout, New England IPA, and Apple Cider are among the beers available.
With an extensive menu featuring diverse beer flavours and delectable cuisine, it's a destination that promises a sensory journey like no other. Whether you're a craft beer enthusiast or simply seeking an idyllic retreat, Ironhill India is a must-visit destination for those looking to savour the finer things in life.
Must-Try Beers 
Rice Lager, Blueberry Cider, Lite Lager and Cream Ale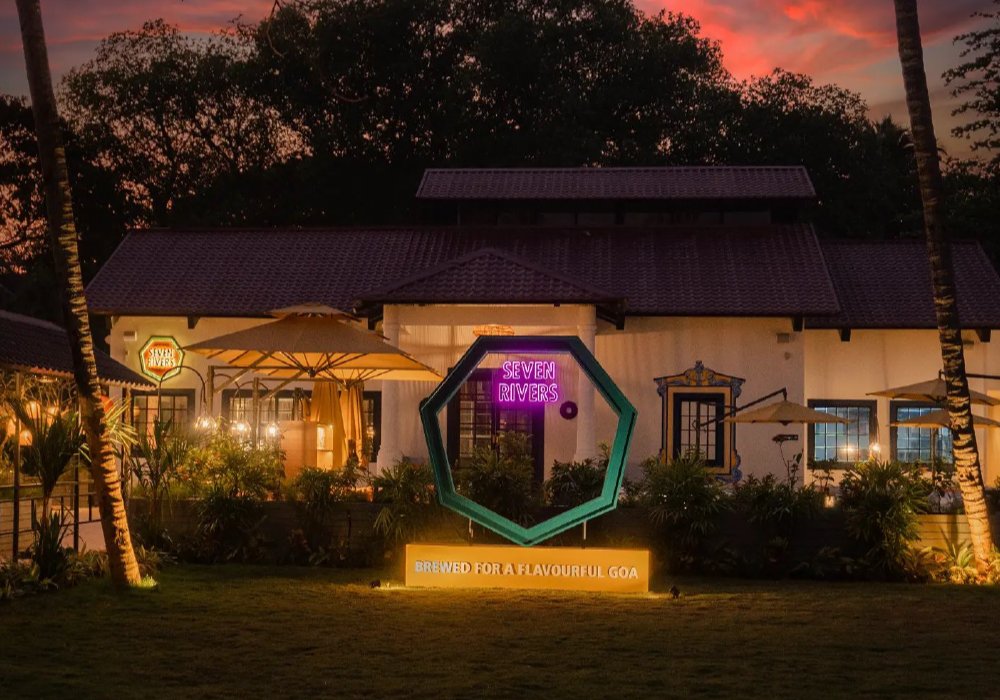 Seven Rivers Brewing Co., nestled within the picturesque Taj Holiday Village in Candolim, Goa, is a unique collaboration between AB InBev and IHCL. This exceptional brewpub offers an unforgettable experience, combining artisanal beers, gourmet cuisine, and innovative cocktails. Seven Rivers takes pride in creating beers that cater to the distinctive Indian palate, using locally sourced ingredients. Each brew is a testament to its commitment to quality and flavour.
Located within a remodelled Portuguese Villa, Seven Rivers Brewing Co. provides a serene Goan ambience. Guests can choose between cosy indoor seating and spacious outdoor arrangements, allowing them to savour delightful brews while basking in the soothing Goan weather. It's a place where exploration, engagement, and connection come naturally, making it ideal for those seeking vibrant experiences. With its commitment to crafting beers for the Indian palate, serene Goan ambience, and dedication to life's limitless possibilities, it has become a destination that promises unforgettable experiences. It's where great beer meets great times and where the tribe of "beerers" finds a home.
There's something for everyone to savour and enjoy, from their core craft beers to their speciality selections. Orange Witbier, Bohemian Pilsner, POI Lager, and Tropical India Pale Ale are among their core beers, while Kokum Gose, Abbey Dubbel, All Day Kolsch, and Imperial Coconut Porter are among their speciality brews.
Must-Try beers
Orange Witbier, POI Lager, Kokum Gose, Imperial Coconut Stout and Abbey Dubbel
Long Boat Brewery is a destination that transports you to an authentic Viking ambience, where the spirit of adventure and valour reigns supreme. From the moment you step in, you'll feel like you've been transported back in time, surrounded by elements that pay homage to the fearless seafaring warriors.
In the spirit of the Vikings, Long Boat brings you a drink menu that embodies the essence of guts and glory. The offerings are a tribute to the fearless hearts that once conquered the seas and silenced thunderstorms, all while raising their mugs in merry celebration. Whether you're seeking the perfect accompaniment for a quick dinner before a movie or planning a grand party, Long Boat has the ideal libations to elevate your night out. 
Long Boat's unique beer flavours are designed to please every drinker's palate and tantalize your taste buds. Whether you're a seasoned beer enthusiast or new to the world of craft beers, there's a brew here that's sure to leave a lasting impression. The brewery has a line-up of eight delectable brews, including Berliner Weisse, Watermelon Wheat, Hefeweizen, Belgian Witbier, Belgian Dubbel, Naught Zero IPA, West Coast IPA, Chocolate-Vanilla Stout.
Must-Try Beers
Berliner Weisse, Hefeweizen, Belgian Dubbel, West Coast IPA, and Chocolate-Vanilla Stout.
These are just a few examples of the iconic breweries and taprooms in India. The craft beer scene is rapidly evolving, and new breweries are constantly emerging in different cities across the country. So, if you're a beer enthusiast, make sure to explore and discover the exciting world of Indian craft beer.