Anheuser-Busch Demonstrates It's Possible To Find A Sweet Spot In Today's Hydrogen Vs. Battery Battle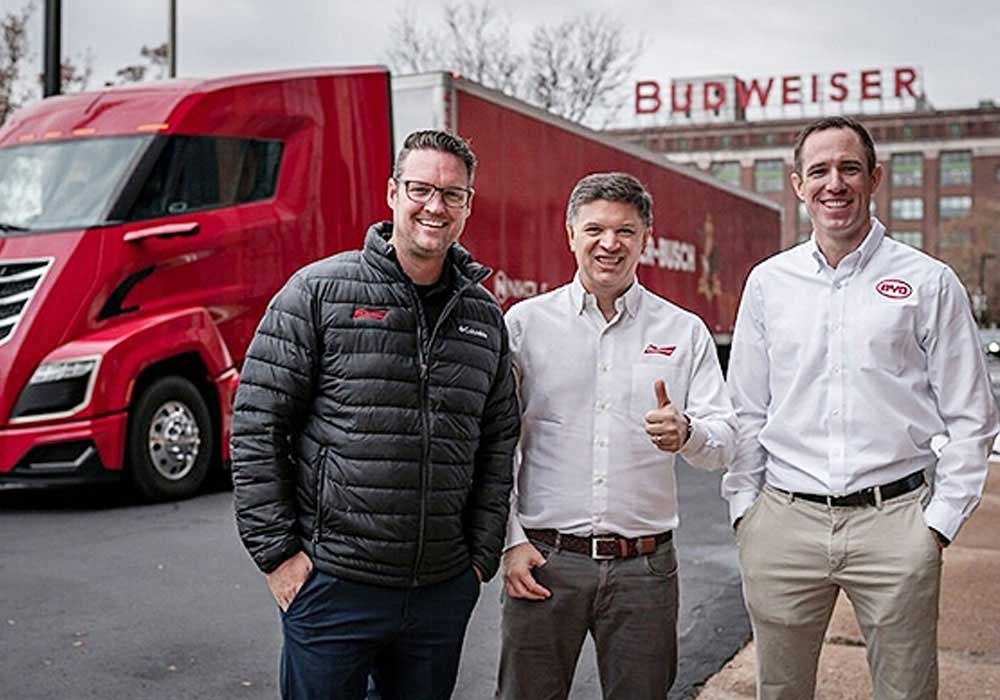 Last week, Elon Musk's hard-edged electric Tesla Cybertruck made its debut in the international market. It sparked quite a debate, and we're not just talking about the Blade Runner-inspired design.
For those who aren't aware, there has always been a bit of a tug-of-war scenario between those like Tesla, who believe that the only way forward as far as the future of vehicle propulsion technology is concerned, is battery-electric – and those who place their bets on multiple alternative fuel systems such as fuel cell technology.
Hydrogen proves to be much more efficient for powering larger transport vehicles like SUVs and trucks, which typically bear heavy consignments, across long distances. Batteries on the other hand are larger and therefore, heavier and also far more expensive. For this reason, many transportation and automobile manufacturers are against going the battery way as they believe it could result in quickly diminishing ROIs, especially if the weight and size of the vehicle increases.
Meanwhile, brewing giant Anheuser-Busch,  in partnership with Nikola Motor Company and BYD Motors, carried out its first zero-emission beer delivery.  The load of beer was delivered from the brewery to Anheuser-Busch's local wholesaler partner, Lohr Distributors, and marked the first commercial assignment of the Nikola hydrogen-electric vehicle. Lohr Distributors, in turn, delivered the beer to the Enterprise Center, home of the National Hockey League's St. Louis Blues, on a BYD electric truck.
Nikola CEO Trevor Milton (left) joins Michel Doukeris of Anheuser-Busch and John Gerra of BYD in front of a Nikola hydrogen-electric truck and a Budweiser plant. (Anheuser-Busch)
Last year, Anheuser-Busch placed an order for "up to" 800 of Nikola's zero-emission big rigs, a decision that is very clearly in line with one of the brewer's new sustainability goals: to ensure that 100 percent of its purchased electricity will be from renewable sources, with a 25 percent reduction in CO2 emissions across its value chain.
The trucks can reportedly travel between 500 and 1,200 miles before a 20-minute refuelling session. But even with all of the 800 long-haul hydrogen-electric powered semi-trucks on the road, this new fleet will help reduce Anheuser-Busch's logistics-related carbon footprint by 18 percent. So what's the brewer's plan for the remaining 7 percent?
A Nikola hydrogen-electric truck heads from factory to distributor. (Anheuser-Busch)
According to sources, additional reductions will be achieved by partnering with battery-electric vehicle manufacturers such as BYD. Anheuser-Busch will be deploying 21 electric BYD trucks powered by 958.8kW solar array to further reduce emissions generated by its distribution centers in Southern California.
In the race to zero-emission vehicles, there is no clear winner.
But as Ingird De Ryck, vice president of procurement and sustainability at Anheuser-Busch, rightly said in a release: "No single company can build a more sustainable future alone but this zero-emission delivery has shown what is possible when we bring together the various strengths and assets within our supplier network to work towards a shared objective of a better world."
Sure, cutting emissions is a real problem and therefore, cannot really have an either-or solution, at least right now. Still, there's no reason why two technologies can't join hands to work together on this mission, as Anheuser-Busch has succeeded in demonstrating so well!
Source: Transport Topics