A day spent at Brewery Bhavana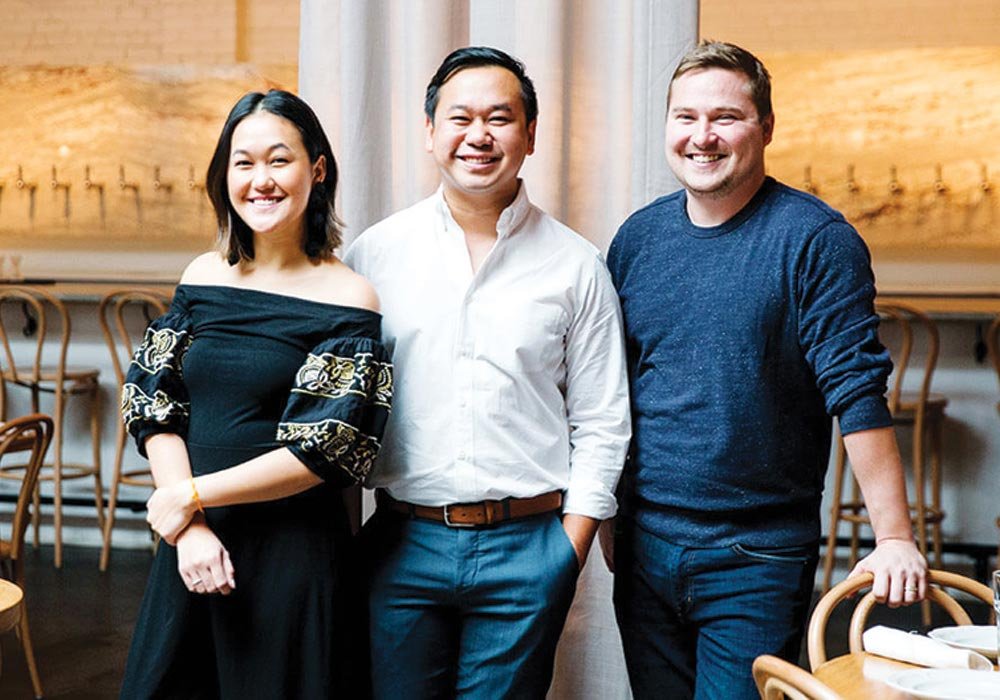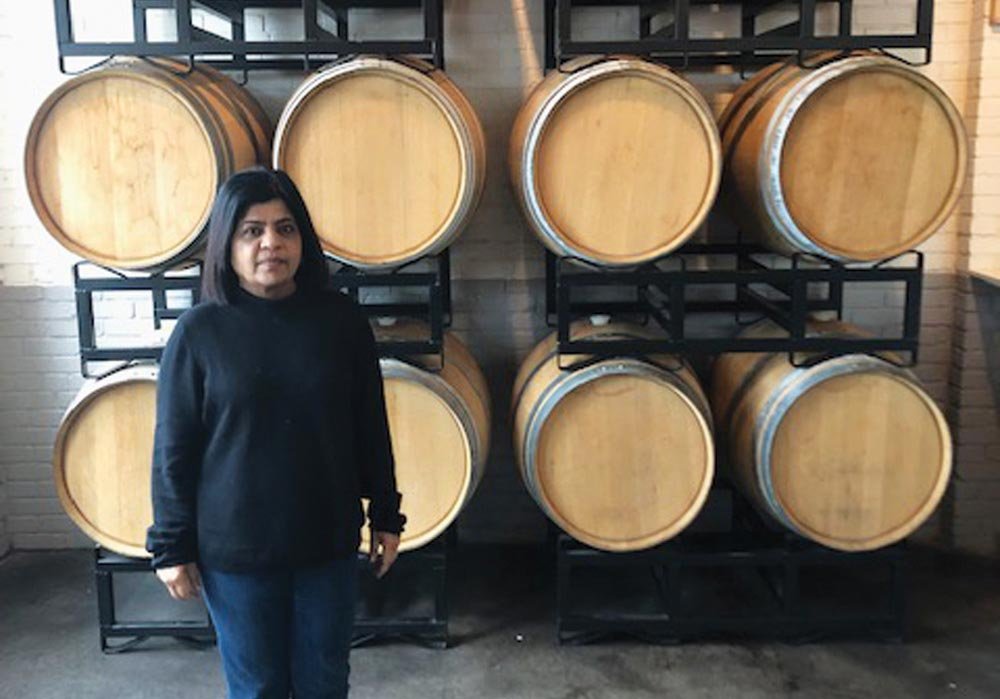 Dr. Nirupa Bareja
A PhD in Biological science she is Director, India operations of VICUS Therapeutics, USA. She is chief advisor of Mazumdar Shaw Medical foundation. Investor in top notch companies like Sigtuple & Silvan innovation technologies. An advisor for innovative start-up companies like 1 Crowd & Plantbyte

Jan 11, 2019 – A unique day
Began bright and early as we (my son Dr Akshay Bareja, my husband Ashok and I) decided to take the train from Durham to Raleigh, North Carolina, USA. The train ride took an enjoyable forty minutes to reach Raleigh. Akshay had meticulously planned our itinerary for the day the highlight of which was brunch at Brewery Bhavana-something I was very curious and excited about-knowing it to be an integrated brewery and restaurant.
Right from the moment we entered the reception of Brewery Bhavana- an eclectic space which seamlessly combined a (close to Michelin star restaurant), a book nook and a micro-brewery! A rare combination indeed. The brunch session commenced around 11.30 and leisurely spread over the next couple of hours.
For me it was an experience that I will always remember!
The ambience and service felt like an Asian & Far East one with food and drink to compliment it.
The endless flavours of beer, spouting from aesthetic sliver taps tucked elegantly in the long wall behind the bar-forty unique flavours of beer brewed in their exclusive brewery located very close to the restaurant. We sampled a few of their beers along with some very interesting fruit & alcohol fusions – truly heavenly. The food which included dim sums, very flavoursome Asian soups, rice, noodles, salads was very delicious and prepared for a refined palate.
The art and layout of the place was very Zen and soothing-bringing a lot of greenery into the space.
The Exclusive Story And Motivation Behind Brewery Bhavana Follow:
The idea to combine a Raleigh-brewed Belgian style beer with a dim sum restaurant requires thought, precision & the ability to take a chance. Brewery Bhavana, is a 9,000-square-foot restaurant, flower shop, taproom, and bookstore, and this is how it all started-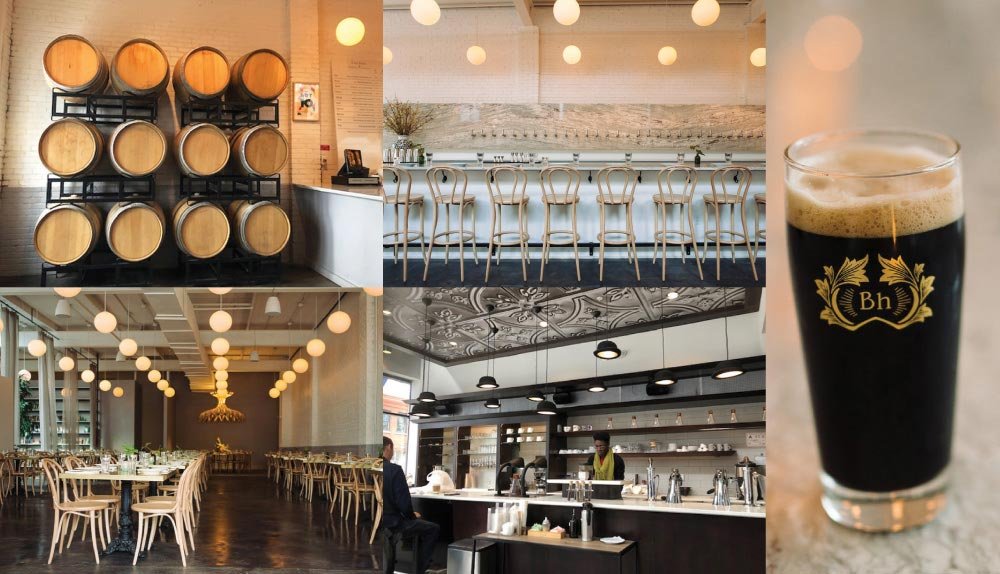 Patrick & his wife, Aubrey, had recently finished their time in the Peace Corps by traveling through Laos and much of Southeast Asia. On a short visit with his parents in Raleigh, Patrick came to dinner at Bida Manda, a restaurant owned by brother-sister duo Vansana & Vanvisa Nolintha. The Nolintha siblings were sent to the USA at the age of 12 from Laos, 18-years later they opened Bida Manda, a Laotian restaurant. Patrick Woodsan was surprised to find a Laotian restaurant in Raleigh, so he booked a table, pulled the Nolintha's aside, and excitedly shared a few pictures from Luang Prabang, where they grew up. Delighted with the serendipity of that night, the pair exchanged phone numbers and kept in touch. This brief encounter marks the beginning of the remarkable journey toward Bhavana.
As told by Van, "Patrick was an insatiable homebrewer. We started dreaming together about a small craft brewery, one that would emphasize grace, nuance, intention and the sort of generous hospitality we long to experience at beer bars. In Patrick's beers, so elegant and subtle, you can taste the hand of the maker. Each one feels like getting to know him. What food could we possibly pair with those beers? And what design? Where else was the hand of the maker so intimately and earnestly felt? The more we dreamt, the bigger our dreams became. We wanted Deana's flowers, books and gifts, Jordan's cocktails, and our favourite Dim Sum cuisine.
We carefully curated each ingredient and offering. We poured ourselves into the smallest spaces, choosing every light bulb, every table top and chair so that each tangible part of 218 Blount Street became a loving frame for their makers and their art".
"It is our hope that Bhavana becomes a living room for the people we love to create, collaborate, and dream. Perhaps our walls will offer you the same reprieve"
– Vansana Nolintha
TAPROOM –
Combining a Raleigh-brewed Belgian style beer with a dim sum, is the core of Brewery Bhavana. The private production brewery is located a few blocks down the road on Bloodworth Street. There, within a community of artists called Anchorlight, Brent Steffen & Patrick Woodson make Bhavan's 10 core beers and an ever-expanding variety of provisional offerings to fill our 40 taps.
This brewery includes an expanding cooperage of wine barrels, puncheons, and foeders, from which we blend our slow-fermented, wood-aged beers.
Wine-aged beer is one of Brewery Bhavana's specialties, and there are many variations, including a sauvignon blanc barrel-aged saison combined with apricots, mango, and passionfruit.
The New Barrel program will showcase new beverages from Brewery Bhavana's 180 wine barrels that have been slowly aging beer for over a year now.
"Our beers are inspired and cultivated through years of travel, education, and personal experience. Each one reminds me of a moment, a person, a sensation, or a place I have loved. I hope that they will remind you of something you love too"
– Patrick Woodson

CUISINE –
Some of the earliest memories for the Nolintha's growing up in Luang Prabang, are of morning steam rising from bao baskets and the busyness of dim sum restaurants. Dim sum represents a moment at the crossroads: an encounter between people and their stories. Chun Shi immigrated to the States in 1999 and is Bhavan's Dim Sum executive Chef.
Her cultural understanding of dim sum cuisine is what caught Vansana's attention. Today, she serves more than a dozen types of dim sum, like char siu bao, pai gu spareribs, and scallion pancakes at Brewery Bhavana
"Shi has a greater understanding of culture and food, with a cuisine that feels so honest. There's no ornamentation. You bite into a bao (steamed bun), and you taste not just the flavours, but you taste your memory"
– Vansana Nolintha
Unique space to Brewery Bhavana:
The Library & Bookstore:
A collection of books lives at Brewery Bhavana solely for guests to sit and read while they are visiting. Monica Jon is the shop manager at the restaurant. She and colleague Laura White asked everyone they knew to donate a favourite book for a Bhavana library, and to jot a short inscription inside explaining why they'd chosen it.
Soon, they had a diverse bookshop inventory of roughly 350 titles – carrying only one or two copies of each, to keep offerings fresh – plus a nearly 3,000-book library.
The Flower Shop
Flowers are evocative and emotional; their language transcends words. Through them, we learn to more deeply feel and express our joy, love, appreciation and sorrow. Even the most common blossom can lift our spirits and dance on our hearts. Each one gently reminds us of our humanity: our own growth, our blooming, our wilting, our decay. In the shifting abundance and colours of each season, we learn to celebrate growth and impermanence.
Dena Nguyen's intention for the flower shop in Brewery Bhavana is to offer flowers that are thought-provoking, expressive, reverential, and inviting, to honour my gratitude for the natural world. Creating meaningful arrangements with grace and humility: bouquets that will bear silent witness to so many important occasions.
"Bhavana was never a concept, It's an extension of relationships. When you zoom into each component, you begin to discover fingerprints"
– Brewery Bhavana
www.brewerybhavana.com
The above story clearly depicts the passion that the founders have in giving a lifetime experience to people who visit. We truly had one of the finest and exclusive experiences that one could have. Reluctantly we sauntered out with satisfied and fulfilled smiles on our faces after two hours of bliss!
A must revisit on my next trip to the US!