7 Rivers Brewing Co.'s New Brewery Teases Bengaluru With A Sneak-Preview of Their Beer Menu!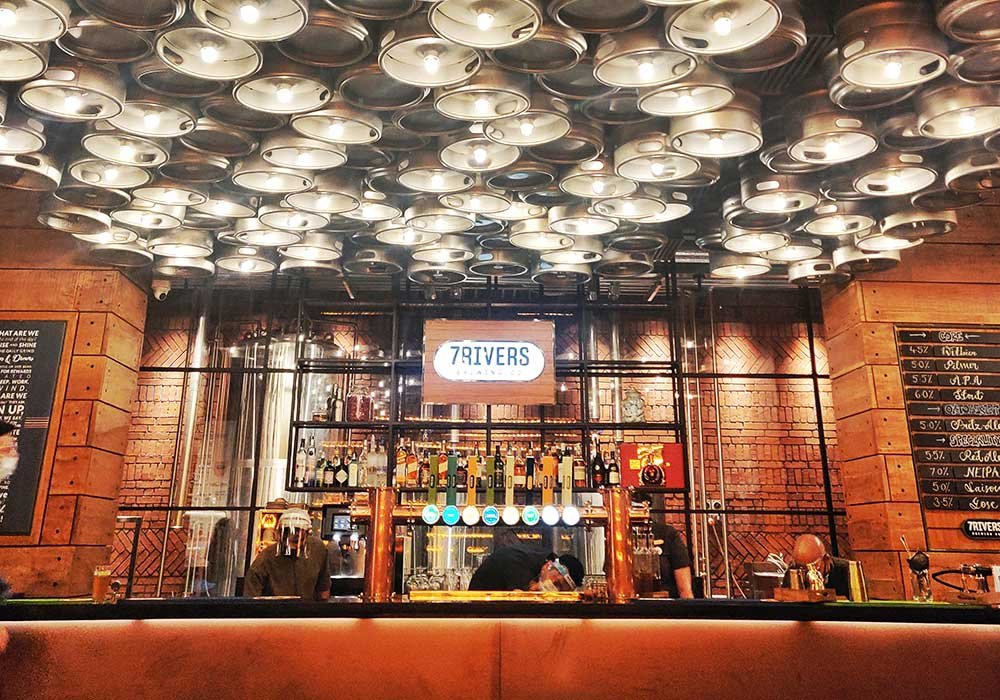 New brewery openings in Bengaluru seem to have become a constant. Earlier this year in March, Bira 91 launched its first ever taproom in the Craft Beer Capital of India to celebrate the brand turning 5. And now, world's largest brewer Anheuser Busch InBev-owned 7 Rivers Brewing Co. is moving closer and closer to announcing the opening of their brand new brewery at Taj, M.G. Road, Bengaluru.  
The brewery conducted an exclusive pre-launch, strictly invite-only tasting session for the city's top beer enthusiasts, connoisseurs and brewers and gave them a sneak-preview of what to expect when the brewery finally opens. 
The menu lists 4 beers as their main core:
Chocolate Coffee Stout

American Pale Ale

New World Pilsner 

Witbier

Chocolate Coffee Stout
Marrying two of mankind's biggest loves, this medium to heavy-bodied beer is a blend of local Coffee and Cacao. Deep black, but clear, the beer offers a sweet, creamy mouthfeel delicately balanced with a mild bitterness while delivering bold, unmistakable notes of coffee and chocolate. 
ABV: 5-6% 
IBU: 25 – 30
American Pale Ale
A spin-off from the classic IPA, the American Pale Ale from the 7 Rivers brewery comes in hues of honey to deep amber. This beer gives off notes of Caramel, Honey and Toffee mixed with hints of bold citrus and tropical hop fruit aroma. With a balanced, bitter finish, this hoppy, but easy-drinking beer is sure to be a huge crowd pleaser! 
ABV: 5.5 – 6%      
IBU: 40 – 50
New World Pilsner
When it comes to beers, being spoiled for choice is hardly a bad thing. But if you're simply not in the mood to struggle to make a decision, a pilsner might just be the solution! 
Light-bodied and lip-smackingly refreshing, the Pilsner at 7 Rivers Brewing Co. is a light-bodied beer with a golden hue. This classic lager is brewed with a combination of special malts, while the addition of new world hops lends the beer underlying notes of Marmalade and Citrus. With slight earthy notes, this Pilsner rounds off with a smooth, crisp, bitter finish. 
ABV: 4.8 – 5.5%  
IBU: 30
Witbier
Is a tap list ever complete without the Witbier making an appearance? Hazy and pale, with a straw-like hue, this beer is infused with characteristic notes of Citrus and Coriander followed with a sweet, smooth mouthfeel and a low hop finish. 
ABV: 4.5 – 5% 
IBU: 12 – 15 
Apart from these four fixed beers, the 7 Rivers brewery will also be serving specialty brews on rotation. Beer lovers can expect the following on tap closer towards the end of October: 
Red Ale

NEIPA

Saison

Gose 
Speaking of October, the brewery also has a special treat for Bangaloreans! The menu displayed an Oktoberfest special called the "Pretz-Ale" which is said to arrive on tap as September draws to an end. 
Follow @brewerworld and @7riversbrewing to stay tuned for more!