"The Future Is Certainly Exciting For Craft Breweries In India," Says Vejay Anand, CEO at Ironhill India
Ironhill, India's largest microbrewery strives to recreate the spirit of good times and cheerful memories through a fantastic selection of beers and mouth-watering bites. They draw on the expertise of their expert brew-masters, who have travelled the world in search of the most intense flavours for you to enjoy, culminating in exciting flavours of beers on tap, brewed with the highest quality ingredients imported from their source countries and some that are locally sourced. Ironhill India aims to bring unique flavours from all over the world for craft beer enthusiasts to unite them with original brews.
"With the right kind of innovation, operational agility and marketing acumen, there is scope to build a truly global Indian craft beer brand," Says Vejay Anand, CEO at Ironhill India. 
Vejay, a creative thinker and problem solver, is a seasoned professional who excels at leading teams through challenging projects. He believes in developing engaging brands that connect with their target audience and remain relevant. In his nearly three-decade career, he has held executive positions at Café Coffee Day, Universal Sportsbiz, Future Group, and Intel, among others.
As CEO at Ironhill, Vejay is responsible for developing high-quality business strategies and plans guaranteeing their alignment with short-term and long-term objectives. Vejay oversees all operations and business activities to ensure business growth. Vejay also teaches branding at various business schools in Bangalore and writes extensively on the subject.
Learn more about him, his goals for Ironhill, and his thoughts on upcoming trends in the craft beer industry in the interview that follows.
Can you tell us about your experience in the beer industry and What initially intrigued you to craft beer?
My experience in the beer industry so far has been quite interesting. The zest for innovation is phenomenal, while the industry is at a nascent stage, it is primed for exponential growth, and all the markers show that the craft beer industry is just getting started, just in time for what is widely touted as the golden age for the Indian economy. While there are complexities involved at every stage of the business, it's nothing that can't be solved over a pint or two.
What caught my fancy about craft beers was the potential for growth and the existence of untapped markets. With the right kind of innovation, operational agility and marketing acumen, there is scope to build a truly global Indian craft beer brand.
Ironhill is the largest microbrewery in the world, tell us about its history. 
Ironhill's founder Teja Chekuri is a global entrepreneur who started the brand in 2018. He, at this point, was also successfully running the Prost brand. When they opened their first outlet in Hyderabad, there were only a few licences issued out of these, most of them concentrated in one area. The rest of the city was left out in the cold. No one wanted to go beyond this area. That was the eureka moment. It sparked the idea of creating breweries in offbeat and unexpected cities. 
We started focusing on Tier 2 cities and invested our time and energy into the research. Three prominent findings resonated across all the emerging markets: One – the spending power in these cities is considerable; Second – No one was catering to the mid-segment market; Third – Most patrons were well travelled and were aware of craft beer, along with what constituted a good brew.  
We started in Vizag and then quickly rolled into Vijayawada with the second. In both these cities, we earned the first-mover advantage and are still the only players in town. Today we are present in cities in Vijayawada, Hyderabad, Bangalore, Nellore, Rajahmundry, and Visakhapatnam along with Vizag. All locations in each of these cities are also offbeat and had a glaring gap that needed to be addressed, which we filled in with Ironhill India. 
In Bangalore, we created the largest brewery, and it is running strong into its third year of business. 
Tell us about Ironhill's beer range, what makes them unique and which is the best-selling beer at Iron Hill. 
Our wheat beers and fruit ciders are in demand perennially. However, what truly makes us tick is the innovative beers we launch every month and are perhaps not available elsewhere in the market. We have quite a prolific beer range, from subtle styles like wheat beers and lagers to the more nuanced yet bolder styles like the English Ale or the IPAs.
Consumer preferences have changed post-pandemic and over the years, what do you have to say about it? 
Pre-pandemic, consumers did stick to the tried and tested styles of beers, so we often saw wheat beers contributing disproportionately to our sales compared to the other styles, we had to offer. Post-pandemic, our patrons have become more adventurous, and are giving newer bolder styles of beer a go and in some cases, even demanding that we bring newer versions of our experimental ales on tap. We have also observed quite a healthy uptick in the sales of our ciders and seltzer styles.
With the advent of the information age, so to speak, consumers have a whole lot of information available at their fingertips, so they are better informed and have gotten extremely knowledgeable on the products they consume, so there is a renewed focus on quality, innovation and value add-ons. Gone are those days when you could be a one-trick pony and still be extremely successful; consumers these days want to be entertained, and there is more focus on the holistic experience rather than on just the products.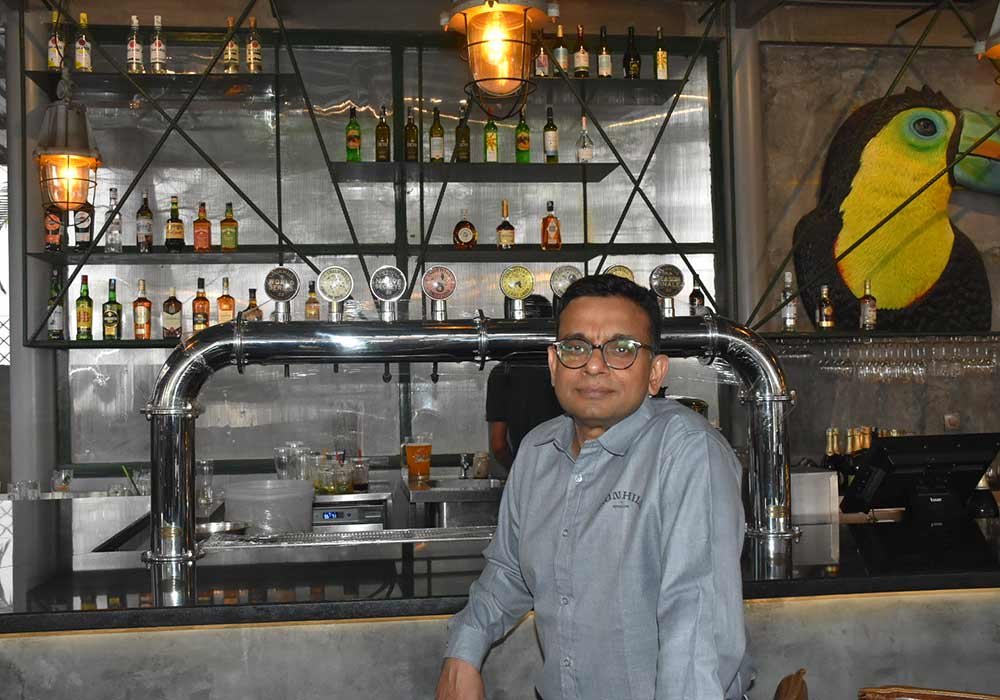 How did you gain the expertise you needed to manage your business successfully? Did you follow a certain learning path or rely on certain persons or resources?
It's a mix of both. I already came from a background where I had managed verticals of f&b businesses, so I had prior experience. Yet, the beer industry itself is quite complex, so I had to rely on the information available online, the people who have been involved in this industry and then of course, chart my learning path. You can't learn without some amount of burn, so while I know there will be a steep learning curve along the way, I have complete faith that I am on the right track.
How important is digital marketing in today's time? How Ironhill is leveraging it? 
Digital marketing is a vital tool to market a brand. Needless to say, the pandemic has cemented its position as a must-have in every marketing plan. However, I would add that this is a part of the brand building along with other essential elements like PR, events and sampling. When we plan a marketing campaign, it is important to look at a 360-degree approach ensuring there are multiple relevant touchpoints created for the brand within the target audience.
Your aspirations for Ironhill and what you hope to see in the foreseeable future.
Ironhill is known for its brews and food, along with for its spectacular ambiences, excellent service and seamless experience. I would want to see the brand in all states of the country and hopefully on a global scale soon in one form or the other.
Are there any plans for expansion this year? If yes, then where and what customers can expect? 
After strengthening our roots in each of the 6 cities we are already present in, we are looking at establishing footprints in other states like Orissa, Rajasthan and Maharashtra to expand the Ironhill brand this year along with other locations in Bangalore.
What do you believe to be the single biggest challenge the industry will face going forward?
The biggest challenge the industry will face is with respect to the legislation that exists and the ease of doing business. There are certain things that we expect like single window clearances for f&b businesses, which we hope will give the industry some respite going ahead.
Lastly, What do you anticipate the future of the craft beer market to be? What do you think will be the major trends in the near future?
The future is certainly exciting for craft breweries in India.
With people coming back to work and catching up on time lost during the pandemic, we are expecting more traction in all our outlets. The numbers look promising this year. 
In terms of trends, these are the three prominent ones that you will see emerging in 2023:
Honouring Lagers: Lagers are popular because they are crisp, clean, and refreshing and don't try to cover their flavour with anything else. They continue to hold a respectable position among beer experts. Since, a few breweries are particularly adept at producing well-liked lagers, the microbreweries that do have gained loyal followings. Lagers have attracted a lot of interest and appeal, and they are still increasing sales and garnering praise for innovation.
The Taproom concept is the upcoming big thing: The ability to provide a variety of beers in one location is what will propel the taproom idea in the Indian market. Having their kegs sold in several taprooms will help commercial craft brewers to reach a wider audience.
These taprooms may also be advantageous to breweries since they offer a practical setting for testing new beers. By doing this, businesses can test a new beer formula on a smaller scale before committing to a larger batch size and running the risk of sacrificing costly ingredients if the beer does not sell well.
Craft Malt in the limelight: Hops provide a little unusual spice to beers, but that flavour isn't enough on its own. Many brewers are now coming to appreciate the value of all raw materials, not just the traditional "green" ones. Brewers are devoting more time, effort, and attention to novel varieties of hops & barley as well as the various ways in which water chemistry can be manipulated to brew novel beers. This has produced some very interesting brews to the delight of all patrons!