How Beer Makers Are Redefining Corporate Social Responsibility One Green Goal At A Time
"One of humankind's greatest challenges in this century is to ensure sustainable, just and balance development. The needs of current and future generations cannot to be meeting unless there is respect for natural systems and international standards to protect core social and environmental values. In this idea, it is increasingly recognized that the role of the business sector is critical. As a part of society, it was in business interest to contribute to addresses regular problems. Strategically speaking, business can only flourish when the communities and ecosystems in which they operate within healthy environment permanently." – Varadarajan & Menon, 1988. Cause-Related Marketing: A Coalignment of Marketing Strategy and Corporate Philanthropy. Journal of Marketing Strategy and Corporate Philanthropy. 
According to the United Nations, the world's population is set to reach 8.6 billion in 2030 and 11.2 billion in 2100. With an approximate 83 million people being added to the planet every year, global population is expected to see an upward spike, even though fertility rates will continue to decline.
Needless to say, managing the relationship between water, food, and energy is becoming increasingly critical. But for professionals in the beer and brewing segment, that's a lot easier said than done.
There's no denying that the industry responsible for producing the world's third most popular drink makes a major contribution to the global economy – but not without raising some equally major social and environmental concerns. While advances in technology have ramped up production to meet rising demand year after year – they have also made the beer-brewing process all the more resource-intensive.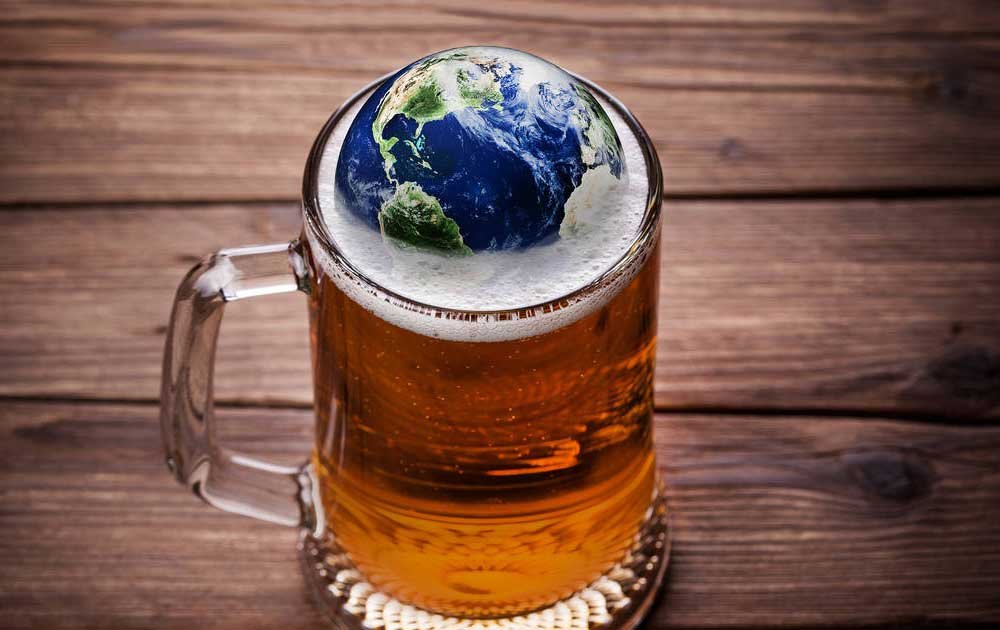 On an average, a brewery uses three to seven barrels of water just to make one barrel of beer. A 2012 worldwide survey declared that the average energy consumption to make 100 litres of beer is a staggering 207 mega-Joules (roughly 0.2 kilowatt-hours per bottle). Meanwhile, the various losses in raw materials and resources between all the several steps involved in the brewing process can be between 2.1 and 6.4 percent of total production, representing a considerable amount in terms of time and money.
So while beer may have certainly withstood the test of time, the resources it banks on for its very existence probably won't have the same luck.
The good news? With water consumption, wastewater disposal and a growing carbon footprint continuing to pose as environmental and economic hurdles – many breweries are taking serious steps to up their corporate social responsibility game. Today, on occasion of World Earth Day 2021, let's catch a glimpse of what CSR in the beer and brewing industry looks like in the twenty-first century!
Anheuser-Busch In Bev
As a step towards achieving its Global Sustainability 2025 Goals around Water stewardship, Smart Agriculture, Climate Action and Circular Packaging – world's leading brewer, AB InBev, has taken several steps in India to make a difference. "We outlined focus states and 25+ villages where there is a scarcity of clean drinking water. Through various watershed interventions, we have successfully recharged 1 billion+ litres of water across different critical and high-risk watersheds," says Ashwin Kak, Procurement & Sustainability Head at AB InBev India & South East Asia.
The company also has its eyes on large scale water availability conservation in the immediate future, spearheading various methods to improve water efficiency within breweries by adopting a rigorous water management program and state-of-the-art technologies such as Electro Dialysis Reversal, Multi-Effect Evaporators and Wastewater recovery plants to achieve Zero Liquid Discharge (ZLD).
In terms of community, AB InBev also works year-round to implement upskilling among farmers. "We have seen a consistent improvement in profitability of farming via many of our initiatives under our Smart Agriculture Programme. For example, crop protocol creation and distribution through agronomic and research inputs have helped farmers become familiar with best sowing practices. We also tie up with expert scientists, agronomists and field officers to provide top-level training and assistance to farmers. This includes regular crop health check-ups and solutions to problems like pest and other infestations," elaborates Ashwin. "We have recently also started working with a select group of women agricultural entrepreneurs and farmers to help them get access to secondary sources of income via the formation of Self Help Groups (SHGs)."
Geist Brewing Co.
At Geist, Namma Bengaluru's first craft beer brand, corporate social responsibility is taken very seriously and is an essential part of business. Since its inception, the brand has been known for implementing ecologically sound processes and practices to leave a positive impact on its immediate community and the world at large.
The brewery has conducted a thorough examination of the various steps in their beer production process, identifying opportunities to reduce, reuse and recycle. For instance, the spent grain output that would otherwise be treated as waste is collected and distributed to a farmer to use as cattle feed.  Geist also finds a purpose for denatured yeast in the form of upcycled fertilizer for the brewery's premises.
Additionally, the company also recycles all the rainwater that collects across a total area of 17,000 square feet, using it to recharge its underground borewell pits. Brewery wastewater is also reused for potable water. While some of it comes in handy when recharging the borewell pits, the rest is taken back into the production cycle to make fresh craft beer.
"One of our earliest investments during the construction of the brewery was in a sewage treatment plant (STP)," says Narayan Manepally, Founder and CEO of Geist Brewing Co. "This STP recycles sewage effluent water into clear, non-potable water which is used to water our plants in the beer garden. We also send this water to a neighbourhood farm where water in all borewells has run dry – the farmer currently uses this water to irrigate his orchards of fruit-bearing trees including mango, apple and chikoo. Our team is in the process of conducting experiments around growing vegetables (potatoes, onions & tomatoes) at this farm for use in the Geist Brewing Factory – Restaurant & Beer Garden kitchen. Future plans also include composting leftovers & food waste generated and sending this back to the farm as fertiliser."
"We do all this because we believe that each of us needs to do our small part in making the world a better place for our kids, and to leave the planet just that little bit better for them," adds Narayan.
BrewDog  
Scottish craft brewer BrewDog has certainly raised the bar when it comes to corporate social responsibility.
"BrewDog has always been a community-driven brand. What started out as the brand's efforts to contribute towards the betterment of the planet, helped us realize the bigger issue of climate change. This prompted the BrewDog co-founders to understand the need for a huge change and wanting to make BrewDog a catalyst for that change in our industry," says Mr. Pratekk Chturvedi,  COO, BrewDog India (Ace Aloha Group)
In 2020, a £30 million investment plan helped BrewDog launch a series of ambitious initiatives to remove carbon from the atmosphere and help the fight against climate change. This includes purchasing the BrewDog Forest in the Scottish Highlands – a 2,050-acre site where the company vows to plant one million trees and restore 650 acres of peatland over the next few years.
The plan also includes setting up a sustainable campsite that will host events for the general public. Until the forest is able to begin actively removing carbon from the air, BrewDog will work with verified carbon offset partners, like Nature Conservancy of Canada, to remove the business's carbon footprint twice over. This officially makes BrewDog the world's first carbon-negative beer.
BrewDog has also started building its headquarter bio-plant, a £20 million investment plan which will enable the brand to turn spent grain into green grass to power its microbrewery, reducing water usage by 50%. Other green infrastructure projects are already underway, such as the wind-powering of bars, the recycling of wastewater, and an investment system that supports local brewing sites to shorten the whole supply chain.
"As business owners, we believe it's important to be held accountable for our impact on the planet, and starting the conversation allows us to envision for a beautiful and better tomorrow for generations to come," says Pratekk.
Kimaya Himalayan Beverages
Kimaya Himalayan Beverages – the manufacturer of North India's well-loved craft beer brands, BeeYoung and Yavira – is big on supporting the farmer community they work so closely with. "With farmer community being a crucial part of the cycle, we do everything we can to support their business," says Abhinav Jindal, founder of Kimaya Himalayan Beverages. "To source malt for the production, we are working with Soufflet Malt India, a French establishment that hires farmers in India on a contractual basis to produce and cultivate larger quantities of malt."
Additionally, the company also partners with a network of collectors who gather used bottles of the brand and bring them to a unit where 100 percent of the bottles are recycled, cleaned and packaged for future use. The broken bottles, meanwhile, are converted into glass dust and recycled. BeeYoung and Yavira's cans are also 100 percent recyclable.
Kimaya Himalayan Beverages also actively partners with NGOs to contribute towards community upliftment. Last Diwali, the company joined hands with Delhi-based non-profit organisation Swami Sivananda Memorial Institute, devoted to the cause of educating children and encouraging women empowerment.
"We, at Kimaya Himalayan, believe that initiatives/practices like these will help ensure responsible beer-brewing for a better future. As we grow, we will focus on creating more avenues and engagements in this department. We urge all players and brands to engage themselves in such initiatives and more," says Abhinav.
Sources:
Brewer World Exclusive