White Owl Launches India's First Strong Craft Beer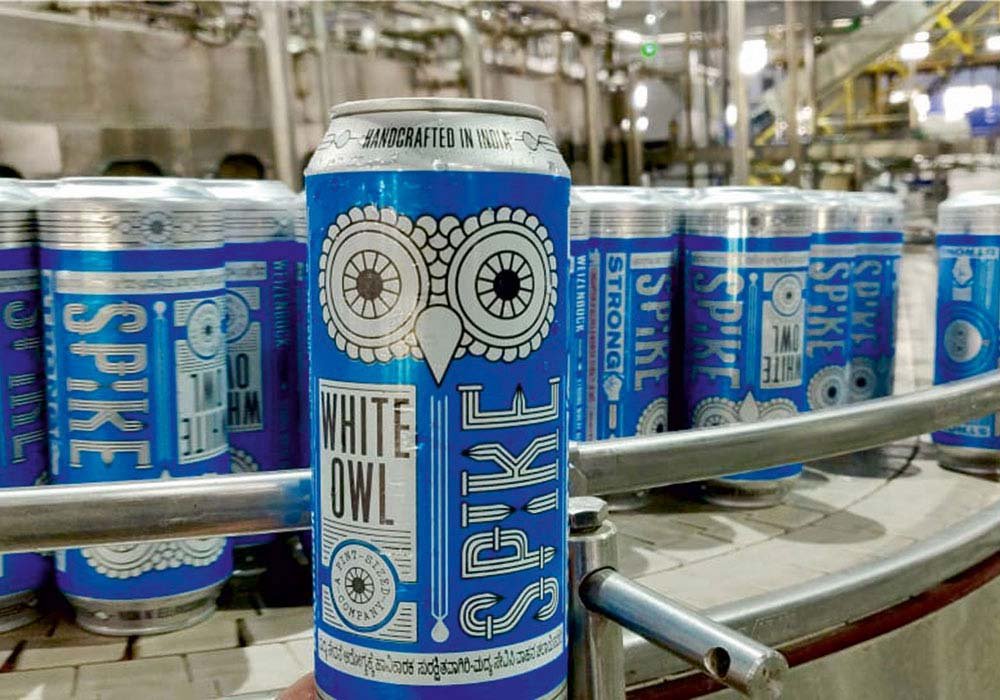 Spike – a Handcrafted, Flavourful & Strong Weizenbock at 7.9% ABV – finally brings together the worlds of Craft Beer & Strong Beer into the same Bottle in India
Mumbai, December 3, 2019:  White Owl, one of India's fastest growing Premium Beer Brands has launched Spike – India's First Strong-Craft Beer, across the country; finally bringing the worlds of Craft Beer & Strong Beer into the same bottle in India. Brewed using German Purity Standards, Spike – despite packing a whopping 7.9% ABV is an incredibly Smooth & Flavourful Craft Beer with Hints of Banana & Clove. As such, White Owl is set to break an age-old perception around strong beer in India where consumption has historically been driven not for flavour & taste profile, but more so for higher alcohol content.  Moreover, consumers nationwide can finally enjoy a Strong Craft Beer which mirrors the High Quality & Flavourful Profile of its Mild Craft Beer counterparts, a very common phenomenon in more developed craft beer markets across Western Europe & North America.
Spike is a traditional German Weizenbock brewed using German Purity Standards.  A Weizenbock is a Strong Wheat Beer, similar in flavour profile to a Hefeweizen.  Moreover, Spike is brewed with Top Quality Ingredients & Craft Brewing Methods, culminating into a Low-Bitterness, Light-Bodied & Smooth Brew (with absolutely no alcohol burn). Fans of White Owl's original brewpub in Mumbai will be excited to know that Spike is a strong version of its incredibly popular Hefeweizen – Halcyon – that remains White Owl's highest selling brand On Tap.
Speaking on the launch of Spike, Javed Murad, Founder of White Owl said: "We're thrilled to bring India's first Strong Craft Beer to our consumers nationwide. Spike is a much-needed addition to our local beer space where strong beer holds ~85% market share with no craft beer participant, until now.  We're also looking forward to making Spike & Strong Craft Beer a menu staple at Restaurants & Bars across the country much like it is in craft beer markets around the world."
Spike will launch across Mumbai, Pune, Bengaluru, Goa & Delhi in early-December in Bottles (325 ML & 650 ML) and Cans (500 ML) and will contribute to White Owl expanding its distribution network three-fold in the coming 6-10 months.
The Spike campaign – conceptualised along with Sid&Vee, a Mumbai-based boutique brand agency is all set to make folks laugh and kick back with a unique and deliciously strong brew. Using White Owl's customarily witty approach to marketing, the digital and on-ground campaigns for Spike revolve around poking fun at the most clichéd strong beer stereotype – the super macho man. It not only cues the obvious strength of the beer but also highlights its smoothness and refinement. All this whilst staying true to White Owl's 'Pint-Sized' company philosophy.
In October 2019, White Owl announced a Growth Capital Investment of Rs. 40 Cr. led by IIFL India Private Equity Fund to deepen its presence in its existing markets; expand the brand's presence to new markets (within India and abroad); and grow its portfolio to include both Strong Craft Beer and Kegged Craft Beer nationwide. The launch of Spike, therefore, is the first of many exciting announcements expected from White Owl in the months to come.
White Owl's Award-Winning Portfolio includes Spark, a classic summery Belgian Wit, Diablo, a caramel-roast Irish Red Ale; and Ace, a bubbly Apple Cider Ale, which to date remains India's only Locally-Bottled Cider available across the country.  Shortly after its launch of Spike, White Owl will add kegs to its existing offering of Bottles and Cans nationwide to cater to the increasing demand for Craft Beer On Tap beyond the walls of the India's growing microbrewery cluster.  White Owl currently sells ~20,000 cases of its craft beer a month that is expected to more than double by the end of FY-20.