Vapour when the mist descends…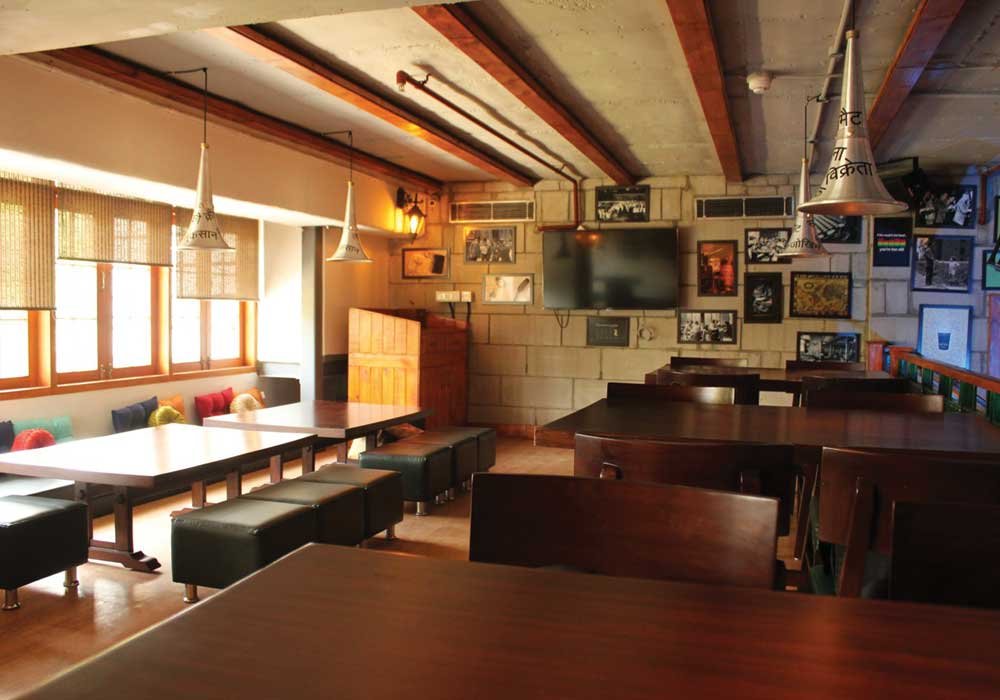 The journey of Vapour is an inspired one!
VIKRAM RANA
When an engineer, a BE in Chemical Engineering, with a Post Graduation in Plastics Technology decides to follow his heart and launch a career in the food industry, it is not something that happens every day. The whole reason why VikramRana, the man behind Vapour, started the third microbrewery in the North of India
(just after Rockman's Beer Island and Howzatt), was just one-his passion for beer and his head for business. He saw the industry as it would be in a decade, and hit the bull's eye!
"We had a restaurant in Gurgaon," Ranarecollects,"Mojo, which had been set up in 2001. It was a plain vanilla restaurant but was doing good business. Food was my hobby and I really loved drinking the beer at Howzatt, so I wanted to get into that business. "
In 2009, the world economy was reeling under recession and real estate prices had never been lower in Gurgaon. Rana made his kill and picked up an 18,000 square feet of space at extremely nominal rates, in exactly the kind of place he wanted.
The capital equipment consulting was done by Sino-Trade Corporation Limited (STCL), from Singapore. The brewery opened in 2009 and since then, Rana hasn't looked back. "Now I have a brand called Vapour Bar Exchange- and  two outlets in Gurgaon  (one in Sector 29 and one in Sohna Road) which are both breweries. There is another outlet in HauzKhas in new Delhi which is not a brewery," he says. Today, there is a Vapour in Bangalore's upmarket 100 ft Road, in Indiranagar as well.
Initially, Rana had the support of a very well established brew master, Dr. Cariappa, who helped to make the recipes and set up the production for a year or so. After that he had a lady brewer to come down from the US and support in the brewing, but she had to leave due to ill health. Now, he says,"we do not have a designated brew master right now. I work on the recipes and there are some trained people who run the brewery."
It could not have been easy starting in this industry, seven years ago, just when the Indian market was learning about craft beer.
No, it wasn't, he says, and added to that the fact that Gurgaon has never been a beer market.  "People like whisky here, they drink hard liquor, with the idea to get drunk. Drinking is not a social phenomenon here in Gurgaon, unlike Bangalore, which has had a culture of drinking beer in evenings with friends. So we had to create the culture. Howzatt had set the precedent, and we just went ahead on the same path," he adds.
It took a few years but the beer culture did arrive at Gurgaon, and today it is one of the biggest markets for beer and breweries. Rana had one of the first mover advantages here, and he used it to the full. After the education provided by the burgeoning breweries in Gurgaon, and helped along by the changing culture of the city, the acceptance, even liking for craft beer has increased drastically."Gurgaon was always a whisky drinking place, we made a difference to the drinking culture. Other factors were the people in Gurgaon are world travelled these days, so very well versed in craft beer. A lot of them are back from the US and other countries, so they expect good beers," he says.
Today the population of Gurgaon is about 15 lakhs, and now there are close to 35-40 outlets. Most of them are completely dependent on the corporates and multi nationals located in the city. There are also drinkers who come down from Delhi and Noida to enjoy at a brewery pub, and they are not very price sensitive. Over the last few years corporate groups that like to spend their evenings in breweries, bargain long and hard to get the best deal, but they are also the regulars.
So how did the craft beer culture change the cultural scene in Gurgaon? Does he take credit on being the owner of one of the initial brewery pubs in Gurgaon's change?
"There are some changes. Beer is now being accepted as a social drink, among friends. The scene has change completely in Gurgaon. Besides, the weather of Pune and Bangalore encourages cool drinks, Gurgaon is hot most of the year. That was one reason why beer is being fast taken up as a favourite drink," he says.
Today, increasingly ladies are becoming beer fans. They typically prefer mild wheat beer, since we are not a country that enjoys bitter tastes. "It's our staple," says  Rana,"we are wheat eaters. So the mild, cereal taste of wheat appeals to us much more than a bitter taste. We need soft flavours."
Vapour has sold some interesting flavours as well- pumpkin ale and mango, to name a few.
Vapour also opened in Bangalore about two years ago, and has earned a great reputation already. Rana shares the reason for its success, "In Bangalore the drinking age for people  is 21 years, as against 25 in Haryana. So we get more youngsters and hence more business in the Bangalore outlet. It's doing really well, "he says. "Secondly, Bangalore is a beer drinking place, people love it. In that climate, even a little bitter can suit.  So stout is also good there. Gurgaon is generally hot, and flavours like stout are also served warm at a temperature of about 5-6 deg, while normal wheat beer  is  served at 2-4 deg.   Besides, much more women are drinking in Bangalore today."
Vapour has some interesting things to offer.  "We made a Marzen beer- in Oktoberfest which we call Rocktober fest where beer is sold with live bands and DJs playing in the pub.  We do it in October or before the Navaratra season starts in India, festivals where drinking is reduced!"he adds.
Vapour  has outlets in three states, with breweries  in two. Did they face any trouble?
"Not really, we have taken licences of each state separately, and we don't break any rules," Ranasays."Only thing is, Gurgaon has no space constraints;  but in Bangalore you need minimum 10,000 sq feet to set up a brewery, so costing goes up. It's more expensive in Bangalore. That is the only situation we faced."
Over the last few years, Rana is seeing an increasing number of hard drinkers and traditional beer drinkers shifting to craft beer, and enjoying it. "The trend is shifting, earlier people drank to get drunk. But now, since people are travelling the world over, beer drinking is increasing a lot. I see a lot of growth, in Maharashtra you can brew and sell in different pubs. In Gurgaon and Bangalore it's not allowed, but I think it should be," he says.
Vapour is planning to open one more in brewery in Bangalore in March 2017 and in Gurgaon in January 2017. However, in Bangalore, all breweries are doing very well, so there will be stiff competition there. How does he meet it? By sticking to the basics-great beer, good food, good ambience.
The secret of Vapour's success across three cities!