Untappd Will Hold Its Next Beer Festival Online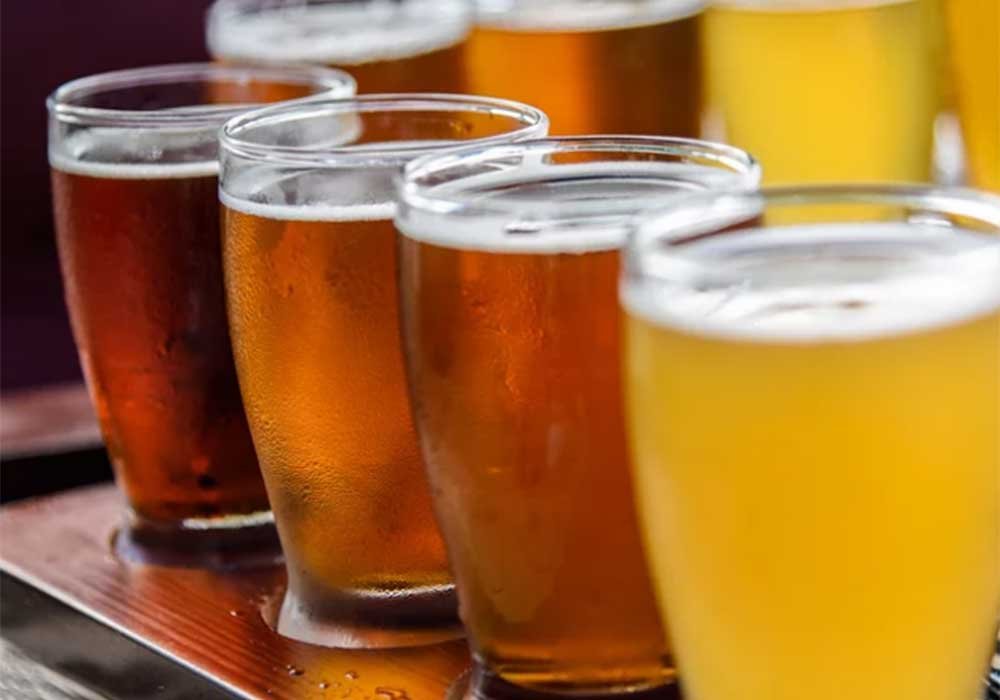 Attendees get eleven craft beers shipped to their doors for coordinated virtual tastings and events.
The coronavirus outbreak has forced the cancelation of events around the world, but it hasn't stifled organizers' creativity. From drive-thru county fairs to online nacho cook-offs, Americans have been finding new ways to safely socialize—even if it requires a car or a computer screen. Speaking of the latter, today, the popular beer rating app Untappd announced that its next beer festival will be held online—a way to taste and educate yourself on brewing from the convenience of your own home.
The COVID-19 pandemic has inspired a handful of online beer fests, and the idea is generally the same: After paying online, the organizers ship participants a set selection of beers, which are then discussed during video tasting sessions online. If you've ever enjoyed a "sampler pack," imagine a coordinated tasting of these beers with other people around the country led by industry professionals. It's a cool concept, and though you lose the fun of interacting with other beer lovers in-person, you gain advantages like not having to worry about transportation (or wearing lederhosen).
Untappd's fest will take place across two sessions—Saturday, June 13, from 3 p.m. to 5:30 p.m. ET and Sunday, June 14, from 4 p.m. to 6:30 p.m. ET—with each one featuring guided talks alongside either five or six beers, as well as "various interactive sessions with the hosts and brew masters including taste tests and trivia." Additionally, Untappd says they will donate 20 percent of the event proceeds to the Restaurant Strong Fund to benefit restaurants workers affected by coronavirus closures.
In the United States, due to varying alcohol laws, delivering beer can be tricky. But Untappd has teamed up with the online distributor Half Time to offer a broad reach. Talia Spera, Untappd's director of festivals and live events, said via email that partnering with Half Time made it possible in the current regulatory environment to ship the eleven beers across 30 different states, "making this the first multi-state virtual beer festival."
The "Drinking Socially Package"—which costs $89.99 and comes with 11 beers—is available to "specific zip codes" in AK, AL, AR, AZ, CA, CO, CT, DC, DE, FL, ID, IL, IN, KY, LA, MA, NH, NY, NJ, NV, OH, OK, OR, PA, RI, TN, TX, VA, WA, and WI. Also included in this package is a $10 gift card to Untappd's merchandise store, a $10 gift card for a future Half Time purchase, and links to the two tasting sessions that will stream live on YouTube.
Meanwhile, if you don't live in these areas, Untappd is also offering a $15 BYOB "Stay at Home package," which offers access to the video sessions, but requires you to provide your own beer.
The selection of beers include Banana Macadamia Fudge Cake from New York's Decadent Ales, Curieux from Maine's Allagash Brewing, Diamond Waves from Mikkeller's California brewery, Elaborate Metaphor from Vermont's Burlington Beer Company, Fiddlehead IPA from Vermont's Fiddlehead Brewing, Juice Bomb from New York's Sloop Brewing, Luppolo from Maine's Oxbow Brewing, Softly Spoken Magic Spells from New York's SingleCut Beersmiths, Perpetual from New York's Finback Brewery, Pseudo Sue from Iowa's Toppling Goliath Brewing, and Spring Landscape from New York's Industrial Arts Brewing. Personally, I would consider it an excellent—if not necessarily geographically diverse—list that I wouldn't mind having shipped to my door.
The sessions will be led by Untappd Founder Greg Avola. On Saturday, guests will include Terrance Romero, production manager at Mikkeller; Matt Cohen, owner/brewer at Fiddlehead; Joe Turco, director of sales and marketing at Sloop; Mike Fava, head brewer at Oxbow; and Dan Bronson, general manager at SingleCut Beersmiths. On Sunday, expect Paul Pignataro, founder at Decadent Ales; Zach Caron, lead brewer at Allagash; Jeff O'Neil, founder and proprietor at Industrial Arts' and Eric Hild, senior lead brewer at Toppling Goliath.
Untappd held their first beer festival—an ambitious in-person event at Charlotte's Bank of American Stadium—last May, and by the brand's own admission, they had a lot of hiccups. They've learned from that experience, and are especially well-positioned to hold a digital event like this one. "While having an online festival does have its own set of unique challenges, dealing with technical challenges with scaling is in our blood being a software company," Avola told me. "We feel that we have the best people on our team to handle these technical issues from our experience running an online community for over 10 years."
Tickets go on sale today. For those buying beer, Untappd says that the order must be in by May 25. Tickets for the video-only sessions will be available to purchase until June 10.
Source:
https://www.foodandwine.com/