Trickle into India's F&B industry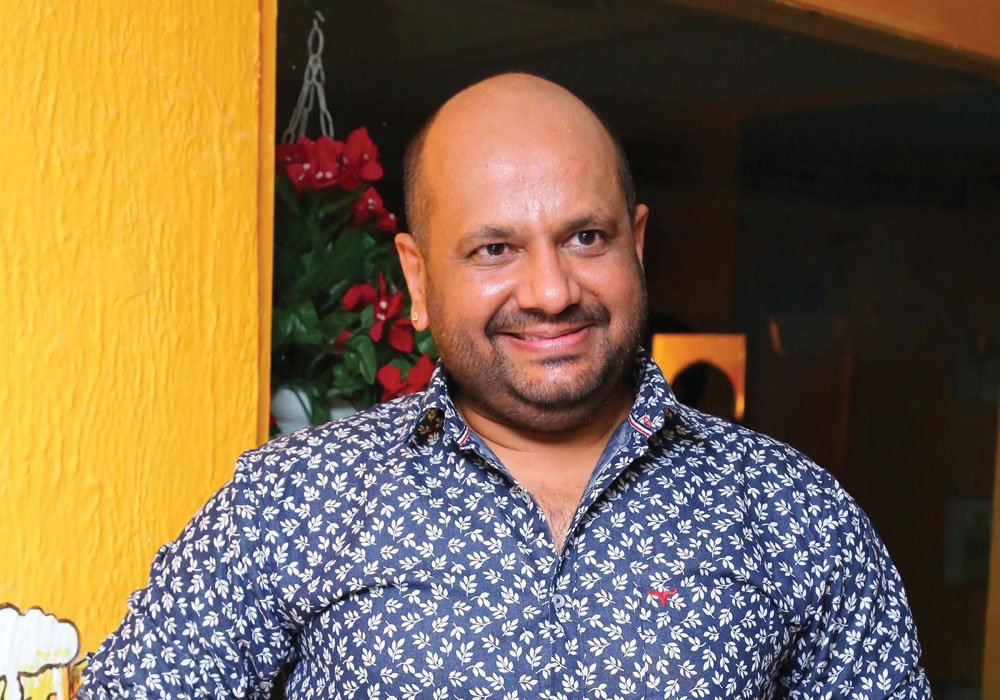 Rahul Singh
President, NRAI (National Restaurant Association of India)
Headquartered in Delhi, NRAI represents Independent & Chain Restaurants /Bars/Café owners & operation. The India restaurant Industry is estimated at USD 4 billion. The NRAI corresponds to over 10,000+ restaurants over different chapters throughout the country. In this issue of Brewer World, Rahul Singh in conversation with Sneha Nair, about the rising India craft beer markets and its impact on the food industry.
What is your take on the business side of the food industry and its growth in upcoming years?
India's F&B industry has been seeing explosive growth in the last few years, and this growth shows no signs of abating anytime soon. There are three factors driving this growth – a largely youthful demographic, increasing disposable income, and changing consumer lifestyles. All of these factors have increased the demand for the food services industry in India. India's F&B industry is, according to KPMG, one of the most vibrant industries to witness rapid and unprecedented growth in the recent past. This growth is a significant contributor to the country's economy and has been a frontrunner in attracting investment.
According to the India Food Report 2016, the Indian food retail market – the sixth-largest globally – is expected to grow from a value of INR 25 trillion in 2014 to INR 61 trillion by 2020, at a CAGR of more than 15% for the 2014-2020 time-period. Food already constitutes the largest retail consumption category in this country, and the food consumption and demand at a household level is expected to be more than twice its current value by 2025. Looked at more closely, this growth has several key trends – a gradual transition from unorganized food stalls to established restaurant outlets and chains, as well as a growing preference for digital payments and takeout/delivery over dine-in.
Essentially, the industry is booming, as the traditional constraints are worn away by technology and a more demanding consumer driving greater growth in the healthier and more mature parts of the sector. The companies and entities that can track these changes and keep a finger on the pulse of today's consumers are bound to flourish.
It is understood that at one point, the proposal for micro-breweries had been favorably considered only for 5-star hotels and airports. However, to cater to the demands of tourist traffic – both domestic and international, it was important for microbreweries to be permitted across restaurants since a large portion of these tourists are outside the 5-star category.
Could you talk to us about the trends witnessed in the food industry vis-a-via the youth in the country?
India has one of the world's largest youth demographics, with the 350 million Indians in the 10-24 age group forming 28% of the country's total population. This youth population is expected to reach a colossal 465 million by 2021 and looks at 'eating out' as a habit, not an occasion-driven infrequent expense. Younger Indians are happier to consume and pay for good food and experiences and are driving larger footfalls and revenue in the burgeoning food services industry in India, particularly in urban and semi-urban markets.
India's youth is more aware, more health-conscious, and more demanding than the older consumer groups that are active in the market today. They are more open to new culinary experiences, creating an increased demand for global cuisines and foods. They have higher standards than the previous generation in terms of the quality of food, quality of service, and the kind of environment and ambiance that they expect when they choose to eat out. The emphasis is more on a holistic culinary and entertainment experience, and the outlets that create a welcoming environment and take care of their customers are shown greater preference. For many families with both parents acting as working professionals, getting food cooked at home every day can be a luxury. Alongside relying on food from the food services industry more often, they also expect it to be healthy, nutritious and fit in more seamlessly with their usual diet.
How much of the food industry is supported by the beverage industry? And What are the demographics of beer drinkers in India
(From NRAI IFSR 2016)
Over last few years the beverage consumption in India has been on the rise and the same can be witnessed with the increase in number of formats like Chai Point, Café Coffee Day, entry of international café chains like Starbucks and DiBella Coffee, expansion by players in Pubs, Bars, Café and Lounge (PBCL) category like Beer Café, Hoppipolla, Social etc. and juice lounges like Joost Juice, HAS Juice. Alike food, consumers now prefer to experiment more with beverages.
The overall beverage market share in the organized food service market is estimated to be ~32% and amountsto INR 30,000 Cr. of which about INR 21,000 Cr. is contributed by non-alcoholic beverages. In the Pubs, Bars, Café and Lounge (PBCL) segment, beverages represent the highest value in terms of Sales and SKU mix at 61% and 55% respectively.
The consumption of beer has been on the rise in the country and riding on this trend a lot of new outlets focusing on beer are coming up which includes microbreweries and pubs alike. Indian consumers are now becoming more discerning and are asking for more flavors and different kinds of beer. To meet this demand the microbreweries are now experimenting with different ingredients e.g. spices like cardamom and cloves, fruits like mango, litchi etc., and other ingredients like ragi, honey etc. to add excitement to the consumer experience. This phenomenon of serving different beer is not only limited to microbreweries but the pubs and bar cafés are also keeping different kinds of bottled beer to create differentiation e.g. Hoegaarden, Asahi, Schneider Weisse, Mahou Classica, Kotsberg, etc.
A quarter of consumers order alcohol during eating out, with varying frequency. The trend is expected to grow, especially in the Metro and Mini Metros. 15% of the consumers consider the availability of alcohol as a key criterion for selecting a restaurant, with PBCLs being the most popular format. Men focus largely on Beer and Spirits. Wine and Cocktails are the key beverages for women.
It is impossible to determine how much of the food industry is supported by beverages, as what drives consumers into outlets is based more on the individual restaurants and their own offerings. Many food outlets in India don't provide alcoholic beverages, and still, attract a large number of consumers. On the other hand, there are certain establishments and chains in this country that rely on their drinks menu to fill up the tables and get their cash registers ringing. At present, the alcoholic beverages industry is projected to bring in USD 6.7 billion in revenue in 2018.
In terms of beer, India is a growing market with a positive outlook, but it is transitioning from a spirit-loving to a beer-loving demographic. The consumption of beer in India per capita is at 5.1 litres, compared to the Asian average of 20.9 litres. However, we are definitely seeing strong demand among younger Indians in the 20-40 age group that are taking to a wider variety of domestic and international beers that have become available to them. Over and above bottled brands, imported or manufactured locally, there is a large amount of interest in craft beers and microbreweries as well.
What are your thoughts on the emerging craft beer markets across India? And how much of beer (commercial or craft) is taking away from the alcohol industries?
It is always a sign of increased maturity in a market when there are more products being offered that cater to different tastes and occasions. Craft beer has emerged as a strong product category, especially among the high-spending urban youth that is looking for something different when it comes to their beer drinking experience. Overall, an expanded bouquet of offerings that are more stratified is driving greater consumption of beer as a proportion of alcohol consumption in India. Market research reports forecast a growth in beer sales in volume terms of 6.9% annually between 2018 and 2022, reaching 6.5 billion litres annually in 2022. While the craft beer segment is still very nascent, it is projected to grow at a 20% year-on-year rate.
It's important to note however that the consumption of spirits in India is also projected to increase during this period of time, indicating a greater demand for alcoholic beverages driving growth across different categories as opposed to a substitution of one for the other.
As the president of NRAI, how do you foresee foreign beer brands market share in the future?
Foreign beer brands have two sub-categories – foreign brands manufactured and bottled in India and imported beer. India's beer market is dominated by United Breweries, of which Heineken owns 44%. UB's Kingfisher brand controls over half of India's beer market, but it is feeling the pressure from Carlsberg and AB InBev. AB InBev supplies Budweiser and Haywards beer across the country. InBev's beer portfolio also contains premium global brands like Foster's, Stella Artois, Hoegaarden, and Corona, while Carlsberg operates in India through its Tuborg and flagship Carlsberg brand. These global brewers have developed manufacturing and production plants in the country.
The volume of beer imports to India have also shown considerable growth. In 2015 and 2016 – the latest years for which the data is available – global imports of beer grew 21% year-on-year, and the volume of beer imported doubled in between 2015 and 2016. This growth has largely been driven by European beers, with premium Belgian beers being the most popular brands imported.
Established restaurants, who don't have the space to open a microbrewery but have the license, are now serving craft beer via kegging & distribution. What are your thoughts on kegging & distribution of beer?
Restaurants are looking to keep up with trends and supply what their customers want and are thus taking to kegging and distribution of craft beer. The thing is that when it comes to beer, taste is everything. If they can manage to provide the kind of refreshing taste that draws people to craft beer in the first place, this is a good initiative. However, quality control and customer satisfaction must be carefully accounted for.
What are the new initiatives taken by NRAI with respect to the microbreweries?
In 2015, NRAI's year-long push got the government moving, clearing the road for Micro-breweries in Delhi. However, the proposal got stuck in red tape between multiple agencies in Delhi. It is hoped that the policy gets cleared and implemented in the coming year. This concept has been successfully implemented in states like Karnataka, Maharashtra, Punjab and neighbouring Haryana. NRAI has been taking up issues with the authorities for easing regulations for setting up Micro-Breweries for the past three years.
Does NRAI play an active role in promoting / providing support to the microbreweries?
NRAI has been working towards easing regulations for bringing the much-needed boost to the segment. It is understood that at one point, the proposal for micro-breweries had been favorably considered only for 5-star hotels and airports. However, to cater to the demands of tourist traffic – both domestic and international, it was important for microbreweries to be permitted across restaurants since a large portion of these tourists are outside the 5-star category.
With the changing lifestyle and social norms in society, the Restaurant Industry has also changed to keep up with the current consumer needs. One of them being – setting up of Micro Breweries in restaurants/bars. We hope that our efforts bring positive results as early as possible.
Any last words of advice you would like to share about the industry?
This is both a very promising and confusing time for the industry. Indian governments at various levels are simultaneously trying to make it easier and more difficult for the industry to operate. The confusion over whether microbreweries should be allowed in New Delhi was a great illustration of this problem. On the one hand, the Delhi Excise Policy permitted it; on the other, it was prohibited by the DDA masterplan for the city. These policy instruments and their discrepancies create a challenging environment for restauranteurs, who now have to find a way to predict the policy outcome before investing or giving up on a lucrative opportunity.
This industry is an important one and should be promoted with greater vigor and with more consistent regulations to enable it to unlock its full potential.